The Real Life Spencer James Didn't Want 'All American' To "Disrespect" South Central LA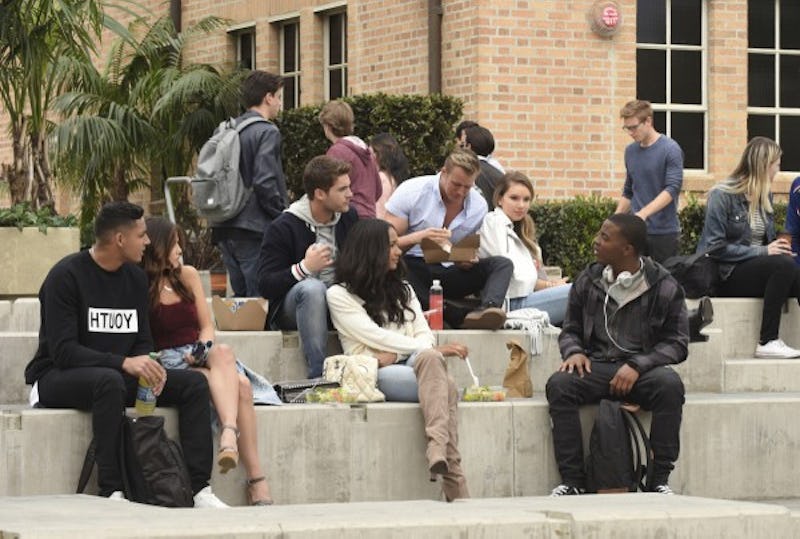 The CW
Most of the action surrounding Spencer James on The CW's new teenage football drama All American centers around Spencer's move from South Crenshaw High School in a low income neighborhood of Los Angeles to the wealthy school system of Beverly Hills. It's a culture shock for Spencer, to say the least, but Beverly Hills High offers him a safer educational environment, as well as renewed hopes for football stardom. All American is rooted in reality, so is South Crenshaw High a real school?
Crenshaw is definitely a real southern Los Angeles neighborhood with high schools bearing its name. Crenshaw High School houses grades 9 through 12 in the area, and is part of the Los Angeles Unified School District, so that's not a far cry from the South Crenshaw High featured in All American. According to the Los Angeles Times, Daniel Ezra, who plays Spencer in the show, even spent time at Crenshaw High School to become more absorbed the role. So, it's probably safe to say the schools in that area serve as much of the source material for the dramatized school featured on All American.
The story is loosely based on the early football years of former NFL player Spencer Paysinger, according to the same Times report, so viewers can likely trust that nothing is too far-fetched.
Paysinger, who serves as a consulting producer on the show, told the Miami Sun-Sentinel that he was able to attend a school outside his typical neighborhood and community of classmates because of the work his family members did in that district. And, though he had a long commute to Beverly Hills High each day from his home neighborhood, experiencing both worlds was a valuable lesson for him to have. "I think it gives me a good understanding of different ethnicities, different cultures and respecting them for how they were brought up, and hopefully they respect me and how I was brought up,"
He also told Newsday that even though the bones of the story are gleaned from his real life, there are definitely adjustments made for the sake of storytelling. "I trusted [the writers] to take the story I told them and create a compelling story out of it and I felt like they did a great job with that," he said. "Yes, there are some liberties taken within the show, but the roots of what they're talking about, I definitely dealt with that."
In the show, South Crenshaw is seen as a more weathered high school in a dangerous neighborhood, and even if aspects of it are rooted in real life, it was important to Paysinger not to dismiss his onscreen counterpart's original neighborhood as too unsavory. "One of the first things I mentioned to April [Blair, executive producer] was we can't disrespect South-Central [Los Angeles]," Paysinger said in the same Los Angeles Times piece linked above. "I didn't want to disrespect the neighborhood and say Spencer went to Beverly and everything was great. Beverly actually exposed me to a whole new set of problems — rich kid problems."
So, viewers can expect All American's South Crenshaw High School, and all the themes and characters surrounding it, to be truly reminiscent of the real-life neighborhood. Paysinger is not only from that neck of the woods, but he's also helping to tell a story he knows better than anyone, and that's a fantastic sign for the show's authenticity.