Too Many Teens Will Be Able To Relate To Lifetime's 'Story Of A Girl'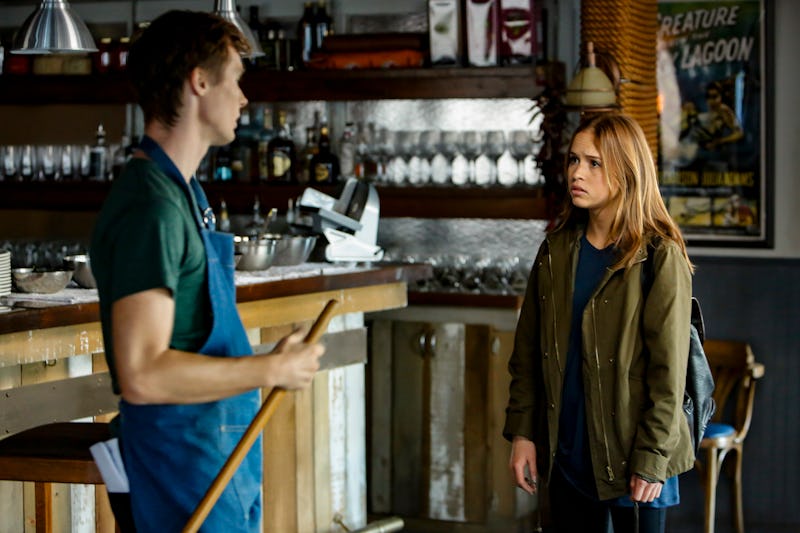 Bettina Strauss/Lifetime
When so many recent films and TV shows have gone for wild, fantastical escapism, sometimes you just need a story that's so relatable it feels like it was ripped straight out of your own life. Lifetime is taking a swing at small-scale, emotional drama with the movie Story Of A Girl, which debuts on July 23. Story Of A Girl isn't based on a true story, but it is adapted from some source material.
The movie is based on the 2007 young adult novel of the same name, by author Sara Zarr. The story, which feels even more relevant in 2017 than it may have in 2007, is about a teenager whose sexual experience is made public and the trauma and shame she suffers as a result. The book isn't based on one real person, but Zarr used her own experience in order to inform her writing.
Protagonist Deanna's story sprang from Zarr's imagination, but the setting and the environment that oppresses her were lifted from Zarr's past. "As for research, it didn't take much," Zarr told blogger Cynthia Leitich Smith. "Like Deanna, I worked at a pizza place in a strip mall, and even though I felt optimistic about my future I saw how so many working people in a town like that can feel trapped or in a self-perpetuating rut." But, Zarr added, "the events of the book are not at all autobiographical."
Story of a Girl might not be based on Zarr's life or the life of one of her friends, but there are too many young women who can relate to Deanna's experience. According to the American Association of University Women, nearly half of the middle and high school students in a nationwide survey claimed to have experienced sexual harassment within the 2010-2011 school year.
First-time director Kyra Sedgwick (whom you absolutely recognize from her acting career — she's The Closer, people) told Entertainment Tonight that she's been attempting to adapt Story Of A Girl for 10 years. "So much of [Deanna's] experience as a teenager and what it's like to be inside of her head and her heart rang so authentic to me and reminded me of my teenage years," Sedgewick said. "You're shamed about something in the world and the world sees you as a certain thing and you have to fight your way out of the world seeing you that way and yourself seeing you that way."
Sedgwick cast her daughter, Sosie Bacon, and her husband, Kevin Bacon, in two key supporting roles. Sedgwick's son, Travis, also worked on the film's music. Making Story Of A Girl a family effort contributes to the movie's intimate feel. And that should ring true to Zarr's novel, designed to be relatable for anyone who experienced a tough time during high school or has been shamed for their sexual history.