'Straight A's To XXX' Stems From The News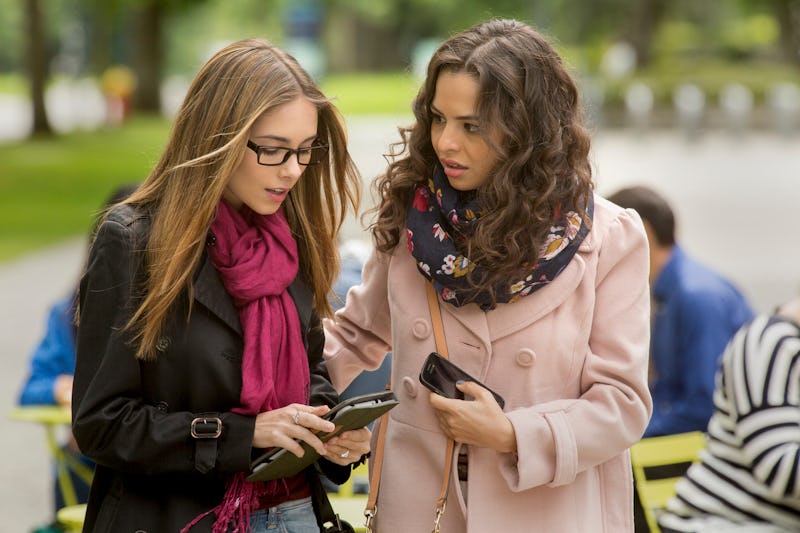 Courtesy of Lifetime
Tuition at a top university like Duke comes with a hefty price tag — and, in Lifetime's new movie Straight A's to XXX, which premieres on Saturday, Feb. 11, a freshman takes a secret side job in the porn industry to help foot the bill. Here's a look at the official synopsis from Lifetime:
From Straight A's to XXX tells the story of Miriam Weeks, a college freshman at Duke University who turns to porn in order to pay for her tuition expenses. But when a male student discovers who she is and exposes her secret, Miriam is faced with an onslaught of death threats and cyber-bullying.
This story will sound familiar to many people — so if you're wondering if Lifetime's Straight A's to XXX is a true story, the answer is yes. Miriam Weeks tells Bustle she was not consulted about the movie and she has received no compensation.
Weeks made national news in January 2014 when the story broke that a studious Duke freshman acted in porn films under the name "Belle Knox" in order to avoid wracking up debt from student loans. As she told Rolling Stone in an April 2014 interview, Weeks' stage name was inspired by Belle from Beauty and the Beast and her fascination with Amanda Knox, the American college student who was accused of murdering her roommate while she was studying abroad in Italy. (Knox's conviction was overturned in 2015 after she spent four years in prison, but her story also captivated the nation and the world for years).
Weeks is certainly not the first college student to work in the porn industry, so the fact that she attended one of the country's most prestigious universities surely played a role in the ensuing media frenzy. Furthermore, once her story became public, Weeks didn't shy away from interviews with the likes of Howard Stern, Piers Morgan, Dr. Drew, and The View. She took her accidental fame and used it to form a platform for feminist women in the porn industry.
But, as the Straight A's to XXX synopsis indicates, Weeks originally planned to keep her life at Duke entirely separate from her work as Belle Knox. In the same interview with Rolling Stone, Weeks said when she was hard up for cash, she casually Googled "how to be a porn star" and a number of sites immediately popped up. Her first shoot wasn't a positive experience, so she signed with Matrix Models and spent Thanksgiving vacation filming five scenes in Los Angeles. Weeks told her parents that she was staying on campus and informed her roommate that she'd be in California, but she didn't provide a reason. She earned $7,000 during Thanksgiving break alone.
Weeks never believed anyone would recognize her — she recalled thinking: "There's hundreds, if not thousands, of porn stars. What are the odds of somebody even noticing me?" But, less than two months after her Thanksgiving shoot, Weeks' friend Thomas Bagley informed her that he'd seen her in a video. Despite his promise to keep her secret, he promptly told all his fraternity brothers — and the cyberbullying commenced immediately. Weeks told Rolling Stone that she began receiving Facebook messages from guys on campus and one person tweeted: "The school should expel her, or we will take matters into our own hands and make this f*ck up suffer." In February 2014, Bagley told The Duke Chronicle that he regretted his actions: "[Weeks] told me that I ruined her life.... I certainly would take it back."
The most disturbing threats emerged on CollegiateACB.com, a site that allows students to post anonymous messages to boards for their colleges. Callous insults were just the beginning — Weeks also received multiple death threats. For example, a thread titled "How will Belle die?" had 12 different posts. She didn't let this deter her, and continued with her work, telling Rolling Stone that: "I love being in porn... I don't feel respected at Duke. I feel respected here."
Things were rocky at Duke once her "secret life" was exposed, but the women's-studies and sociology major held her own on campus. At the time of the interview, she was applying for an internship at Duke's Women's Center and had been asked by a professor to speak to his public-policy class about the porn industry. True friends were hard to find, but Weeks' roommate was supportive and she had made other friends through clubs like the College Republicans.
Although Lifetime movies always use some artistic license, Weeks' true story is fascinating and it has all the makings of an interesting, thought-provoking film.
Editor's Note: This article has been updated from its original version to include Weeks' comment.