Fans Think 'Stranger Things' Is Ending Soon, Based On The Cast's Emotional Instagrams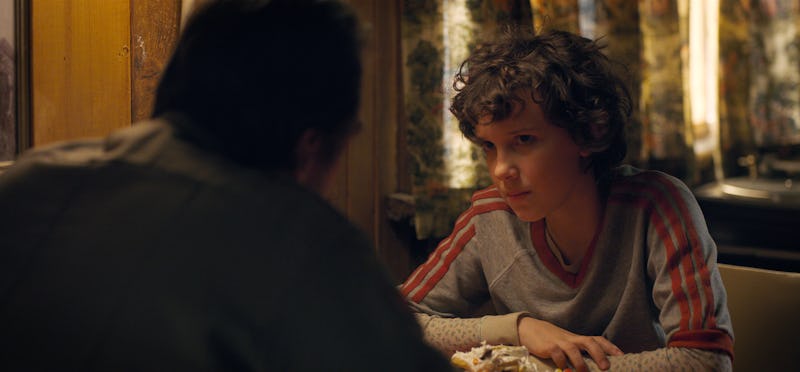 Netflix
Halloween is over, but Stranger Things fans are definitely scared right about now. After sharing a series of emotional photos and videos, Millie Bobby Brown has fans speculating that Stranger Things Season 3 will be the last. On Monday, Nov. 11, Brown and a few of her co-stars posted to their Instagram accounts to let audiences know they wrapped filming the third season. Although Brown's posts are filled with emotion, fans shouldn't be all that worried.
On the last day of shooting, the 14-year-old actor first shared an IG story of herself frowning, captioned, "I will cry all day fyi." The video also had messages to co-stars Noah Schnapp and Sadie Sink, saying, "not OK" to Schnapp and "I can't say goodbye" to Sink. Later, Brown shared a selfie of herself crying with the caption "told u." She also posted a selfie of Schnapp and Sink to her story, with the words "love of my life" written on it. Later, she posted two photos labeled "One More Time," one with Schnapp and one with Sink. Brown captioned the post, "thats a wrap ♥️."
Naturally, fans have grown suspicious. Some have left comments on her Instagram post questioning the fate of the show. "Wait no more stranger things @milliebobbybrown ???" one user wrote, with another writing, "was season 3 the last season?" Another fan responded, "Why am I kinda sad? I hope there will be a season four!"
Other Stranger Things stars posted about Season 3's wrap, but luckily, they were in higher spirits. Schnapp posted a short video of himself sliding down a movie theater escalator and throwing his arms up, with a woman laughing in the background. The post was captioned, "last day slide down the escalator."
Finn Wolfhard also posted a short video to his story, showcasing a singing Gaten Matarazzo and captioned, "Last day I'm with randy Newman." Meanwhile, actors like Joe Keery, Caleb McLaughling, and Matarazzo haven't posted about wrapping up Season 3.
Besides Brown's heartfelt posts, there really isn't any indication of the show coming to an end after next season. In fact, a week prior to wrapping Season 3, the cast shared a video from set celebrating Stranger Things Day.
Even though the beloved show has only been on for two seasons, its ending has been the topic of many rumors for a while now. In February, there was talk that Stranger Things would end after Season 3 when MovieFone reported it could be the Duffer brothers' last as show runners. However, Netflix quickly shut it down with a tweet saying, "Don't drop your Eggos. Rumors that the Duffer Bros are leaving Stranger Things after season 3 are false."
In August of last year, Ross Duffer teased the show's possible fate, telling Vulture, "We're thinking it will be a four-season thing and then out." Matt added, "I don't know if we can justify something bad happening to them once a year."
However, in an interview with E! last October, the creators considered extending the show's timeline even further. "I think four to five seasons is likely where we'll end up, but who knows?" Ross said. "None of this official, and we know where we want to go. We're trying to figure out still how long it'll take to get there, so we'll see." His brother added, "It's hard, like four seems short, five seems long. I don't know what to do."
Fans can breathe a sigh of relief knowing they'll be back in the Upside Down in no time (at least for a season or two more).