Here's What SZA Had To Say When Asked About Dating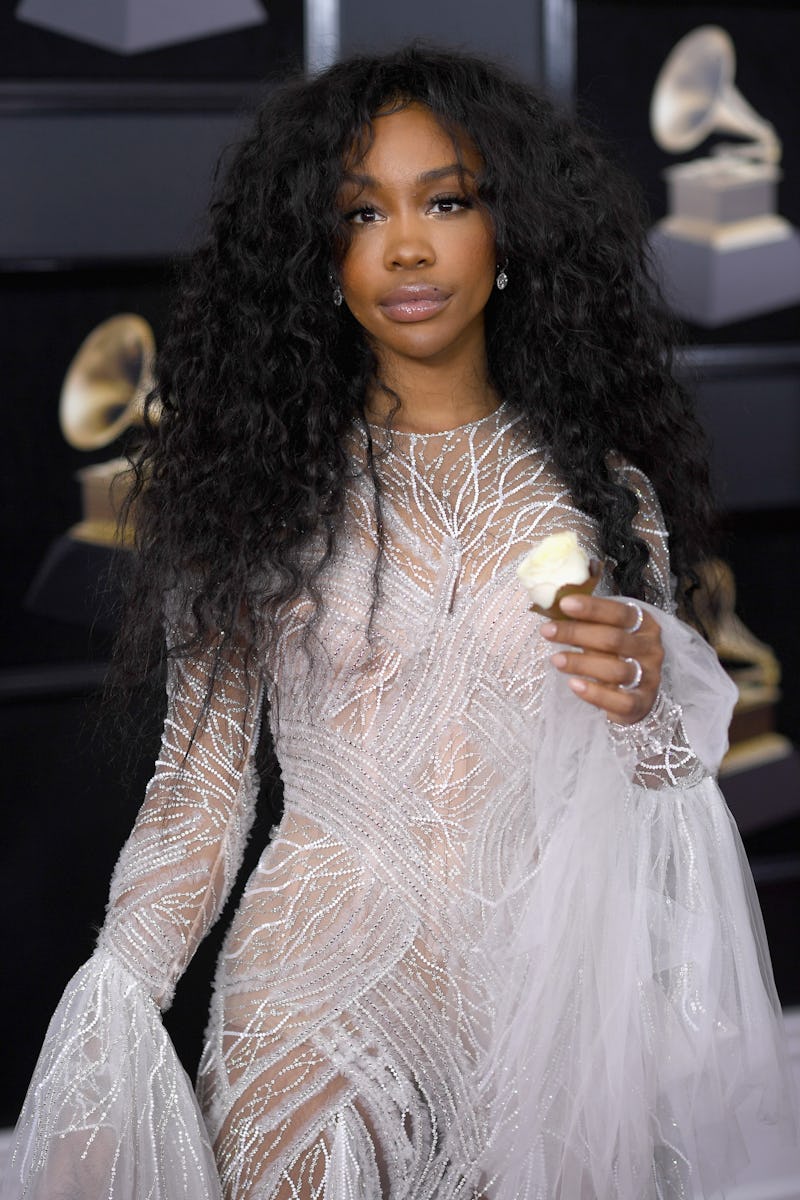 Dimitrios Kambouris/Getty Images Entertainment/Getty Images
SZA had a break-out year in 2017 with the release of her critically acclaimed album CTRL. Between her steamy music videos and whopping five Grammy nominations everyone is talking about her, and interest in her personal life has only grown. Who is SZA dating? Unfortunately this super relatable and beautiful R&B artist isn't as open about her current love life as she is about past relationships in her vulnerable and revealing lyrics. She is even less likely to talk about relationships in interviews and her Instagram is woefully lacking clues.
That being said, if she is seriously involved with someone then she is keeping that on the down low for right now. Based on her music history and past interviews it seems like she's either only casually seeing someone or she's taking this time to be single and enjoying finding herself.
In an interview with radio show The Breakfast Club last summer, one of the hosts asked her point blank if she was dating anyone. Her first response was to giggle and say, "Um, um" — which certainly could mean she was hiding a relationship she wasn't ready to speak about — but then she talked about why it was important for her to take some time for herself.
She explained:
"I feel like right now, I'm in a space where I've never been before in my life and I don't know anything about myself, so I'm learning about myself, and honestly I think I was in a lot of these unhealthy relationships because I didn't have enough self-love built up and I fixed the way I felt about myself so these situations didn't happen to me anymore. You can't be scared to be lonely."
SZA wrote lyrics about these "unhealthy relationships" for CTRL. In the song "The Weekend" she sings about dating a guy who is involved in a relationship with another woman:
"My man is my man is your man/Her, this her man too/My man is my man is your man."
She opens the song with the words:
"You say you got a girl/How you want me?/How you want me when you got a girl?/The feelin' is wreckless/Of knowin' it's selfish/Knowin' I'm desperate/Gettin' all in your love"
Then in another track, "Supermodel", she sings about a dude who was a "temporary lover" but still says, "Leave me lonely for prettier women/You know I need too much attention." The loneliness again affects her decision making in "Drew Barrymore." In that song she sings, "I get so lonely, I forget what I'm worth/We get so lonely, we pretend that this works/I'm so ashamed of myself think I need therapy-y-y-y."
These raw lyrics were a departure for SZA, who previously spoke less directly about her romantic history in her earlier EPs, See.SZA.Run (2012) and S (2013) . She explained to The Breakfast Club, "I never really talked about relationships in a direct way. I used to be very metaphorical, very figurative, and also just kind of scared to talk about the way I felt in a literal way."
SZA explained to the New York Times that she realized that this vague way of approaching her life was a turn-off for fans. "People would say [expletive] like 'I don't know who she is, I don't know what she's talking about, this is boring,' " SZA said.
Now she says she is committed to bring more "honesty" to her music and to not shy away from her sexuality. "I think a lot of sexuality was only taboo before because women weren't allowed to talk about it — but women aren't waiting for permission right now," SZA told the Times.
So, even if she isn't sharing all the deets about her personal life in the press, we might learn more about her dating life with her next album if she continues down the same path of being more and more open.