Taylor Swift's New Song Could Be Inspired By This Likely Person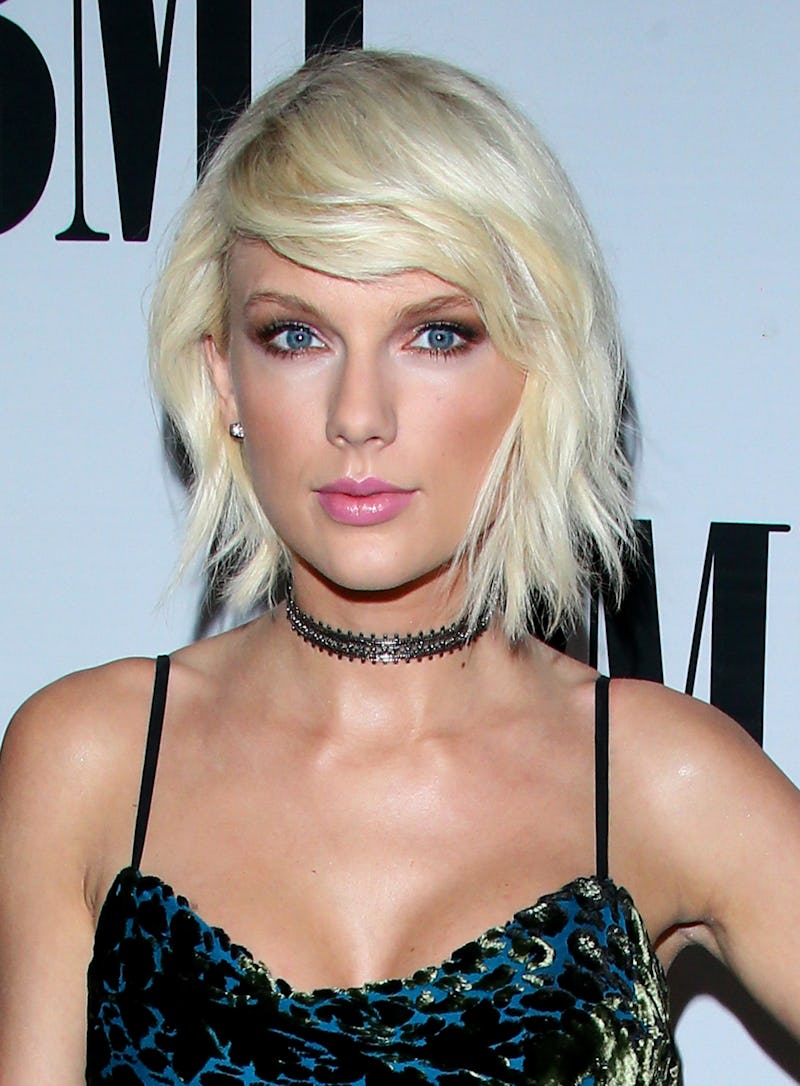 Mark Davis/Getty Images Entertainment/Getty Images
Fans haven't finished dissecting Taylor Swift's first single "Look What You Made Me Do" from her upcoming album Reputation and the subsequent music video, but that didn't stop the singer from dropping yet another track. Swift's new single "...Ready For It?" was released late Saturday, Sept. 2, and it's a celebratory track that describes the beginnings of a relationship. There has been a lot of speculation online that Swift's new song "...Ready for It?" is about her boyfriend Joe Alwyn, and there are definitely clues in the song that suggest it is.
Rumors about Swift and Alwyn's relationship began in May, and the next month it was revealed that the singer was making undercover trips to England to visit him. Alwyn is a rising theatre and film actor, and both stars seemed determined to keep the early stages of the relationship private. However, Swift was recording her new album in Nashville during this time, taking breaks to spend time with the British actor abroad, and it's not unlikely that he inspired some of her material.
The lyrics of "...Ready For It?" include some serious hints that the song is about Alwyn. The track begins with Swift feeling wary about starting a new relationship, both because of a distrust for men and an acknowledgement of her own romantic reputation. She sings:
Knew he was a killer
First time that I saw him
Wondered how many girls
he had loved and left haunted
But if he's a ghost then
I can be a phantom
Holding him for ransom
Some, some boys are trying too hard
He don't try at all, though
Younger than my exes
But he act like such a man, so
I see nothing better
Alwyn is 26, making him a year younger than Swift and significantly younger than many of her exes. For example, Calvin Harris is 33, Tom Hiddleston is 36, and Jake Gyllenhaal, who the star reportedly dated early in her career, is also 36. The age difference is significant, and such a pointed lyric doesn't leave much room for interpretation. It's also noteworthy that Alwyn, who starred in Ang Lee's Billy Lynn's Long Halftime Walk and The Sense Of An Ending alongside many distinguished British stars, has been applauded for his maturity. While he's a young actor, his career suggests a level of accomplishment and professionalism usually attributed to older stars.
The chorus of the song also points to Alwyn being its subject. It starts off with the suggestion that this guy is taking up space in the singer's dreams, (a potential reference to the star's previous track, "Wildest Dreams") and she sings:
In the middle of the night
In my dreams
I know I'm gonna be with you
So I take my time…are you ready for it?
When the two began dating, the reports of their relationship specifically noted that Swift wanted to take it slow. "She doesn't want the photos, the hysteria, the speculation," an unnamed source told E! News in June. "When she's ready, she'll talk about it. Don't expect this to play out like her other relationships. She's taking it seriously and keeping her private life separate." This was especially important to Swift, whose relationship with Tom Hiddleston moved quickly (they reportedly met each other's parents early on in the romance) and was subject to intense media scrutiny.
While it's clear from the way Swift has handled her relationship with Alwyn that she wants it to be different from those in her past, and the chorus of this song definitely reiterates that sentiment. While the track does touch on her own romantic stumbles, it's largely about looking forward, and how this partnership feels different from the others. In one verse where she addresses her romantic history, Swift says:
Knew I was a robber
First time that he saw me
Stealing hearts and running off and never saying 'sorry'
But if I'm a thief then
He can join the heist and
We'll move to an island
and, and, he can be my jailer
Burton to this Taylor
Every love I've known in comparison is a failure
I forget their names now
I'm so very tame now
never be the same now
This could suggest that Alwyn knew of her reputation in the media for not being able to hold down a relationship. This is something Swift has touched upon in other tracks like "Shake It Off." However, in this song, the singer is saying that a new relationship has made her romantic history irrelevant. Swift establishes that this relationship won't fall into the same story that media painted.
Until this point Swift kept life with her current BF private, and if this song is indeed about Alwyn, that doesn't seem likely to change. It does suggest, however, that Swift might be a bit more "ready" to discuss the relationship, or at least her highly publicized past romances. As per usual, the star is processing her life through song. While elements of this track certainly seem addressed to Alwyn, it primarily tackles the media perception of her past relationships and the baggage that comes with it.