Your Vacation Plans Shouldn't Include Lifetime's 'Murder Island'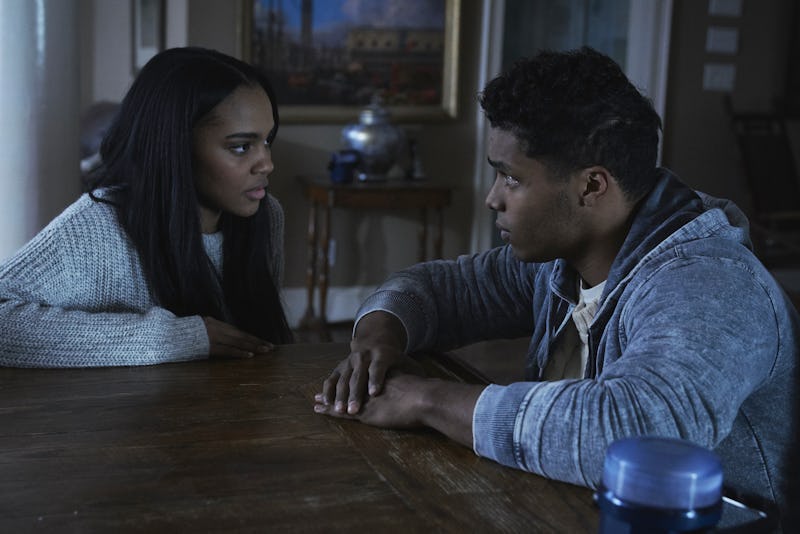 Jesse Korman/Lifetime
The title of Lifetime network's latest original movie Ten: Murder Island wastes no time telling you what the premise is. The story revolves around 10 teenagers; these teenagers begin to get murdered; and it all happens on an island. Luckily, the 'murder island' mentioned in the title is not a real place you have to worry about ending up. Unlike some Lifetime movies, Ten: Murder Island is not based on a true story — but it's also not completely original.
Ten: Murder Island is based on the novel Ten by Gretchen McNeil. Lifetime brings McNeil's tale of murder and vengeance — which is not based on a true story — to life. McNeil's book seems to pay homage to a long line of thriller novels, reaching all the way back to books like Agatha Christie's And Then There Were None, which also uses an island as a place to trap potential murder victims. Even the title Ten refers to the one of the early titles of And Then There Were None, which was called Ten Little Indians before everyone rightly decided that And Then There Were None was a much better title.
Ten serves as a modern twist on the old classic, replacing the cast of And Then There Were None with contemporary teenagers and turning the action to "navigating frenemies, former crushes, and fools" If Ten: Murder Island's spin on a classic gets you in the mood for more murder and mystery, then Gretchen McNeil's other books will have exactly what you need to scratch that itch.
McNeil's bibliography fits snuggly into the definition of Young Adult. The main characters of her novels are usually young women on the verge of adulthood learning that growing up sucks. Of course, it sucks even more when you are constantly in fear of being killed while vacationing on a murder island.
If you are looking for something to read that is a realistic thriller like Ten, McNeil's Get Mad series has what you're looking for. According to the synopsis, the two books in the series, Get Even and Get Dirty, are about the "members of Don't Get Mad, a secret society that anonymously takes revenge on the school's bullies, mean girls, and tyrannical teachers."
If you're more interested in the supernatural, then McNeil's Possess and 3:59 have you covered. Possess is all about a 15-year-old girl who is just trying to get through high school and help rid the world of demons from hell. 3:59 takes on more of a science fiction flavor, telling the story of two doppelgangers living in parallel universes who decide to switch places and see how the other lives.
Enjoy Ten but don't care to read thrillers or other scary stories? Then McNeil's upcoming I'm Not Your Manic Pixie Dream Girl may be the perfect read for you. It's a realistic contemporary romance that does away with the demons and murder of McNeil's earlier books and focuses on something much scarier — the struggle of figuring out who you want to be.
There are plenty of other books of McNeil's for fans of Ten: Murder Island to explore, and that isn't even getting into the inspiration behind the inspiration. Ten: Murder Island is not based on a true story, but those interested in learning where the story began can dig into Agatha Christie's original And Then There Were None, and see how McNeil's other YA books strike their fancy.
There is no murder island out there with your name on it, but there is a huge thriller bookshelf at your local library with classics and the contemporary takes they inspired.