Lifetime's Latest Thriller Will Make You Terrified Of Kids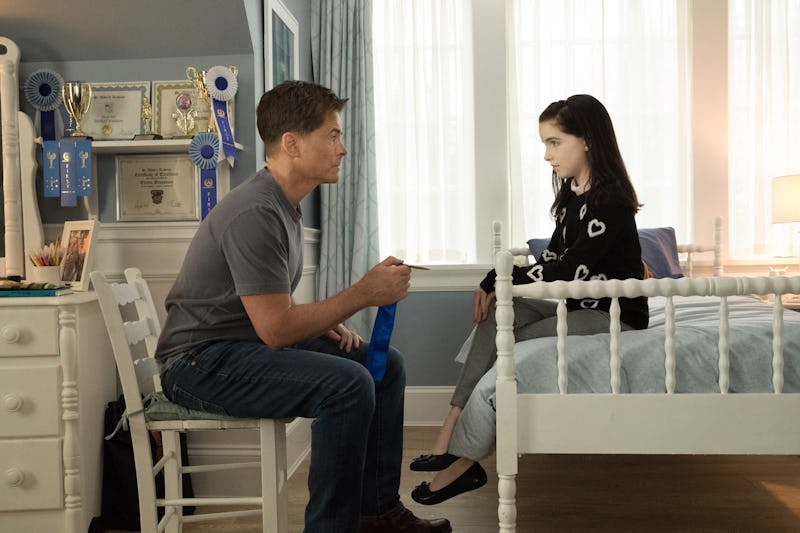 Lifetime
Is there anything scarier than a movie featuring murderous children? Probably not. And no one does murder films quite like Lifetime. Their latest thriller The Bad Seed, premiering on Sept. 9, will make you either think twice about having kids or give your existing offspring a major side eye. A story about a killer child is frightening, but is The Bad Seed based on a true story or is it just another wild tale from a network known for drama? It doesn't seem to be connected to a particular story, but the concept of a child murder is anything but fiction.
Lifetime's The Bad Seed is actually based on the 1956 cult classic film The Bad Seed, according to the official plot synopsis. The film itself was derived from the original book of the same name, per Penguin Books Australia, and focused on a housewife who suspects that her daughter Rhoda is a killer.
But, the Lifetime story is changing it up by making the parent a single father (Rob Lowe) who adores his perfectly cute daughter Emma (McKenna Grace). A horrible tragedy at Emma's school makes him wonder if his seemingly perfect daughter is actually a psychopath.
He takes Emma to see a psychiatrist (Patty McCormack) to get to the root of her problems, but odd things keep happening and it all points back to Emma. (Fun fact: according to the synopsis, McCormack portrayed Rhoda in the original movie.) Now, this dad has to decide if he's going to protect his only child or — in the spirit of Lifetime — engage in a major showdown to prevent additional tragedies.
Emma's dad has a tough choice to make, especially after what goes down in The Bad Seed's preview. He walks into his daughter's room and asks her what she would give him for a basket of hugs. Emma smiles sweetly and says "a basket of kisses," which is cute at first but soon turns creepy as she stares in the mirror and repeats the line throughout the trailer with a smile on her face.
The clip shows a seemingly unconscious boy on the ground while a woman begs onlookers to call 9-1-1. Then, there's a man holding a gun who seems to pass out on the floor as Emma screams nearby. And, someone gets burnt to a crisp in a shed as Emma's dad screams her name.
A separate mini-trailer focuses on Emma's father, who reveals that she has always been different in a good way. But, he admits that she has a coldness to her personality and he cannot trust her anymore. Emma is seen staring creepily from around corners and looking at a fellow classmate with menacing eyes. It all adds up for one very strange, and thankfully not true, tale about how there can be potential darkness in anyone, even cute kids.
The Bad Seed may not point to a specific incident, but there have been several cases of horrific crimes committed by children. The Guardian reported that 10-year-old friends Jon Venables and Robert Thompson became convicted murderers after they abducted and beat a toddler to death in 1993. The boys were actually released in 2001 when they turned 18 and now live somewhere under new aliases.
There was also 11-year-old Mary Bell, whose crimes were detailed by BBC News. According to the BBC, Bell lured multiple kids into the woods and strangled them to death. She was sentenced for murder in 1968 and was eventually released in 1980. Mary assumed a new identity upon release and later gave birth to a daughter.
In an Entertainment Tonight interview, actor Rob Lowe, who also directs and executive produced this film, said this story set the precedent for future thrillers centering on kids. "The Bad Seed invented the 'demon child,'" said Lowe. "Without The Bad Seed, there's no Exorcist, there's no Omen. It all comes from The Bad Seed and it's very, very '50s and really needs an updating, 'cause no one's ever done it." He also compares the film to The Shining and says it is more of an "unsettling" thriller than a straight-up horror movie. Well, consider us unsettled, because this is disturbing on a new level.
The Bad Seed isn't about a real-life family, but the reality of killer children makes it even more scary to watch Emma become a calculating murderer. Only time will tell if Emma really can be saved from this destructive and dark path.