'Frontier' Tells A New Side Of An Old Story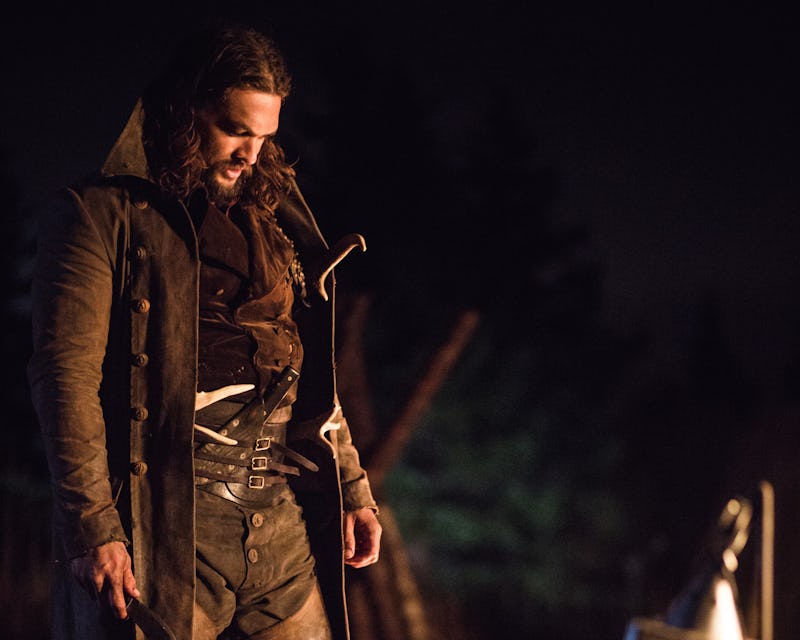 Netflix
Jason Momoa takes on Hudson's Bay Company in his new historical fiction drama hitting Netflix on Friday, January 20. Momoa plays Declan Harp, a half-Native American, half-Irish outlaw in 18th century Canada. Harp and his rebel crew are taking on the fur trade monopoly. Considering that Hudson's Bay Company was a real corporation, it's not implausible to believe that Declan Harp's rogue group is also based on an actual business. Is the Black Wolf Company from Frontier real?
Harp's crew is vying for a piece of the fur trade, and Harp leads the company with Sokanon (played by Jessica Matten). She serves as a voice of reason and strategy for Harp's group. The Black Wolf Company is made up of Native Americans who are tired of their home being exploited by European settlers reaping major profits.
The series takes place during the height of the Canadian fur trade when groups were warring for power. Hudson Bay's Company was a force to be reckoned with, as the company had a monopoly on the fur trade. (Bustle reached out to a rep for Hudson's Bay Company for comment on its portrayal in Frontier, but has not yet heard back.) On the historical drama, which first aired on Discovery Canada in November, the Black Wolf Company is one of the groups hoping to carve out a place in the fur trade, by any means necessary.
While themes of colonialism, the real Hudson's Bay Company, and the notion that groups fought for a part of the lucrative fur trade are all rooted in history, the Black Wolf Company is a fictional group. It should also be noted that Declan Harp is a fictional character who's being used as a tool to tell a historical story.
Not too long ago, a show about the North American fur trade would likely have disregarded the stories of the Native American people and focused solely on the company. Those behind Frontier wanted to tell a different story. "Twenty years ago it'd be a white person's show. It'd be the trials and tribulations of the Europeans," executive producer and star Allan Hawco told Huffington Post Canada. "There's a bigger issue here in terms of what we did as a settlers and as a people by essentially invading a land. That's the biggest part of it for me."
Frontier strives to shed light on an important part of history and not shying away from showing the malfeasance of the European settlers and corporations. While Harp and his Black Wolf Company are not real, their characters are serving an important purpose on the television series — telling an all too often overlooked part of our history.