Why The 'Runaways' Secretive Church May Remind You A Lot Of Scientology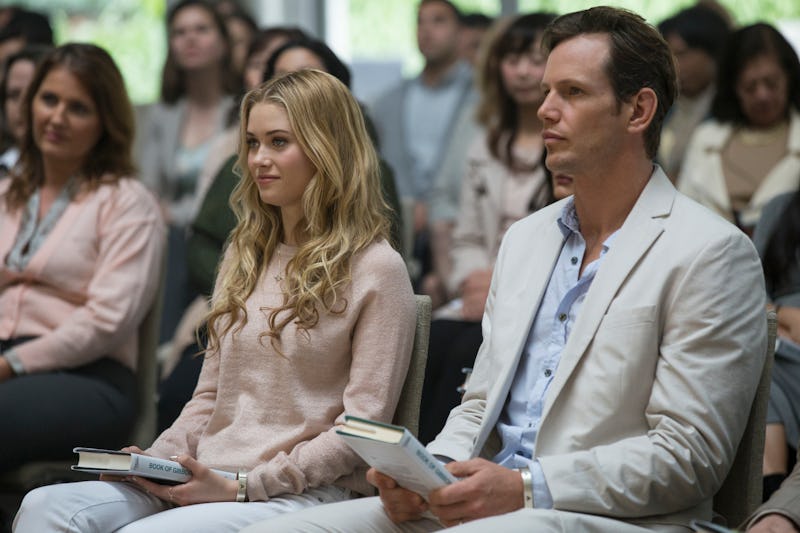 Paul Sarkis/Hulu
At the heart of Hulu's new Marvel series, Runaways, is the the Church of Gibborim, a formidable religious sect that's drawn early comparisons to Scientology, a similarly new age, celebrity-centric church. But is the Church of Gibborim actually based on Scientology, or is it just a coincidental parallel? Bustle reached out to Hulu, and the network declined to comment.
Reviewers for sites like Vulture, i09, and even The New York Times have all described the organization as Scientology-esque, while The Hollywood Reporter's Daniel Fienberg was more direct: "For legal purposes [the Church of Gibborim] definitely isn't based on Scientology, but for practical purposes is totally based on Scientology," he wrote. However, as pop culture junkies well know, TV shows and movies based on anything true to life generally bill themselves as such, and since Runaways makes no mention of Scientology, it's best to assume its central church is purely fictional.
Still, there are certainly some analogies to be made. Both are large, somewhat newly established religions with deep Hollywood roots. In Runways, Gibborim's leaders are pillars of their elite Los Angeles community, while the Church of Scientology has well-known Celebrity Centres catered to "artists, politicians, leaders of industry, and sports figures," according to their website. Among those who have publicly spoken about their involvement with Scientology are Tom Cruise, Elisabeth Moss, Laura Prepon, and John Travolta.
They're also both fairly controversial institutions. Since its founding in 1954, there have been numerous troubling allegations made against the Church of Scientology, most notably in HBO's 2015 documentary, Going Clear: Scientology & the Prison of Belief, and former church member Leah Remini's A&E series Leah Remini: Scientology and the Aftermath. Spokespeople for the church have repeatedly and vehemently denied all of the accusations made in each project, including those regarding the physical abuse of members. A Scientology spokesperson told The Wrap in 2015 that the claims made in Going Clear, were, "desperate," "ludicrous," and "made-up," while a statement released in August to USA Today called the allegations made in Scientology and the Aftermath "salacious, unvetted falsehoods."
In The Runaways, the Church of Gibborim is similarly contentious, but with one key distinction: it is unequivocally evil. Star Annie Wersching, who plays church leader Leslie Dean, described it to Nerdist. She said:
"It's a very powerful celebrity church in Los Angeles that does a lot of good but has a definite creep factor."
In the series, the church fronts as an upstanding organization, but has secret ties to the Pride, a villainous supergroup from the original comics comprised of time travelers, mad scientists, mutants, and dark magicians. Each of the six Runaways' parents are members, and as the show's core teens soon come to find out, they may be quietly covering up some quite nefarious behavior. During a rare get-together at Alex's mansion, the once-estranged pals stumble upon their parents in the midst of a suspicious ritual and decide to reunite to investigate.
The Pride's exact intentions aren't immediately apparent, but per Vulture, involve putting on red cloaks and maybe, possibly killing people. That would line up with the original comics, in which the Gibborim are an ancient race of aliens who recruited the Runaways' parents in the '80s. According to Nerdist, they offered the Pride unlimited wealth and power in exchange for their help wiping out life on Earth, and it's for that reason that each year, the Pride meet under the guise of a charity fundraiser to sacrifice a young woman — ostensibly the same ritual The Runaways stumble upon in the show.
So, with all of that in mind, it is possible that the Church of Gibborim is loosely shaped around Scientology, but given all the supernatural elements at work, it's definitely not a direct copy. One thing that is for certain? Gibborim will play a large role in The Runaways, and likely not for the better, as far as the core six heroes are concerned.