Keeping The Olympic Ice Rink Just The Right Temperature Is A True Science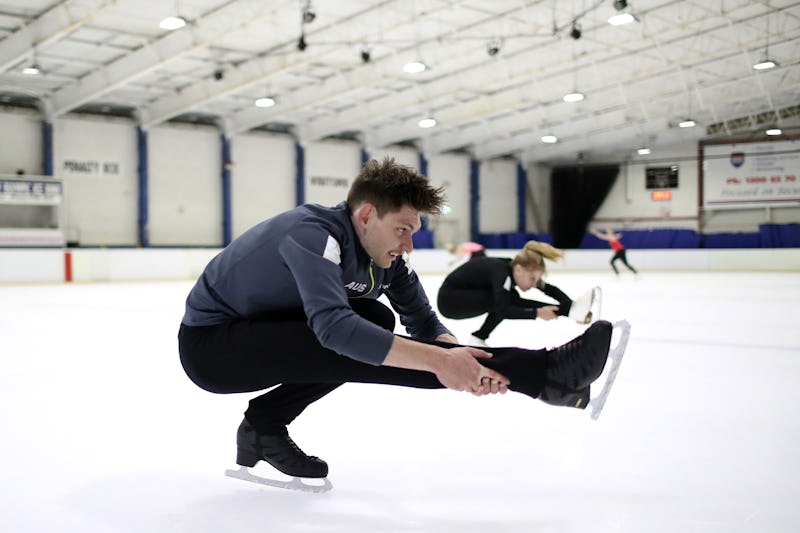 Cameron Spencer/Getty Images Sport/Getty Images
While the 2014 Olympics in Sochi was plagued with a warm, humid winter and concerns there was not enough snow, this year's winter games might actually be too cold. As tourists and athletes descended in PyeongChang ahead of the games' official start, fierce winds in subzero temperatures have made ice skating fans wonder whether the ice rink will be heated for the Winter Olympics.
Olympic organizers are already planning to hand out heating pads, blankets, and raincoats to spectators at the PyeongChang Olympic Stadium, which was built with an open roof to save time and lacks central heating. The speed skating and figure skating events will be held in a different arena, however. The Gangneung Ice Arena, which can hold up to 12,000 spectators, is the indoor facility where Americans will watch Team USA favorites compete for gold. While being too cold sounds like a bigger concern to people cheering from their seats rather than on the ice itself, science says otherwise. Ice rinks have to maintain a certain surface temperature to work, and each sport has different requirements.
At the last Winter Olympics, for example, Sochi's ice makers and engineers had to adapt to arenas beside the Black Sea, where the subtropical climate could sneak its way inside the competition venues.
Ice skating rinks are usually built at high altitudes with low humidity, which help maintain ice quality so athletes can perform their best, says Ko Kihyeon, manager of the Gangneung Ice Arena. Kiyyeon is an Olympian himself, winning gold in short track speed skating at the Salt Lake City 2002 Winter Olympics. Like the Sochi ice skating venue, the Gangneung venue's proximity to the sea makes it less than ideal because the humidity is high. The venue is also not located at a high altitude. "We can't raise the altitude artificially, but we have installed powerful dehumidification and ice making equipment to help maintain optimum humidity," Kihyeon said while discussing preparations on the PyeongChang 2018 blog.
An ice skating rink is made up of several levels, the top being the skating surface that spectators see, which sits on top of a concrete slab that bears the ice, which sits on top of a layer of insulation, which sits on top of a heated concrete level above the ground. The different layers work together to maintain the quality of the skating surface. While you would think that keeping everything frozen is the only goal, the entire system involves simultaneous heating and cooling.
A shift in ice temperature could make or break an athlete's performance, so you can bet that the Winter Olympics ice skating arena will be strictly maintained. At Gangneung, the ice needs to be harder and more compressed than your run-of-the-mill recreational skating rink, according to Dow Industrial, which is providing chemical materials to the ice rinks at the Winter Olympics. Kihyeon said the biggest challenge will be changing the ice quality between back-to-back short track and figure skating events in just three hours.
Speed skaters need hard, compact ice to glide with less resistance, while figure skating require softer and thicker ice for grip. The fast turnaround has been a problem in the past, where speed skaters have complained about the ice being too soft. "After figure skating you can't predict how it's going to be," said J.R. Celski at the Sochi games. "It's often softer and wetter than you expect. You put pressure down where you shouldn't and you pay the price." Celski, a three-time Olympic medalist, will be competing at PyeongChang.
Meanwhile, athletes off the rink are struggling with the climate in PyeongChang, with skiers reporting warped skis. PyeongChang is located in one of the coldest areas in South Korea and this year's Winter Olympics are set for being the coldest winter games since the 1994 Olympics in Lillehammer, Norway.