That 'Master Of None' Restaurant Is A Real Place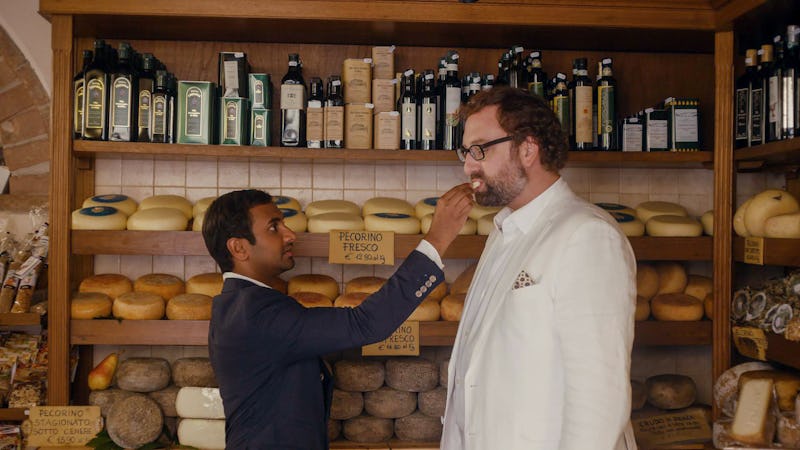 Netflix
It's safe to say that watching Master Of None Season 2 will make you hungry, but it may also help you plan your next trip. Spoilers ahead. When we last left creator Aziz Ansari's nice guy character Dev he was heading off to Italy to nurse a broken heart after breaking up with his girlfriend Rachel (Noël Wells) and learn to make pasta. In Season 2, we soon see that he's enjoying his time in Modena, Italy, making friends, pasta and dinner reservations at fancy Italian eateries like Francescana. But is Francescana a real restaurant? Why, yes, yes it is.
Turns out, it's also very delicious. When Dev's Big Bud Arnold comes to visit him, he makes him a reservation at the Osteria Francescana as a birthday gift — and it's a big get. Dev isn't lying when he says the eatery, which is easy to find thanks to its pink wall and glass door entrance, is "booked up for 10 years." Thanks to Arnold's aunt and her meat slicers, they were able to fit them in. You however may not be so lucky; Osteria Francescana is currently the number one restaurant in the world.
The modern Italian eatery run by Chef Massimo Bottura was given the title in 2016. However, they've made it into the top of the World's Best 50 Restaurants list since 2011, landing at number two in 2015. Bottura, who is starting a restaurant with Robert DeNiro, even gets a cameo in Episode 2 "Le Nozze," serving Dev and Arnold some "lentils, that are almost better than caviar" and mouthwatering tortellini.
Don't believe them? Just check out Wareheim's Instagram.
In the local Modena paper, Gazetta di Modena, Francescana's chef said he had befriended Ansari. He even claimed he was the reason Ansari filmed Season 2 in Modena. "Aziz Ansari has been a month and a half in retirement in a B & B here in the center and we saw every day," he said. "He became a great friend." That's no surprise, since Bottura is known for his wit. He actually serves a dessert called Oops, I Dropped The Lemon Tart!, which is a Instagram-worthy final dish.
The chef said he showed the actor around Modena, and Ansari "returned spontaneously with this project and crew." He thinks the show will actually help city's economy. "Modena will be seen for two or three episodes around the world! Is not that crazy?" he said. "Everyone will be talking about us and see a magnificent city. You will see what will happen! And tourism I think we're already taking off for the first time."
Let's be honest, though. It seems that Bottura and Osteria Francescana are helping tourism in the Italian city all on his own. In a 2016 Guardian review of the restaurant, the food critic wrote that there was a long line waiting to get in at 5 p.m. when the restaurant doesn't open until 8. The writer also ran into a Texas couple who were "ecstatic" to travel to Modena for the day just to try the food at Osteria Francescana.
Not sure exactly what to get? Try ordering the Master Of None special. Who knows? Bottura may just give it to you.