'The Kominsky Method' Isn't A True Story, But It Nails What Aging In Hollywood Feels Like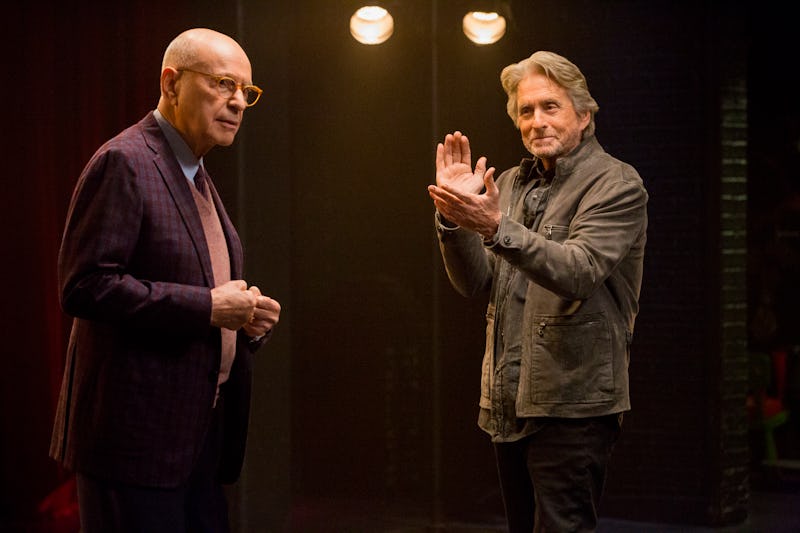 Mike Yarish/Netflix
Network comedy heavyweight Chuck Lorre's move to Netflix might bring in a new audience for the Two and a Half Men and Big Bang Theory creator. But his latest creation, the buddy comedy The Kominsky Method, isn't that big of a break in his formula. And while the show's content is deeply personal for Lorre, which might make you wonder if The Kominsky Method is based on a true story, this "method" isn't one that young actors can learn and practice IRL.
The series stars Michael Douglas an Alan Arkin as an actor/acting teacher and his agent. The "Kominsky Method," by the way, is a not a real thing; you're thinking of the Stanislavsky System, or method, of acting. Here's the official description from Netflix:
The sun isn't setting yet on the once famous Sandy Kominsky and his longtime agent Norman Newlander — two friends tackling life's inevitable curveballs as they navigate their later years in Los Angeles, a city that values youth and beauty.
"I wanted to write about the experience of getting older," Lorre said in an interview with Entertainment Weekly, "how that feels in terms of your body, your relationships, losing loved ones, being estranged from the culture. There's so much that goes on as you watch your body decay. So that was the impetus."
The series also features love interests that are close to the character's age, which is more realistic than we're used to seeing on television. "I wanted the romantic entanglement to be with a woman who's every bit his equal," Lorre told EW. "someone who would challenge him and call him on his nonsense."
As this is set in Hollywood, Lorre is drawing from his own experiences and observations. So while Kominsky and Newlander may not be real people, they take inspiration from real people and real situations. It's not autobiographical, however, as Lorre is a writer not an actor. But Lorre has been working in television since the '80s, and therefore has three decades worth of observations about what it's like to age in such an age-centric environment. Arkin and Douglas, as veteran performers, also have a lot to contribute.
"Dealing with the issues of age and the fragility of his health — these things are embarrassing and difficult to talk about and he dove right into it," Lorre said of Douglas in an interview with Variety. "I was just really struck not only by how well it turned out, but the bravery of saying, yeah, let's do this, let's tell this story. As you get older it's a real issue. I wanted to take it seriously but at same time laugh at entropy. Michael never flinched. He just went after it. I love that about him and love watching his work. He's a very brave actor."
So, while the show's title may sound like a book on tape you can pick up at the library and play on the way to your next audition, The Kominsky Method is a work of fiction inspired by its intrepid creator's time in Hollywood.