Why Trump's Opioid Crisis Announcement Is A Major Betrayal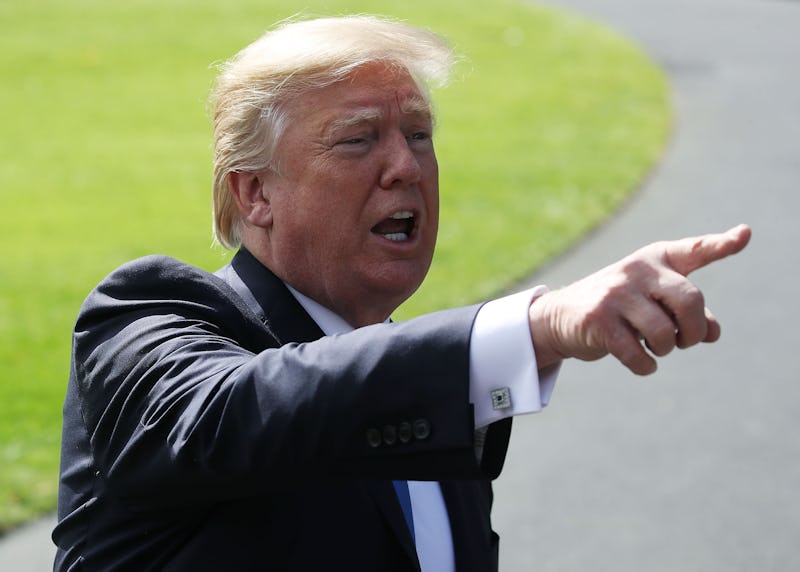 Mark Wilson/Getty Images News/Getty Images
In a speech at the White House on Thursday, President Trump declared the opioid crisis a "public health" emergency. Flanked by First Lady Melania Trump, the president called the opioid addiction the "leading cause of unintentional death in the United States by far." The public health declaration, however, will hold back on offering extra funds to help fight the epidemic until Congress allocates it.
The opioid epidemic has rapidly escalated in recent years. According to USA Today, 64,000 Americans died last year as a result. On Thursday, Trump called the opioid crisis a "worldwide" problem and said that the government should find a "non-addictive" alternative to opioids.
Back in August, Trump described the opioid crisis as a national emergency, but his administration never made a formal declaration, which means his comments held no policy weight. A formally declared national emergency — which Trump once again promised last week — would have given the administration the power to divert funds, redirect resources as needed, waive patient privacy laws, and permit medical professionals to prescribe certain opioid addiction treatments more easily. According to The New York Times, there are currently 28 active national emergencies, addressing issues such as human rights in Venezuela, the peace process in the Middle East, and the Iranian government's actions.
However, despite promising to declare a national emergency of that weight multiple times, Trump instead declared a nationwide public health emergency on Thursday. Public health emergencies must be issued by Eric Hargan, the acting secretary of Health and Human Services, and their scope is more local than that of a national emergency. An active public health emergency, which lasts for up to 90 days but can be renewed, will enable Hargan and his department to issue grants and access previously unavailable funds in order to combat the opioid crisis. Recent public health emergencies have included Hurricanes Harvey, Irma, and Maria.
According to Vox, a public health emergency declaration will not even put a dent in the opioid crisis, let alone resolve it. This declaration will allow HIV treatment funds to be used to treat opioid addition. It will also enable people with opioid addiction to receive National Dislocated Worker Grants, which are typically reserved for survivors of natural disasters. Furthermore, a public health emergency gives the Department of Health and Human Services access to the Public Health Emergency Fund, but USA Today reported that Congress has failed to consistently add money to it. There is reportedly only $57,000 in the fund, whereas the opioid crisis would likely require billions of dollars to solve.
Although the administration has declared the opioid epidemic a public health emergency, Senate Democrats have been impatient with the administration's long-drawn-out response to the crisis. On Wednesday — just one day before Trump's own announcement — they introduced a bill that would invest $45 million into the fight against the opioid crisis.
"The Trump administration's plan to address the opioid epidemic has been little more than empty words and broken promises," Massachusetts Sen. Edward Markey said in a press release ahead of Trump's announcement. "What we need to fight this scourge is continued and reliable long-term investments in prevention, treatment, recovery and monitoring."
In August, The New York Times noted the unusual nature with which this administration has proceeded in regards to the opioid epidemic. Public pronouncements and formal declarations of national emergencies are traditionally simultaneous, but despite the Trump administration claiming that it was conducting a legal review of the necessary procedures to make such a declaration, it never did happen.
Now, after months of promising on multiple occasions to declare a national emergency, Trump called for a public health emergency with no new funds allocated. The potential impact of this declaration, while important, is nonetheless limited, but experts hope that this will be the Trump administration's first concrete step in combating a decades-old crisis.