AMC's Gentle New Comedy Seems Too Good To Be True, But Actually Has Real-Life Inspiration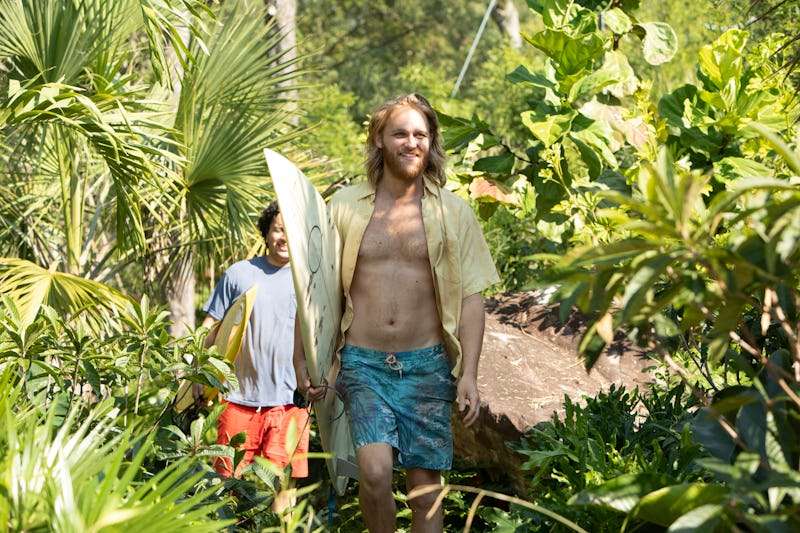 Jackson Lee Davis/AMC
Taking their existing originals as examples — Dietland, Preacher, Better Call Saul — the quintessential AMC series is dramatic, and maybe a little weird. But as almost a downright comedy, the network's latest piece of original programming aims to be a change of pace. Is Lodge 49 based on a true story? The mysterious world that the main character enters in the Aug. 6 premiere seems too good to be true. So, no, "the Ancient and Benevolent Order of the Lynx" does not actually exist and therefore won't be accepting new members.
The show, a lighthearted tale about surfing and a surreal members-only club, seems to be an entirely fictional, new idea. "I had this image in my head for a long time of a young man knocking on a door, and an old man opening it. And that was it," said Lodge 49 creator Jim Gavin in an interview with Variety. "The meaning of that moment is the whole show." Gavin went on to describe this inspiration as a "story of the knight and the squire going on a quest" in the "kingdom of Long Beach."
That said, according to Variety, Gavin's own history with bank foreclosures and squatting contributed a lot to some of the more serious aspects of the series. The squire/aforementioned "old man" in Lodge 49, played by Brent Jennings, is based on someone that Gavin knows in real life as well. "Every character does come out of my life in some way," he told Variety.
Here's the official description of the series from AMC:
"Written and created by Gavin, Lodge 49 is a modern fable set in Long Beach and centered on Dud, a likable ex-surfer who attempts to maintain his positive outlook on life while still reeling from the death of his father, the collapse of the family business, and any semblance of the idyllic middle-class life he knew. Dud finds himself deposited by fate at the doorstep of Lodge 49, home to the Ancient and Benevolent Order of the Lynx, a dusty dying fraternal order. Dud finds solace in this dark, mysterious retreat, which offers cheap beer and strange alchemical philosophies. There he meets his mentor, Ernie Fontaine, a 'Luminous Knight' of the Order, who sells plumbing supplies by day. Despite the constant pushback from his more skeptical, pragmatic twin sister, Liz, Dud and Ernie find themselves drawn by the Lodge into some long-buried secrets and modern day conspiracies. Through his newfound connection with the Lodge, its mysteries and its people, Dud comes to find the missing sense of purpose in his life and confront his deepest fears and greatest hopes."
Though the characters are pulled from the co-creators life, the descriptor "fable" alone is enough to tell audiences that this story is fictional and not based on any real life-changing clubs, unfortunately.
Additionally, according to an interview with Deadline, one of Gavin's main influences is Postmodern novelist Thomas Pynchon, known for his dense writing and complex themes. They're not exactly a laugh and a half. It's highly possible, then, that the title of Gavin's series is a nod to Pynchon's The Crying Of Lot 49, a novella about mail, not social clubs.
Per that same Deadline article, clubs like the (Benevolent and Protective Order of the) Elks, the Freemasons, and the more spiritual Rosecrucians may have inspired the fictional Lodge in the series. Even Disneyland has one of these VIP societies, and it's top secret with a waiting list rumored to span decades. Their activities and missions range, so you can consider the AMC version of the grown-up fraternity an invention that may take one or more of these real societies into consideration.
So Lodge 49 is a little bit funny, a little bit ominous, and a little bit grounded in real life experiences. Sounds like the makings of new late summer obsession.