The CW's New Fantasy Series Will Probably Remind You Of Some Of Your Favorite Epics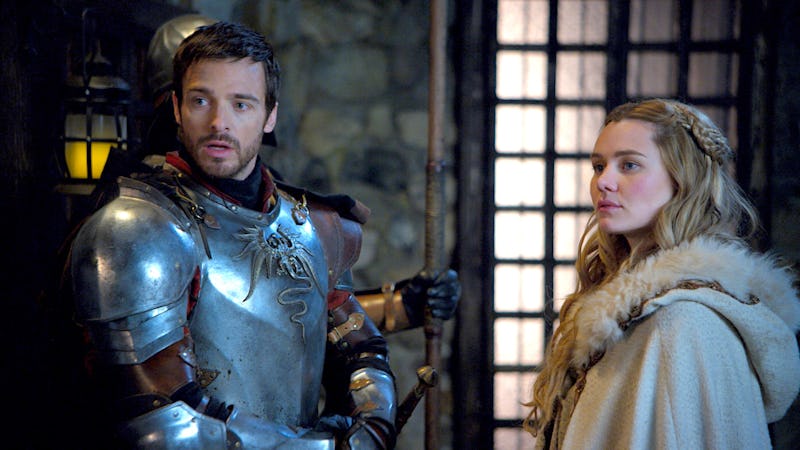 © Outpost TV LLC
In the great tradition of warrior women that extends from Xena to Katniss and so on, there's Talon (Jessica Green), the heroine of the CW's summer drama The Outpost, premiering July 10. The series follows the survivor as she attempts to avenge her murdered people. It sounds like the stuff of great YA novels, or at least a decent video game, so is The Outpost based on anything?
It's a valid question, since the CW has made book-to-TV and comic-to-TV adaptations much of its bread and butter. Riverdale, Gossip Girl, The Vampire Diaries, and everything in the Arrowverse all take their cues from other source material. However, The Outpost is a 100 percent original creation. Who said they never made anything new in Hollywood anymore, eh?
Fantasy vets and Mythica creators Jason Faller and Kynan Griffin produced The Outpost for Arrowstorm Entertainment and Electric Entertainment, the Wrap reports. When it was acquired by the CW, Dean Devlin (Stargate) and Jonathan Glassner (Stargate SG-1) also signed on as executive producers.
According to the official plot description for The Outpost, shared by Den of Geek, Green's character Talon is the last of a mythical race called the Blackbloods, and she's hell-bent on getting revenge on the murderers that killed her people.
"Years after her entire village is destroyed by a gang of brutal mercenaries, Talon travels to a lawless fortress on the edge of the civilized world, as she tracks the killers of her family. On her journey to this outpost, Talon discovers she possesses a mysterious supernatural power that she must learn to control in order to save herself and defend the world against a fanatical religious dictator."
Just what the Blackbloods are and why they were destroyed isn't quite clear yet. The Hollywood Reporter's Daniel Feinberg equates them to elves in his review of the pilot episode, but laments the fact that the series doesn't go much more beyond that to give them a backstory. Not yet, anyway. He wrote:
"With pointy ears and an apparent love of nature, they are sort of like elves except that… Well, the pilot doesn't give any other details, so while it's possible they have certain magical powers... they're wiped out by a band of bloodthirsty mercenary soldiers before they can exhibit definable characteristics."
In one of the trailers for the series, Talon mentions that she's come to the Outpost for work as a bar maid, which makes me think there miiiiight be a sort of Peaky Blinders-type story unfolding here, like when Grace snuck into the Garrison as a bar maid to spy on Thomas Shelby and accidentally fell in love with him. Except, instead of an undercover cop and Brummie gangsters, it's an elven warrior and a bunch of mercenaries.
In a behind-the-scenes sneak peek shared on The Outpost's official Twitter, Jake Stormoen, who plays Garret, one of the protectors (i.e. guards) stationed at the Outpost, said that there's definitely a love triangle brewing between Garret, Talon, and Gwynn, the upperclass girl also living at the Outpost with her high-ranking father. Now it sounds slightly more Wicked than Peaky Blinders, with one man caught between a princess and a weird girl with magic powers, but hey, only time will tell.
While The Outpost isn't based on any piece of media or literature that already exists, it's already clear from the trailers and reviews that the show makes countless parallels to not only other fantasies, but dramas and even action stories as well. Tolkien and Game of Thrones don't have a monopoly on adventure and revenge plots, but the question now is, will The Outpost be able to stand out against the competition?