Fans of 'Anastasia' Should Check Out This New Amazon Show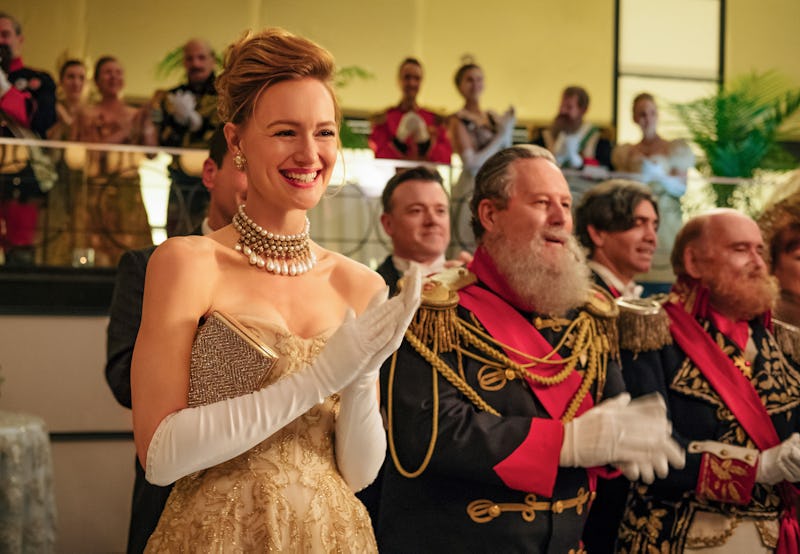 Jan Thijs
Fans of The Americans will be happy to know that there's a new show centering around Mother Russia. From Mad Men creator Matthew Weiner comes The Romanoffs — a new anthology series which premieres Friday, Oct. 12 on Amazon Prime. This sprawling, eight-episode epic follows people from a variety of backgrounds who all claim to be descendants of the Russian royal family. The plot sounds too ridiculous to be real, so it's valid to ask whether The Romanoffs is based on a true story.
While Weiner's new anthology isn't based on real people per se, there are definitely elements that were drawn from true life. For example, the Romanovs were indeed the Russian royal family until July 1918, when Tsar Nicholas II, his wife, Alexandra, and their five children — Olga, Tatiana, Maria, Anastasia, and Alexei — were executed by Bolshevik troops, per National Geographic. Just one year prior, the Tsar had abdicated his throne during the Russian Revolution, after which they were held in captivity, according to the same report.
Anyone who's seen the 1997 animated film Anastasia knows about the rumors surrounding any remaining members of the Romanov family — especially Anastasia, who many believe fled. According to National Geographic, the most persuasive account was from a woman named Anna Anderson, who moved to the U.S. However, many people believe she was simply a Polish factory worker who suffered from mental illness. And, according to CNN, scientists found bone and tooth fragments from the Romanov family grave in Yekaterinburg in 2008. These remains confirmed that all of the Tzar's children were killed by the Bolsheviks — Anastasia included.
That being said, there were other relatives of the royal family who escaped. According to the New York Times, about 35 Romanovs survived the ordeal with the Bolsheviks, including Nicholas's mother, Maria Feodorovna; his sister Xenia; and her husband, Alexandr. And while there are certainly surviving heirs to the Romanov family, such as Maria Romanova, a great-great-granddaughter of Czar Alexander II, their legitimacy is often disputed — including Maria's — per the NYT. What's more, the Imperial House has their own website which boasts a comprehensive genealogy and Romanov history, among others.
In a 2017 interview with the Hollywood Reporter, Weiner said that each episode of The Romanoffs will have a different cast, story, and location. The glue that holds these wildly different people together is their belief that they're descendants of the Russian royal family. "[T]he reason that I picked the Romanovs is that in an era where we have social media and so much theoretical connection to each other it really seems like we're further apart than ever," the showrunner told THR. "And I love this idea that these characters believe themselves to be, whether they are or not, descendants of this last autocratic family who are part of one of the great true crime stories of all time."
In addition to this historical foundation, some inspiration was drawn from real life experiences. According to an interview the showrunner did with Vanity Fair, the episode "The End of the Line" is set in Russia and is based on some experiences from the episode's writers, Maria and André Jacquemetton. While the article didn't go into detail about the episode's plot, it will only be a matter of time before audiences can watch it for themselves.
"We've collected a lot of stories, and now we've gotten into the Romanov part of it and what that means in the 23andMe world," Weiner told THR before they wrote the script. "There's a fascinating question of who are you and who were you and who was your family." So while it remains to be seen whether any of the characters in Weiner's new show are actually related to Tsar Nicholas II and his family, it's a fascinating concept for an anthology. And although the Romanovs no longer have any political power, it will be interesting to see what kinds of people claim some of that power and how they conduct their lives with that knowledge — whether it's accurate or not.