How Twitter Is Protesting To Keep The Internet Open To All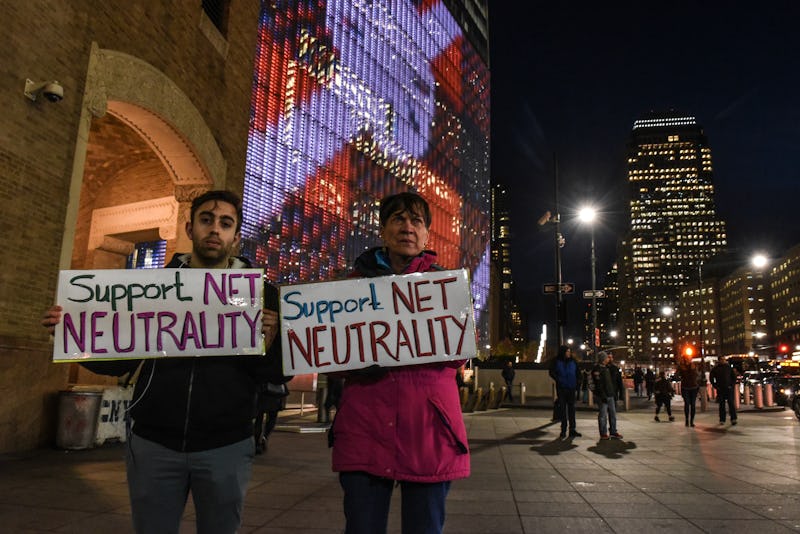 Stephanie Keith/Getty Images News/Getty Images
On Dec. 14, the Federal Communications Commission (FCC) will vote on whether or not to reverse net neutrality, a decision that could effectively end the internet as we know it, allowing providers to prioritize access to certain websites over others. In anticipation of this landmark decision, Fight for the Future, a digital rights advocacy group, has launched the "Break The Internet" net neutrality hashtag and campaign to motivate those who oppose getting rid of the regulations.
"We have just days," the group writes on the campaign's site. "The FCC is about to vote to end net neutrality — breaking the fundamental principle of the open Internet — and only an avalanche of calls to Congress can stop it." The organization provides multiple ways you can speak out in defense of net neutrality, including a code you can add to your website that displays a prominent alert demonstrating what the internet would be like without net neutrality and prompting visitors to call Congress.
They also offer the option to change your profile picture to an angry emoji with the hashtag #StopTheFCC, or select some of the group's pre-written tweets to share with your followers. For instance, one reads: "WE HAVE *JUST* 48 HOURS TO #STOPTHEFCC and save the Internet. Take action now and spread the word: battleforthenet.com." There are also photos to post to Snapchat or Instagram, links to share on Reddit, and widgets that will allow people to contact Congress from a Tumblr page.
"Ajit Pai's proposal to let Internet Service Providers control what Internet users can see and do online may get a vote this week, but he has already lost," Fight for the Future campaign director Evan Greer said in a statement.
"The FCC's planned net neutrality repeal has sparked an unprecedented backlash from Internet users across the political spectrum. It's unlike anything I've ever seen in my life as a digital rights activist."
The organization launched this campaign because they know that "Congress has the power to stop the FCC or overturn their decision," Greer said, and that it would be "impossible for lawmakers to hide from their constituents on this issue."
So they're providing the tools, and the hashtag, to amplify the voices of those that oppose getting rid of net neutrality. Since they launched the campaign, thousands of people have participated in the movement.
In a tweet using the #BreaktheInternet hashtag, the American Civil Liberties Union laid out a list of things that internet providers got away with before net neutrality regulations were put in place by the Obama administration in 2015.
For instance, in 2007, AT&T censored a livestream of a Pearl Jam concert when frontman Eddie Vedder criticized then-President Bush, and Verizon blocked texts from abortion rights group NARAL because they were "controversial."
The backlash has already proven to sway some Republican's point of view. "In the last week we've seen a slew of Republican lawmakers publicly speak out in support of net neutrality and criticize the FCC's rush to dismantle it," Greer said.
"Ajit Pai has created a political crisis for his own party. Congress members have read the writing on the wall. They've heard the droves of phone calls from their constituents. They've seen the power that the Internet has to defend itself."
Several Republican lawmakers have spoken out in support of net neutrality recently, including Rep. Mike Coffman of Colorado. "The Internet has been and remains a transformative tool, and I am concerned that any action you may take to alter the rules under which it functions may well have significant unanticipated negative consequences," he wrote in a letter on Tuesday.
"Therefore, I urge you to delay your upcoming vote and provide Congress with the opportunity to hold hearings on the net neutrality issue and to pass permanent open Internet legislation."
As Greer put it, Fight for the Future's Break the Internet campaign wants support so they can "get Congress to put their dreams of new fees, throttling, and censorship to rest, for good."