'Deadly Secrets By The Lake' Takes Place In A Mysterious Town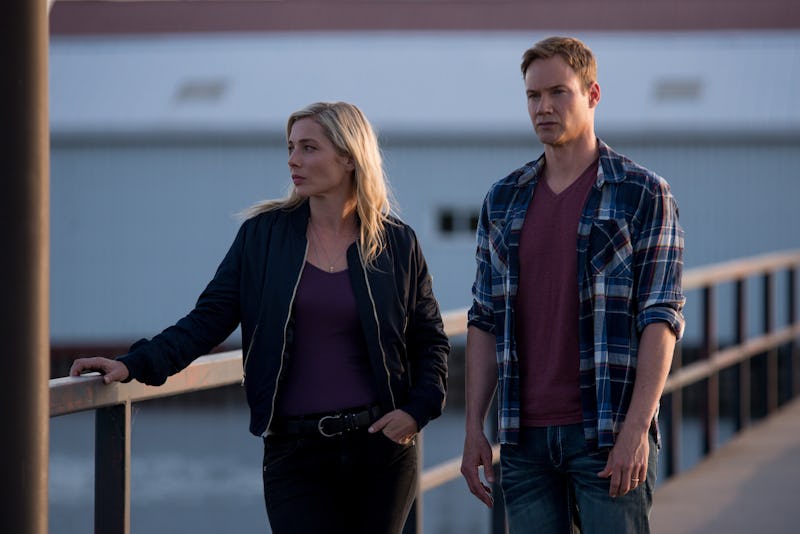 Lifetime Movie Network
There are two things I know to be true about Lifetime movies: they have a flair for the dramatic, and they often borrow plot elements from real life. The Lifetime Movie Network is definitely stepping up the eeriness factor with its latest offering, Deadly Secrets By The Lake, which premieres on June 2. The movie follows the story of decorated NYPD Detective Jennifer Riley, who returns to her hometown of Thornwood Heights after her sister is charged with murder. Although the movie itself isn't based on a true story, I'm still curious to know if Thornwood Heights is a real town.
As it turns out, the town is as fictional as the plot. But the filmmakers and PR team behind Deadly Secrets By The Lake have made every effort to make it feel as realistic as possible. A Thornwood Heights town website has been created, and after spending some time browsing the page, I found myself intrigued by this nonexistent town. Needless to say, it'll play a key role in the movie itself. According to the official synopsis, Jennifer's investigation "exposes the dark underbelly of a long-suppressed secret that threatens to tear Thornwood Heights apart."
So, before you settle in for the thriller, acquaint yourself with Thornwood Heights and its inhabitants. According to the town's "official" page, other key characters include Jennifer's older sister, Nova, who resents her success, and her dad, Tom, an alcoholic who "blames himself for not protecting [Jennifer] when she needed him." The youngest Riley sister, Lauren, who is ultimately accused of murder, is the "black sheep" of the family. Viewers will also be introduced to the Blake family — despite a rivalry between the Blakes and the Rileys, Jennifer was best friends with 17-year-old Abby Blake until the teen vanished without a trace. Her father still suspects that Jennifer was somehow involved in Abby's disappearance — and he believes Tom is protecting her.
According to news reports from the fictional local paper, Thornwood Heights has recently undergone some major changes and become a "hot tourist destination" — and residents have mixed feelings about it:
"Over the past 20 years, business and residential developments have boomed. Seven corporations have set up headquarters or field offices in town, and six new housing developments, most recently the tony Thornwood Pier, on the eastern shore of the lake, have attracted families and summer-home seekers.
According to Lucky Martin, builder of environmentally friendly housing, the corporate expansion isn't necessarily great for Thornwood Heights. 'Before you know it, the public walking and biking path around the lake could be the private property of Blake Mining and Exploration, a corporation that's sucking the natural resources of our beautiful town dry.'"
Based on Thornwood Heights' website, the local paper's investigative journalism will play a major role in the movie's mystery. Other headlines include "Decades-Old Cold Case Tied To Disappearance," "Conflict Of Interest Blamed For Cold Case," and "Decorated NYPD Detective Linked To Disappearance Of 20 Years Ago."
If you want to play detective yourself before the movie's premiere, check out the interactive Townsend Report — you can search for clues in the boathouse where Abby disappeared 20 years ago.
I can't wait to see Thornwood Heights and its shady inhabitants on my small screen — but something tells me that Jennifer isn't going to receive a warm welcome home.