This New True Crime Series Uses Real, Chilling Audio To Tell Its Stories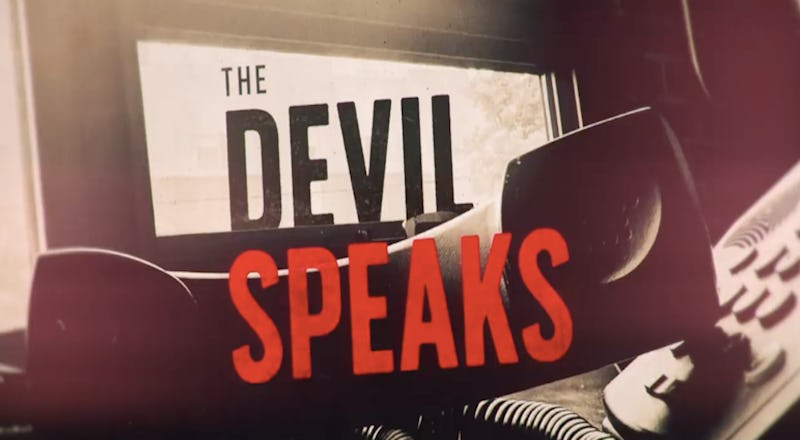 Investigation Discovery
Investigation Discovery is adding to its true crime lineup with The Devil Speaks, a six-part series that hinges on real audio of police interviews, phone messages, 911 calls, and more, which are used to piece together its cases. The premiere episode chronicles Tina Williamson's murder conviction after the death of General Jack Rains. Though she claims she's innocent, the Murfreesboro Post reported that she was given a 71 year sentence, which is why Tina Williamson is still in prison in 2018.
She's served 10 of the years so far, with Tennessee inmate records indicating that she is eligible for parole in 2065. Since she was convicted at 40 years old and is now 50, she would be 96 by the time she could be paroled. Court documents about the trial state that Williamson was convicted of "second degree murder, felony murder, and especially aggravated robbery."
She was sentenced to life plus 20 years, but the Murfreesboro Post noted that a "life sentence" in this instance was 51 years — plus that extra 20 — for a 71 year total. Not quite an actual total life sentence, but it might as well be one considering her potential parole age.
Williamson was convicted in the death of retired Air Force General Jack Rains, who died in 2007 at age 83 of five gunshot wounds to the head, according to another Murfreesboro Post report. Williamson had become acquainted with Rains via her husband, who met Rains at a flea market, according to court documents. Rains became friends with the family, often attending family functions.
Rains and Williamson later started a business together buying and selling used cars. Court documents note that, during the trial, the prosecution alleged that the pair had started romantically seeing each other despite their age difference. Williamson denied those claims.
The court records state that, after Rains' death, Williamson became a suspect due to what investigators believed to be unusual behavior, unusual banking activity on her joint account with Rains, and weaponry and ammunition that matched what was found at the scene.
Williamson claimed the evidence against her was circumstantial and insufficient, and she appealed her conviction according to those court documents. In 2012, her appeal was dismissed with the documents stating that the evidence was found to be sufficient for her conviction. Her sentencing remained intact. Williamson has claimed, per the first Murfreesboro Post article, that she is allegedly "truly to God innocent."
Williamson's case will be explored in the premiere episode of The Devil Speaks titled "Dirty Little Secret."
It seems from the synopsis that the show is leaning heavily on the claims of an affair between Rains and Williamson despite her denials. It reads:
"Octogenarian grandfather Jack Rains is brutally murdered at his home in Murfreesboro, Tenn. When rumors emerge of an affair between the victim and a women half his age, police start to investigate his close friends."
Executive producer of the series Liz Massie told CFX that this series stands out because of its use of authentic audio. "I love the jaw-drop moment where you hear the audio or you see the interrogation footage, and you realize what actually happened and the horror of the truth," she said ahead of the premiere. "I think exposing a monster, that's the moment I get goosebumps."
You can see the first episode unfold on Investigation Discovery Aug. 21 at 10 p.m. ET.