Wait, Is Toby Keith A Trump Supporter?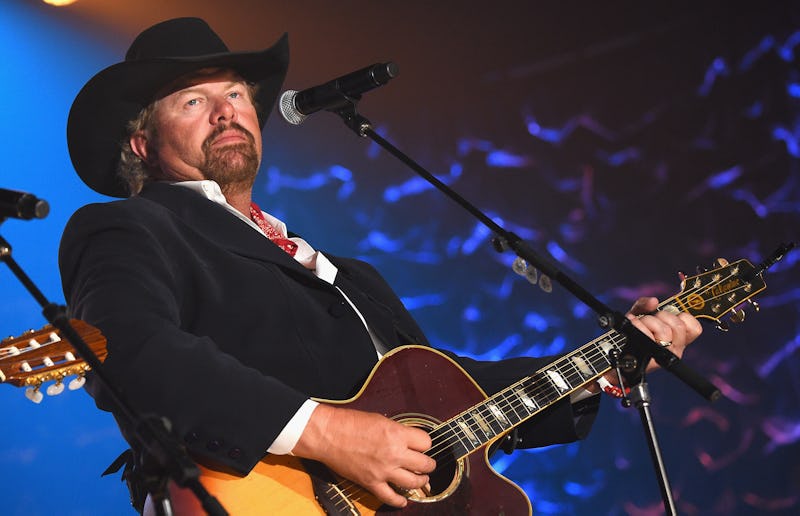 Larry Busacca/Getty Images Entertainment/Getty Images
Following the release of the list of performers scheduled for Donald Trump's inauguration, nobody could be blamed for wondering: Is Toby Keith a Trump supporter? The answer is more complicated than you'd think. Contrary to what you might assume, Keith's father and grandfather were Democrats, and the singer discussed his political beliefs in a 2016 interview with the Chicago Tribune. He admitted he was "a Democrat my whole life," but because of his belief in "supporting the troops," he felt that they "kind of disowned me," which led to him to register as an Independent. Still, he defined his politics as "right of center." Since the election, Keith hasn't outwardly supported Trump, so let's investigate what the country singer has said about politics.
In a 2010 interview with Quad-City Times, Keith was more vocal about his disappointment with the Democrats' distaste for his support of the armed forces. He said,
My Democratic Party betrayed me, and I got lost somewhere along the way. The Democratic Party really let me down by not embracing me as a Democrat. Since when did it become anti-American to support the troops? And that's the only Republican bone I had in my body.
In fact, he claimed he has "never been a registered Republican," something that may surprise those who are aware that he played the Republican National Convention in Cleveland in 2016. But in the Chicago Tribune interview, he emphasized that he was purely there for the money. He said, "It was just a paid party for the sponsors, just a private party for 1,200 people" and mentioned that he was paid "a buttload of money" for playing the Republican event. He also emphasized that "if the other side calls, I'll go play theirs for that much, too."
However, Keith still may not be as politically neutral as he purports to be. In a 2015 interview with People, while he declined to name names, his responses suggested he was more interested in the outsider candidates. He said,
The cool thing is that the people who are making the most noise and getting the most poll points are non-politicians. I hope the whole race turns into non-politicians. It would fix the whole thing if you get somebody who doesn't have a political bone in their body.
He also stated that he was most interested in the business acumen of the candidates:
With a business person who knows the difference between right and wrong, instead of right and left, we'd have a chance to go forward. With all the division in the world now – we're polarized right wing, left wing, cops and blacks – it looks to me like we're headed for turmoil in every way. The world looks like it's on fire. You've got to get the politicians and the agendas out of the way and get somebody in there that might take it over and save old Uncle Sam.
This interview was published in October 2015, which means Trump had not yet been confirmed as the Republican party's official candidate. As such, Keith may have well been referring to someone like former Hewlett-Packard CEO and former GOP presidential hopeful Carly Fiorina. However, since Fiorina previously had experience in politics, acting as "chairwoman of the Republican National Committee's 'Victory '08' committee dedicated to electing Mr. McCain as president," according to the New York Times, and winning the Republican nomination for the United States Senate in California in 2010, it seems more likely that Keith would have been referring to president-elect Trump.
Still, as with everything to do with Keith's politics, nothing is that straightforward. According to Rolling Stone in October 2016, Keith was dismissive of both Clinton and Trump during a concert and referred to the whole election process as a "dumpster fire." He reportedly said,
This is by far the best country you could ever live in and we picked these two candidates to be media wh*res and go out there and take care of the world, huh? You gotta pick one.
Given this and Keith's focus on turning a profit, I'd say that the musician is playing the concert purely for money rather than because he's genuinely a Trump supporter. But really — given the twists and turns over the years when it comes to Keith's politics, presumably only Keith himself truly knows what his political beliefs are.