Is Tom Cruise OK On The Set Of 'Mission: Impossible 6'?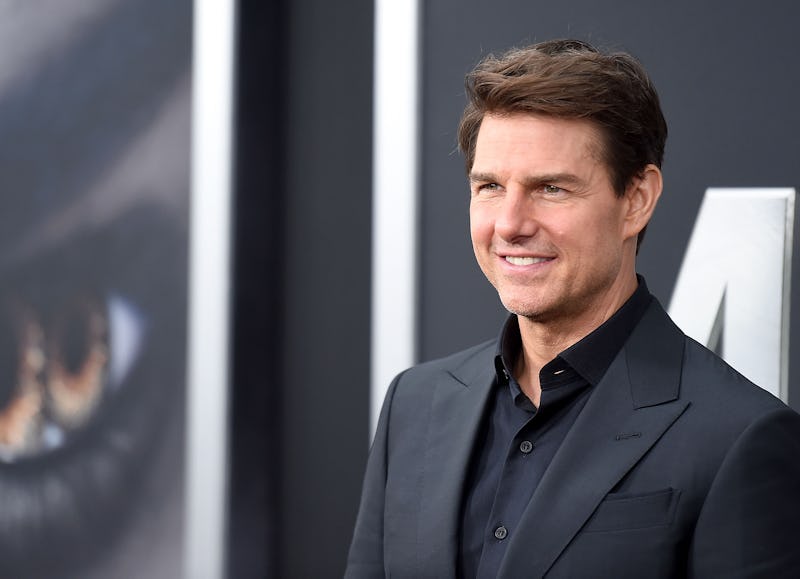 Jamie McCarthy/Getty Images Entertainment/Getty Images
Tom Cruise is widely known for taking on some of the most daring stunts for his lead role Ethan Hunt in the Mission: Impossible movie franchise. On Sunday, Aug. 13, TMZ posted a video of Cruise falling short during a leap from a rigging to the roof of a building in London. The video shows him limping and wincing in pain on the roof. It is currently known if Tom Cruise is OK or if he sustained serious injuries from performing the stunt. Bustle reached out to Cruise's reps for comment, but did not immediately hear back.
TMZ reported that the safety team and crew members then pulled Cruise back to the rigging using a pulley system, to which he was attached. Details about the extent of his treatment, if any, is unknown and there has been no word as to whether filming has been halted. The 55-year-old actor has done his own extreme stunts before in the Mission: Impossible films and in his recent starring role in The Mummy, which premiered earlier this summer. According to Variety, Cruise filmed 64 takes in zero gravity for a Mummy sequence that took two days and four high-altitude flights to complete. His Mummy co-star Jake Johnson said Cruise encouraged his colleagues to do their own stunts as well. "We jump off buildings … and Tom really does it all," Johnson said at CinemaCon in March, according to Variety.
In 2015's Mission: Impossible — Rogue Nation, Cruise's Ethan Hunt hangs onto an Airbus 400 as it taxis down the runaway and takes off into the sky. It was a stunt he proudly completed and it became an iconic sequence from the film. "When he wants to do something, he'll figure out a way to do it," Rogue Nation cinematographer Robert Elswit told The Hollywood Reporter in 2015. "He's the most obsessive artist. ... If it couldn't actually be Tom on the plane, I think he wouldn't want the sequence in the movie."
Cruise's determined spirit probably will not keep him from the Mission: Impossible set for long, but his health comes first right now.