'Unwritten Obsession' Is All Kinds Of Creepy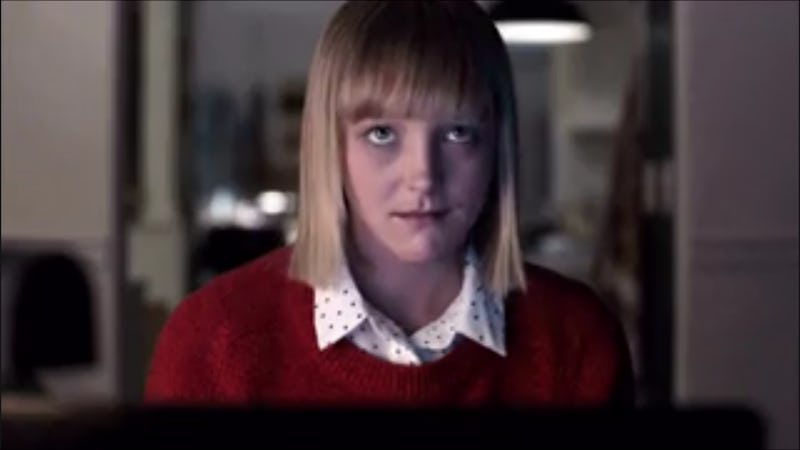 Lifetime
If there is one network out there that could take the prize for keeping viewers on the edges of their seats week-to-week, it is Lifetime and its original movies. The newest entry into the bunch is Unwritten Obsession, and it might just have you looking over your shoulder, wondering who you can really trust. With its over-the-top thrilling plot, some fans may wonder whether the events could possibly have happened in real life. So, is Unwritten Obsession based on a true story?
The first place to look for evidence that this could possibly be based in truth is the synopsis, since Lifetime movies based on true stories often advertise that right in the plot description. This movie revolves around a published author, Skye Chaste, who — after finding success with her first hit novel — runs into some issues trying to recreate that magic with her followup. She takes a job mentoring a younger fan of her work named Holly, and, after seeing how amazing Holly's novel is, Skye sends it into her publisher under the guise that she, herself, wrote it.
Apparently, because this is a Lifetime movie, it turns out that Holly is pretty damn devious herself and "will stop at nothing to expose her idol's dark secrets." This description may seem slightly tame but the preview for this flick is where it really shows off its scare factor. Holly is creepy AF, guys. Not only does she tell a pretty bone-chilling story about a dead body in a field, but she is seen wielding a sickle in a couple of scenes, and she is certainly not farming with it. Something tells me that Skye will be fighting for her life in this movie.
But, nothing on the Lifetime website claims that this story is true, and by all accounts it appears to be a work of fiction. An internet search of the author Skye Chaste's name also didn't turn anything up. So, it's pretty safe to assume it's all a work of fiction, which is probably for the best considering how creepy the story seems.
Like most Lifetimes films, there are some new faces to check out in the main cast. Haley Webb plays Skye, and fans may recognize her as Jennifer Blake from MTV's Teen Wolf. Chelsea Lopez plays Holly and is a relatively unknown name, although she has several under-the-radar films under her belt. The film also has a small appearance by actor Shawn Christian, who is a super famous soap opera star that plays Dr. Daniel Jones on Days of our Lives.
It may not be based on a true tale, but Unwritten Obsession will likely still send chills down your spine. Check it out when it premieres on Lifetime Aug. 27 at 8 p.m. ET.