Here's Why You Can Bet On Venmo John Finding Love On 'Bachelor In Paradise'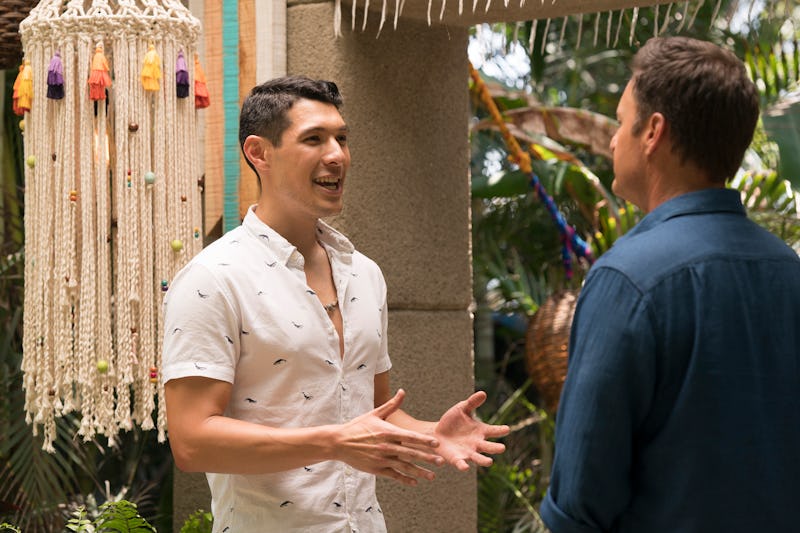 Paul Hebert/ABC
It's almost impossible not to fall in love with John Graham from Becca's Bachelorette season. Known most notably for helping to create the popular mobile payment app Venmo, John managed to make a significant impact on Bachelor Nation the second he stepped out of the limo. So now that he's found himself on Bachelor in Paradise, fans are eager to find out if his journey for love proves to be successful. Is John dating anyone after BIP Season 5 or is he still living the single life? Though his time in Paradise is only just beginning, there are a few clues out there that could hint at his romantic fate.
As to be expected, photos from John's Instagram don't show him hanging out with anyone special from the season since that would give away whether or not he finds love in Mexico. However, Bachelor blogger Reality Steve has posted a few spoilers about how the final episode of Season 5 plays out and if you're hoping that John falls in love in Paradise, you might be in luck.Warning: spoilers ahead, so turn back now if you'd rather be surprised! Pay close attention to who decides to make a trip down to Paradise after the first few weeks of filming.
According to Reality Steve, John ends up getting really close to a late arrival from Arie Luyendyk Jr.'s season.It's unclear if they decided to keep things going after filming ended, but if you look at his Instagram account, he does appear to be having a good time with some fellow Bachelor Nation faces. Yes, he's posting mainly with the guys — but could it be that the women are taking the pictures? It's hard to believe that these trips are "boys only."
Granted, any continued romance between John and someone from Paradise is just pure speculation at this point. Neither is able to confirm or deny anything at this point without spoiling the rest of the season. So yeah, it's entirely possible that he's still on the market or traveling the U.S. with other Bachelor In Paradise couples post-filming.
Arguably, no one deserves happiness more than John, who managed to stay clear of any drama during his time on The Bachelorette. And this was a season chock-full of plenty of drama, between Jordan and David's never-ending obsession with each other to Colton's connection to Tia and Garrett's controversial Instagram likes. So the fact that John wasn't part of any of that just proves what a standup guy he really is.
Judging from his appearance on the Bachelor In Paradise premiere, it looks like he's going to manage to stay out of any drama there, too, which might seem hard to pull off. But when you hit it off with someone and head over to the daybeds in the dunes to bond, it's a breeze to pretend like the rest of the contestants aren't bickering over by the bar. Fans will find out soon enough as the rest of Season 5 unfolds what Venmo John gets into in Paradise, but I'm betting that this one good guy really does get his happily ever after in Paradise.