Here's Why Victoria Could Still Make BIG Bucks Despite Skipping The Spice Girls Tour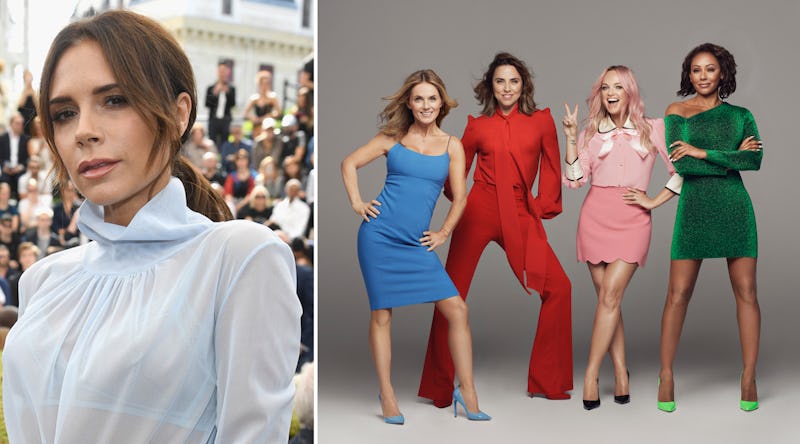 Pascal Le Segretain/Getty Images Entertainment/Getty Images (Beckham)
So the Spice Girls are making a comeback — without the beloved Posh Spice. In a statement, Beckham said, "Being in the Spice Girls was a hugely important part of my life and I wish my girls so much love and fun as they go back on tour, I know they will put on an amazing show and the fantastic fans past and present are going to have a wonderful time!" Just because Posh won't be making a physical appearance, it doesn't mean that she'll walk away empty-handed. Exactly what Victoria Beckham is paid for the Spice Girls reunion tour is a tad tricky to answer. But, according to reports, it could be at least 40 times my current annual salary, if not much much more.
The Sun reported that Beckham owns a significant stake in the Spice Girls brand, meaning she'll rake in the pounds from things like image and music rights. This appears to be true. A quick trademark and Companies House search reveals that Beckham is one of five directors of Spice Girls Limited; a company that owns the Spice Girls trademark. The other four directors? Well, they're Geri Horner, Emma Bunton, Mel B, and Mel C.
It's impossible to say if Beckham's stake in the band is still equal to this day, but it's highly likely that that's the case. The Sun believes she could be set to earn millions from the 6 stop summer stadium tour. Bustle reached out to the Spice Girls' representatives for comment on the matter and will update this post if we receive a response.
"Victoria doesn't want to tour as her fashion business is going from strength to strength," a source told the Mirror in June. "But she will make a lot of money even if she doesn't take part in the reunion. It's ruffled feathers as she is still set to benefit hugely without having to do much. At the moment she wants minimal involvement." Initial reports by the newspaper stated that the tour could net each band member £30 million. However, Victoria's lack of involvement could result in a much smaller figure for her personally.
At the peak of their '90s fame, the Spice Girls were earning up to $75 million (approximately £58 million) a year, according to Rolling Stone. Their 2008 global reunion tour reportedly earned them a further $70 million (approximately £54 million). There's no official word yet on how much next year's tour could be worth to each Spice Girl. Bustle have reached out for some expert advice and I will update when I hear back.
In 2017, The Guardian asked music insiders where the money made from tours goes. According to sources, 50 to 75 percent of the gross profit is split between the band and their promoter. It's common for promoters to receive around 15 percent of this figure with the band taking 85 percent. A small percentage is also paid to songwriters in public performance royalties. Luckily for the Spice Girls, those songwriters appear to be them.
As well as ticket sales, bands can also earn money from merchandise. Rolling Stones estimates that just one sellout show could earn a band $225,000 (almost £200,000) in merch sales. All of these figures vary from venue to venue and band to band.
Whether she decides to make an appearance or not, Beckham is probably going to have a nice sum in her pocket come the end of 2019.