Toni Collette Explores Open Marriages In Her New Netflix Drama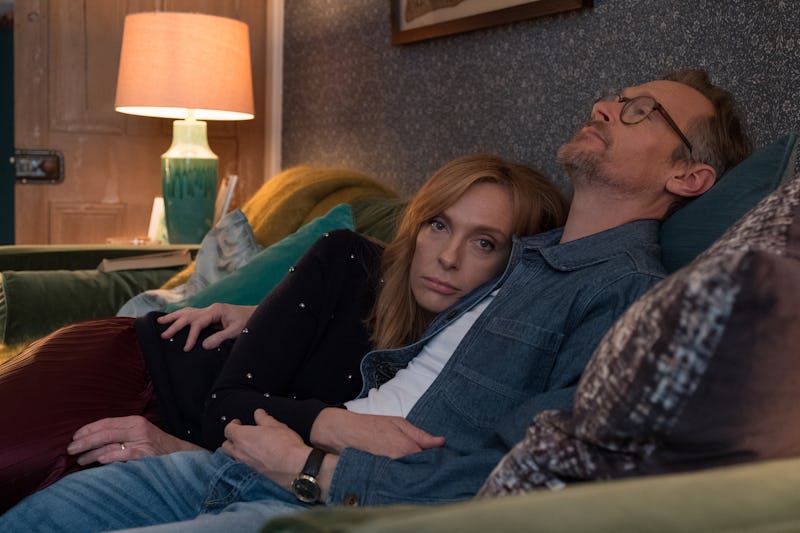 Matt Squire/Netflix
The story of a couple looking to spice up their marriage isn't exactly new. But chronicling every detail of the experience in a funny, raw television show? That's new ground being broken by Netflix's newest drama Wanderlust, set to premiere on the streaming service on Oct. 19 (the show originally premiered on BBC in the UK). Starring the magnificent Toni Collette, Wanderlust is an intimate portrait of a marriage, and at times you might forget that the relationship on screen isn't real. But is the show grounded in reality? Is Wanderlust based on a true story?
Wanderlust is an entirely original story, and springs from the imaginative mind of Nick Payne, an acclaimed British playwright. When asked by The Express how he came up with the idea for the show, Payne responded, "I honestly can't remember. It was years ago now that I started writing it as a play for the Royal Court Theatre, maybe 2009 or so? I think I just wanted to write about sex and relationships." The show is loosely based on that 2010 play which ran at the Royal Court, per Go London. The Royal Court production starred Sally Hawkins and Rafe Spall, before heading to Broadway, where Ruth Wilson and Jake Gyllenhaal took on the lead roles.
Though the new series, which stars Toni Collette as Joy and Steven Mackintosh as her husband Alan, is based on the original play, there are significant differences between creating a story for the stage and one for the screen. "A play has space to breathe and take its time and is more about character," Payne told Go London, "whereas TV needs a motor and it devours plot. And it takes so long to make. There are so many more people involved and so much more money."
Both works focus on the failing sex life of Joy and Alan, and their attempts to revive their relationship. In the television adaptation, Joy and Alan decide to begin an open relationship, and as they both uncover new sides of themselves, it simultaneously brings them closer together.
Wanderlust features a lot of sex— good and bad— and provides a refreshingly honest portrayal of female sexuality. "Someone told me I was the first woman to have an orgasm on the BBC," Collette told RadioTimes. "And I'm happy to take the accolade." She went on to share, "It's so honest and fresh in the way the women are portrayed. To be a middle-aged woman, to be in a longterm relationship and to be alive, dealing with a lot of things – it's tough. Certainly a middle-aged woman's sense of self-esteem, of sexuality, is not often talked about."
More stories of middle-aged female sexuality are certainly needed, and Wanderlust is a good place to start. Joy and Alan's sexual adventures don't only affect their marriage, they affect the friends and family around them, namely their children. But Wanderlust isn't just a show about sex. "It's about a woman who wakes up to her own existence, urgently feeling it's finite quality," Collette told ET. "This causes her to explore a different way of being, hence the title."
Whether Joy and Alan manage to save their marriage, or fall in love with other people remains to be seen. But everything Toni Collette touches turns to gold, and there's no reason Wanderlust will be any different.