BET's New Movie Will Have You Checking To Make Sure The Doors Are Locked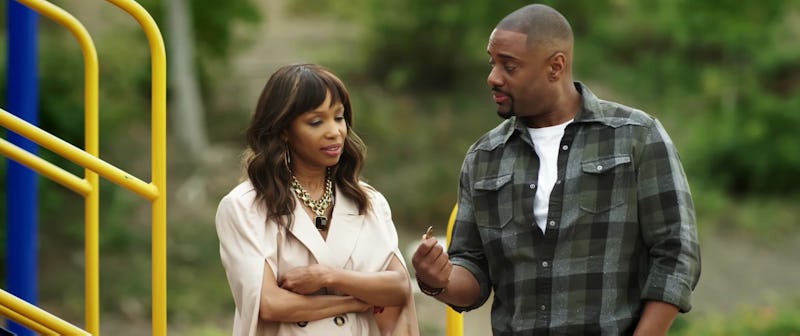 BETNetworks/YouTube
For some people, Saturday nights mean dolling up and heading out on the town, while for others, it means take out Thai food and watching whatever movies the TV gods offer us. You might be tempted to hop on over to Netflix or Hulu, but you should definitely cue up network television (or the channel app on your Roku or Apple TV) on Saturday night, since BET is premiering a new made for television movie and it looks delightful. Well, delightfully creepy that is. If you find yourself watching on Saturday night, you might even be wondering if We Belong Together is based on a true story or not.
It's plausible enough. It's about a man named Thomas (Charles Malik Whitfield) who works as a professor and is a loving father to his daughter. The kind of guy bad things shouldn't happen to. But he does spark a relationship with one of his students, played by Draya Michele, while also rekindling his relationship with his ex-wife Megan (Elise Neal).
According to BET, "This enrages Tracy, who is obsessed with making Thomas hers and wants his ex out of the picture." But just how far will she go? Judging from the trailer, things get pretty intense and even murderous. So is it based on a real story or not?
Luckily, it doesn't look like Tracey, Thomas, and poor Megan are based on actually real people. It's just a classic tale of love, jealousy, and yea, how things can go wrong if you sleep with your professor.
BET has produced original movies in the past, but given the time slot and subject matter, it looks like it's trying to draw in those weekend viewers who are into Lifetime-ish movie content. The Lifetime network airs original movies basically every single weekend, and they are "ratings gold," according to Broadway World. Network president Scott Mills said that he has big plans for the Viacom-owned network back in April. He told The Hollywood Reporter that they want to increase original content by 20 percent, with nine original movies and scripted series — We Belong Together is one of them.
He told The Hollywood Reporter, "The shows that have been most successful on BET are all scripted: The Game, The New Edition Story, Being Mary Jane, Real Husbands of Hollywood. When you succeed in that space, it has a wonderful effect on the brand."
Mills also said that to make that push happen, the network plans to "leverage relationships with prominent African-American writers and producers and Viacom's corporate siblings," which can only mean good things for all the viewers out there who prefer to cuddle up on the couch and watch a movie on a Saturday night.
If you enjoyed We Belong Together, prepare for a lot more movies like it on BET in the coming months. And don't worry, you can watch the emotional thrillers with the lights on, since this one at least has no basis in reality. Just good old fashioned TV movie tropes, which to be honest, is not such a bad thing at all.