This Creepy New Netflix Series Is Coming Out Tomorrow & It'll Remind You Of 'Stranger Things'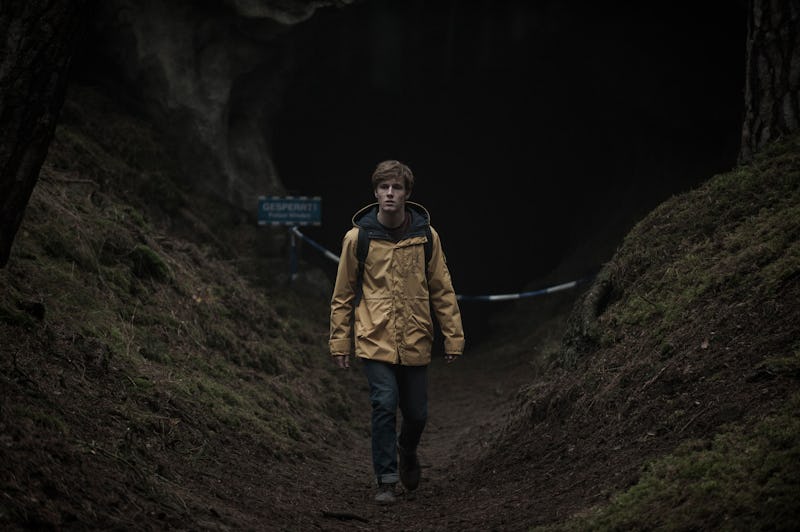 Julia Terjung/Netflix
On Dec 1., Netflix has a new creepy, Stranger Things-esque series available to stream until your nightmares consume you, and this one, aptly titled Dark, comes all the way from Germany. The ominously gloomy and moody setting for Dark plays such a big role in the series that it is almost a character unto itself. Set in the town of Winden, Germany, the location is seen in trailers as being surrounded by deep, dark forests, and it brings the mystery of the story alive. So, is Winden from Dark a real town?
The answer is a little complicated: Although the town of Winden does indeed exist in Germany (more on that later), an article from The New York Times suggests that the town in the series is fictional. Per the article, director Baran bo Odar and writer Jantje Friese say they were inspired to create a setting that was a mashup of the small German towns that they grew up in around the time of the Chernobyl nuclear disaster. The looming dread of nuclear fallout plays a role in Dark, and as IndieWire points out in a review of the series, the community of Winden is said to be power-plant adjacent. This proximity could be causing some deeply disturbing things to happen in Winden. As the Netflix description for the series says, "A missing child sets four families on a frantic hunt for answers as they unearth a mind-bending mystery that spans three generations." Could that mystery have something to do with the nuclear plant? It seems like it might play a role.
Further research does show that Winden, named Winden im Elztal, is a real place in Germany, and it is surrounded by the Black Forest, which has a formidable reputation in legend and lore. Per Business Insider, it is said that the Brothers Grimm were inspired by this particular forest when they created Hansel and Gretel, Rapunzel, and Sleeping Beauty, all of which have some seriously creepy undertones. BBC Travel even included this particular forest in its list of World's Most Haunted Forests. Why is this important? Besides a number of descriptions of the series' setting mentioning it being surrounded by forest (an example is the previously noted New York Times article), the trailers for Dark show a town that is shrouded in forests, with a lot of scenes taking place in dark woods and even caves. It is entirely possible that the creators could have been inspired by the town of real life town of Winden, Germany, as it is surrounded by one of the most supposedly haunted forests in the world.
However, there is no official statement that confirms that the real town of Winden was the basis for the town in Dark. The New York Times article suggests that the word Winden can be translated as the German word for "twist," while the Cambridge Dictionary confirms that "winden" can mean "to turn round (and round)" or to "twist" something. This kind of play on words for a location name would be clever, considering this series is portraying itself as the kind of story with endless twists and turns.
Whether Dark is inspired by Winden, Germany, or is simply a fictional creation, the setting of Netflix's Dark is ominous and spooky. Though the plot may initially remind some people of Stranger Things, there is an entirely different element of nuclear fallout and German-style storytelling that completely set this series apart. So while the real Winden may not exactly be what you see in Dark, at least we'll have the town on our screens come Dec. 1.