Is Your Political Instagram Post Helping Or Hurting? Here's What You Need To Consider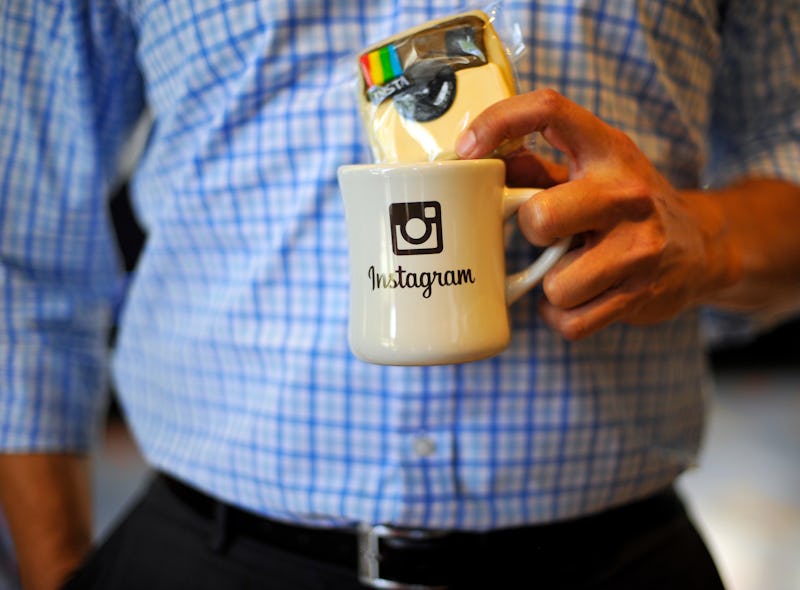 AFP/AFP/Getty Images
It's become a fact of modern life — when you have a political realization, you don't want to hold it in. But then again, do we ever really think enough about what we're posting, why we're posting it, and even where we're posting it? Doctoral theses have already been written on the debate about political talk on Facebook and Twitter — but there isn't much conversation about the less trodden potentially political spaces. One of these is the eye-pleasing Instagram, where politics is still blissfully avoidable. When you insert politics into Instagram, is your post helping or hurting?
As things have gotten more and more politically heated in the country, Instagram has certainly not been immune to an influx of political posts from all sides. Before the election, analysts noted that it was ripe ground for candidates looking to build an unbeatable coalition, as Instagram's users tended to be young and mostly minorities (at least in early 2015, which is practically the dark ages now because of how quickly things shift in that realm).
Then as the campaign heated up, each of the candidates found a following for the sorts of simple, easily digestible photos and infographics that draw the eye on Instagram. Jeb Bush, for example, was far more memorable on Instagram than he was in real life, getting into a serious Instagram war with Donald Trump using short videos specifically produced for Instagram.
Despite the presence of these candidates on Instagram, it is in many ways still an apolitical space. Still, it would be remiss nowadays for a public figure looking to attract a following to leave any major social media network untouched. But that doesn't mean that everyone needs to follow them — and many people clearly don't. Hillary Clinton has 4.1 million followers on Instagram — which seems like a lot, until you compare it with her 17.7 million Twitter followers. Trump, who has 36.7 million followers on Twitter, only has 7.4 million on Instagram.
When you consider the fact that Instagram has almost double Twitter's amount of users, numbers like that definitely say something about what Instagram's army of photographers and lurking photo-enjoyers want to see when they open up that app. While Instagram once aimed to become a political space and perhaps still has that same goal, its users don't seem to have trended the same way, at least not in the way that Twitter and Facebook's users have.
By bringing your political thoughts into Instagram, then, you're helping Instagram fulfill one of its own goals. But then again, you may be polluting the clear waters of escapism for people who go to the bright and colorful Instagram for relief from other, more overtly political social media. Another thing to think about is your purpose behind posting a political photo or meme. While surveys have shown that it is occasionally possible to change someone's mind on social media, it's far more likely that you'll annoy someone with a political post on any social media, let alone one where people aren't necessarily expecting it.
This isn't to say, of course, that you should base your social media habits on what other people think. There's tons of research, in fact, that points to the idea that seeking approval on social media can lead to anxiety and depression. In the case of political posts, the underlying purpose usually isn't just to air your own thoughts — it's to start a discussion, or to pull people over to your side. And if you're trying to do that in a space where no one wants to see an intrusion of politics, you're less likely to achieve your goal, and more likely to contribute to politics burnout.
It's simply not sustainable for people to try to stay politically engaged every minute of every day, so keep your politics talk to the places where it won't be jarring — namely, Twitter, Facebook, and of course in person. Keep Instagram pretty, polished, filtered, and jubilantly politics-free.