A Japanese Snowboarder Took A Nasty Spill & Twitter Is Praying He's Okay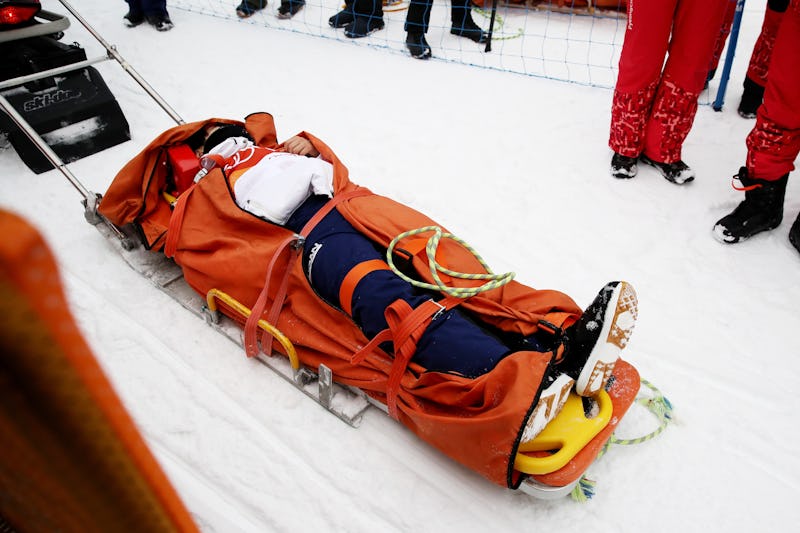 Cameron Spencer/Getty Images Sport/Getty Images
On Tuesday, Japanese snowboarder Yuto Totsuka took a nasty spill at the Olympics, wiping out hard during the men's halfpipe final in PyeongChang. Totsuka clipped the edge of the pipe during his landing, causing him to somersault in the air and slam shoulder-first into the ice. Paramedics quickly flooded the scene, and the 16-year-old was stretchered off the course on a sled.
A first-time Olympian, Totsuka fell from a height of roughly 35 feet before crashing onto the rock-hard course, according to USA TODAY. After initially lying on the ground motionless, he was eventually able sit up before being carted into a snowmobile and taken to receive medical attention.
So, is Totsuka going to be okay? Although no official announcement has yet been made, Rachel Axom at USA TODAY reports, per the Japanese team's press officer, that Totsuka sustained "no big injury" during his spill but is experiencing pain in his hip, and has been taken to a hospital. TIME later added that he is receiving a CAT scan.
Totsuka is one of three Japanese snowboarders competing in the PyeongChang games. After winning the Japan national championships in March, he competed in three World Cup events between September and January, and made the podium in all three, according to the Japan Times. The youngest competitor in the men's half pipe, he was on his second run on Tuesday when he crashed.
American snowboarder Shaun White took home the third gold medal of his Olympics career in the men's halfpipe event with a score of 97.75. Japan's Ayumu Hirano and Australia's Scotty James placed second and third with scores of 95.25 and 92.00, respectively.
But although Twitter was eager to celebrate White's win, just as many viewers were concerned with Totsuka's well-being, as the spill he took looked nothing short of gnarly in NBC's broadcast of the event. According to multiple reports, the crowd reacted in stunned silence as he crashed into the wall of the pipe and slid across the ice.
"Any news on Yuto Totsuka's condition?," one viewer asked on Twitter. "That one really has us worried here. Hoping he's okay."
"I'm not gonna retweet Yuto Totsuka's crash because it's one of the most horrible ones I've seen," another user wrote after witnessing the fall. "Nothing but good vibes for him. Nothing but good vibes."
The halfpipe is regarded as one of the most dangerous events at the Winter Olympics. Snowboarders will often sail more than 10 feet up into the air before they touch back down onto the ice, and the gap between the floor and lip — that is, bottom and top — of the halfpipe is an additional 22 feet. Add the fact that the athletes are twisting and contorting themselves wildly in the air, and the potential for injury is high.
Some, including NBC's on-air commentators, remarked that Totsuka's fall was one of the worst they'd ever seen in an Olympics snowboarding event. Relatedly, at least one Twitter user chastised Channel 7's commentators for not giving Totsuka a moment of silence in the immediate aftermath of his crash.
"Halfpipe is so cool, wild and one of the funniest sports I've ever seen, but after seeing Yuto Totsuka's crash I saw how dangerous sport can be," one viewer noted later in the evening. :I'm so worried about him. He's so young. 16 years old."
According to his page at the official Olympics website, Totsuka has been snowboarding since he was three years old, when a trip to a ski resort with his mother sparked his interest in the sport. His hero, according to the Japanese publication Town News, is none other than Hirano, one of his Olympic teammates.