'Insecure' Is Going To Talk More About Safe Sex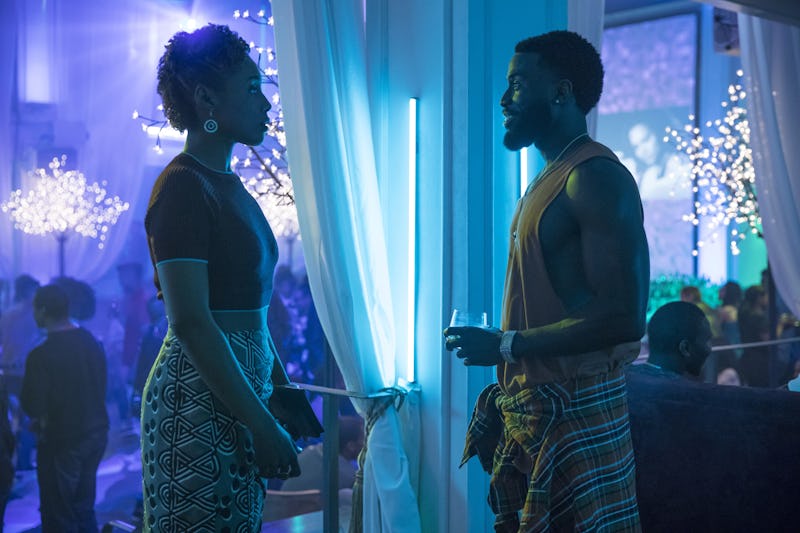 Justina Mintz/Courtesy of HBO
Insecure has been on fire in its second season, but its creator and star Issa Rae has publicly commented on an issue with the season that fans have expressed concern about: that the characters of Insecure practice safe sex. Recently, fans have noticed that with all of the sex happening on Insecure, there's a lack of discussion on whether birth control or condoms are being used by the characters. As a result of this, Rae addressed concerns about Insecure's safe sex depictions on Twitter, and promised that the show would make a more concerted effort to not only show enthusiastically consented-to sex, but also sex that was safe as well.
On Monday afternoon, Rae tweeted out two photos from Insecure, showing instances where condoms have been present in a particular shot to imply safe sex was being had without being the focus of the shot itself. Rae's intention, supported by a portion of the caption ("We tend to place condoms in the backgrounds of scenes or imply them"), was to acknowledge that the team on Insecure has always been conscientious about showing their characters engaging in consensual and safe sex, even if the characters weren't specifically making comments aloud about using condoms. The latter half of the caption then promised that, going forward, Rae would ensure this discussion was had and that safe sex would be a priority on Insecure.
With several notable sexual encounters, including Lawrence's recent threesome and Issa's awkward hook-up with her neighbor, it's only natural that viewers will want to know whether Insecure overall considers safe sex to be part of the same sentence as casual sex. Season 2 has maintained Insecure's ethos of keeping things brutally honest when it comes to topics like sex. That means the show frequently depicts characters have sex in full focus and in full detail from start to finish. As a result, audiences typically watch characters go from foreplay to the post-coital pleasantries and the chance to work in a conversation about whether condoms were being used would not only work naturally in these set-ups, but it would give audiences a new appreciation for the characters they'd come to love.
For now, Rae's tweet is the only official statement we have on how Insecure will discuss safe sex and with Season 2 in the bag, we'll most likely have to wait until Season 3 to see any kind of change implemented. What matters is that Rae is not only acknowledging she wants a change to be made in regards to how Insecure talks about safe sex, but she sounds like she really wants to do it, too.