Issa Rae Is The Newest CoverGirl & It's A Win For All Awkward Black Girls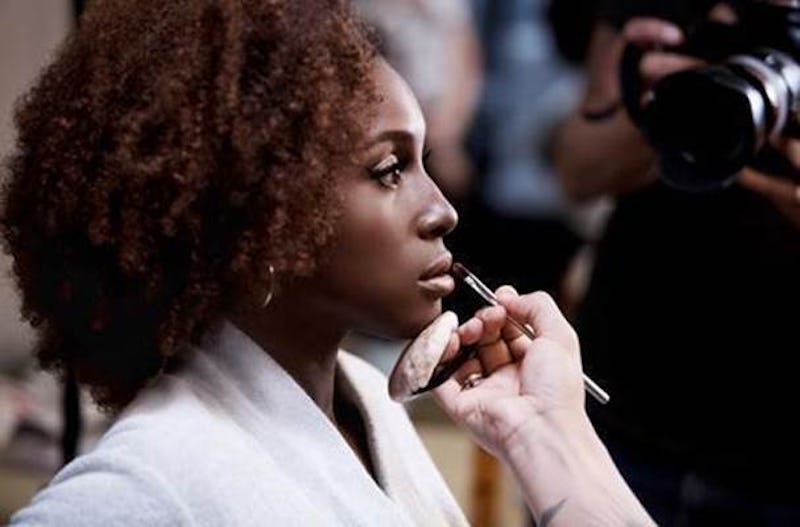 Courtesy CoverGirl
Before starting her own comedy webs series titled Awkward Black Girl and before being nominated for a Golden Globe for HBO's Insecure, Issa Rae was just a girl flipping through magazines in high school. According to her Instagram, she even used to sing the CoverGirl slogan in her head when stumbling upon their print ads. Well, soon she'll be looking at herself on those very same pages — and millions of other "awkward black girls" will be looking, too.
Issa Rae is now the newest CoverGirl. The actress, writer, and producer is joining the ranks of some iconic women, and her fans are pretty darn excited.
"I remember being an awkward black girl in high school, reading the pages of my favorite magazines, casually flipping through @COVERGIRL ads, singing their slogan in my head," Rae's Instagram post announcing the news reads. "Never EVER in my life did I imagine I'd be one. I am SO honored and SO excited for what's to come."
Although neither the brand nor Rae has yet to post an official campaign photo, the two parties both shared their excitement for the partnership on social media. According to the press release, it was Rae's wit, charm, and "spirit of inclusive self-expression" that landed her the gig. It also doesn't hurt that she's absolutely stunning. But Rae's personality truly makes this a match made in makeup heaven.
"My character is ever-evolving, and makeup is a tool to help transform my persona — whether for a role I play in content that I produce, or the different roles I take on in my life," says Issa in the press release. "Becoming a CoverGirl means a lot because the brand recognizes just how important it is for people to embrace their individuality and express themselves in unique and diverse ways. This has been a major part of my personal journey, and a message that I want to share with others."
Rae's addition to the CoverGirl team is a major win for self-proclaimed "awkward black girls" everywhere. CoverGirl is one of the top drugstore brand and has made it a point — as Jezebel points out, since their Shades Of You Collection in 1990 — to have foundations available for a variety of skin tones. They're far from the most inclusive, true. But they have historically pushed the envelope in the name of inclusion.
It might seem like a progressive move from the beauty brand, but the actress is far from the first black CoverGirl. The brand became the first major cosmetics company to sign a black model to an exclusive contract in 1992. Since then, Queen Latifah, Eva Pigford, and even Rihanna have graced the pages as an official spokeswomen for the company.
Needless to say, Rae's fans are pretty darn excited about the launch. From her start on YouTube to growing her audience through writing and producing for HBO, Rae is influencing her fans more and more with each project she takes on.
And her CoverGirl status is just another win for "awkward black girls" deserving of representation.
Taking over social media headers and inspiring others all at the same time, my friends.
A good look? More like a great look!
Out of all the beauty brands out there, CoverGirl has always been one step ahead of the competition.
Yes, the all-caps message is totally necessary.
Now that, my friends, is a true fan.
Wait. This fan predicted this day would com all the way back in 2013?
Emojis on point.
Is there a way to "love" this post instead of just like it?
All the heart-eye emojis!
In a time when inclusive beauty brands are popping up left and right, it's important to remember CoverGirl was a mainstream trailblazer for this representation. With more black women ambassadors than any other major drugstore brand, the celebration of CoverGirl's dedication to inclusivity continues through Rae. And that's something to celebrate.