Issa Rae Just Wore A Baby Blue Jumpsuit To The Emmys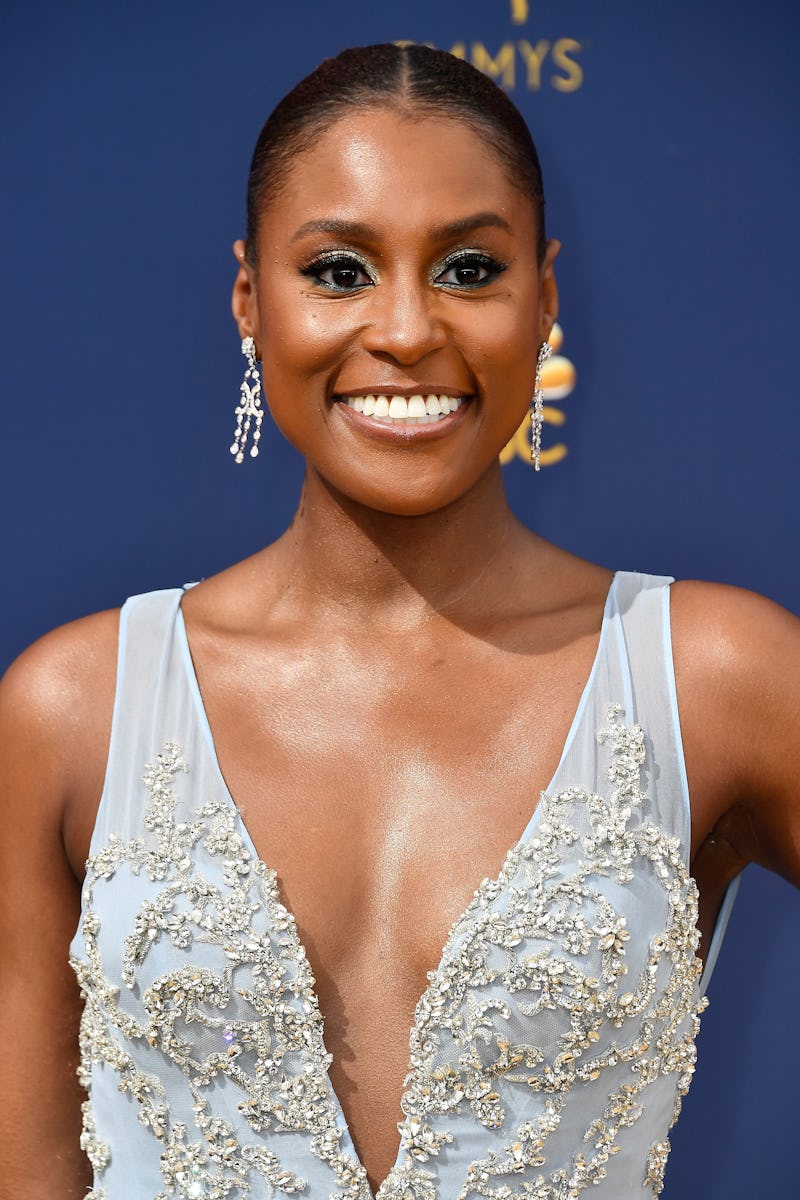 Frazer Harrison/Getty Images Entertainment/Getty Images
Anyone who's a fan of Issa Rae and Insecure probably felt personally attacked when the show was snubbed for a Emmy nom in 2017. But things are-a-changing. At the 2018 Emmy Awards, Issa Rae wore a custom Vera Wang baby blue embellished jumpsuit, awaiting a hopeful Emmys win to match her full out glam look. What better way to stunt in comfort at the Emmys than to swap out a routine gown for some pants?
Similar to last year, Issa stayed true to designer Vera Wang, but instead of wearing a classic Emmys gown like some of Hollywood's finest, she chose a cute and comfortable deep-v neck jumpsuit for tonight's festivities. The pastel blue jumpsuit not only gave viewers some shimmer, but it also flared back to the '70s in the pant. In addition, Issa custom jumpsuit carried a sheer wrap to behold a small train in replacement of a lengthy gown. Can we really blame her for wearing pants to the Emmys, though when the chafing life is real?
In classic Issa Rae fashion, she wore her hair up in all its natural glory, coupled with a braided pony tied up neatly in the back, as well as a pair of chandelier earrings to match the decadent embellishment on the front of her jumpsuit.
This is Issa Rae's first nomination for her HBO series, Insecure and we're eagerly awaiting the results of the nominees.
At last year's Emmy Awards, neither Rae, nor her comedic drama series was nominated for anything in any of the night's categories, prompting us all to question the Academy about its amount of diversity. However, that didn't stop her shine in any way. Last year, she served us an all red Vera Wang dress with an asymmetrical neckline with some midsection ruching and a glowing bare back to tease us with some skin.
In past years, Issa Rae has never been mousy on issues about race. And she's been active in making mention of it in her looks. At last year's CFDA awards, she hit the red carpet wearing a belt with "Every N-Word Is A Star" to the CFDA awards, written in script. Subtle, but snarky as ever, girl.
Tonight, in her second year attending the Emmys, Issa Rae is nominated for Outstanding Lead Actress In A Comedy Series and her show itself has an Emmy nomination for Outstanding Cinematography for a Single Camera Series.
She caught some heat at last year's Emmy's for mentioning in an interview that despite not receiving the Emmy nod, she would still be "rooting for everybody Black". Never would I ever hate on representation in media, however others were up and arms for her clear and present dismissal of any #AllNomineesMatter vibes.
Despite it having felt like years before Issa made it into the big leagues, she's finally being recognized for creating a relatable voice for women of color. Personally, I'm still rooting for everybody black, but I'm specifically rooting for Issa this time around. Issa bout time!