Attack On Istanbul Nightclub Amid New Year's Fete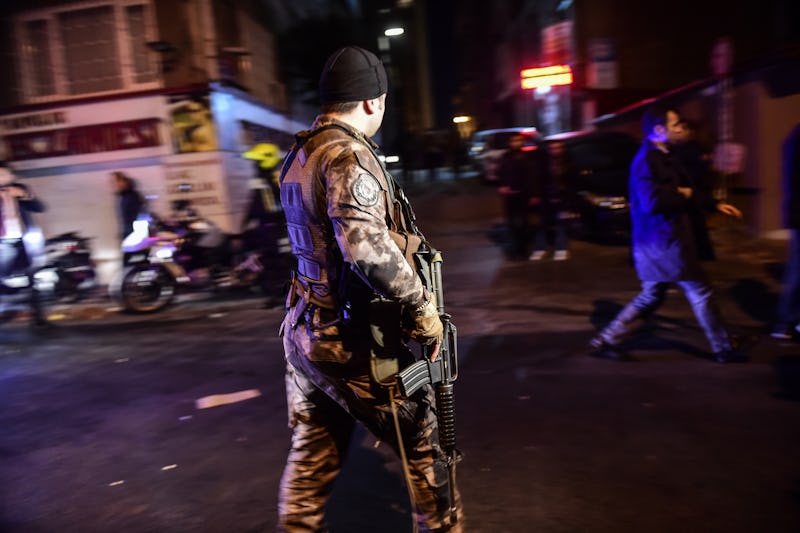 YASIN AKGUL/AFP/Getty Images
Several people have been wounded in a New Year's attack on a popular Istanbul nightclub, according to reports from Turkish broadcaster NTV. At least one gunman opened fire on people ringing in the new year early Sunday morning at Reina, a trendy nightclub in the city's Ortaköy neighborhood, killing at least 35 people according to Istanbul officials. Initial reports from NTV claimed as many as 20 or 30 people may have been wounded in the attack.
A gunman reportedly dressed in a Santa Claus costume allegedly fired on police standing outside the nightclub before forcing their way inside and opening fire on clubgoers sometime around 1:30 a.m. local time, according to the Associated Press. Istanbul Gov. Vasip Şahin said at least 35 people had been killed in the shooting, which he called a "terror attack." Another 40 people were thought to have been injured, ABC News reports Şahin said.
"Unfortunately [he] rained bullets in a very cruel and merciless way on innocent people who were there to celebrate New Year's and have fun," The AP reports Şahin said in a statement to reporters early Sunday.
It is unclear whether the attacker has been apprehended or whether they had been working alone. While Turkish broadcaster CNN Turk has reported the attacker is believed to still be inside the nightclub, NTV has reported the exact whereabouts of the gunman were unconfirmed. According to CNN Turk, police special forces have cordoned off the area and are preparing to enter the club.
Reports estimate more than 500 people had been inside of the nightclub, which is located along the Bosphorus, at the time of the attack due to the New Year holiday. When the gunman opened fire, some clubgoers reportedly jumped into the Bosphorus in an attempt to escape, according to a report from NTV.
New Year's Eve revelers in Istanbul rang in the new year amid an increased security presence. Some 17,000 police officers, many of them reportedly undercover dressed as street vendors and Santa Claus, were placed on duty in the city in preparation for the holiday, according to a report from Turkish state news agency Anadolu.
Turkey's two biggest cities – Ankara and Istanbul – have been on high alert following a series of recent terrorist attacks carried out across the country. A total of 38 people were killed Dec. 10 in a twin bomb attack just outside a football stadium in Istanbul's Besiktas district.