It Was Already Terrifying To Be A 20-Year-Old Woman In Alabama, Even Before Roy Moore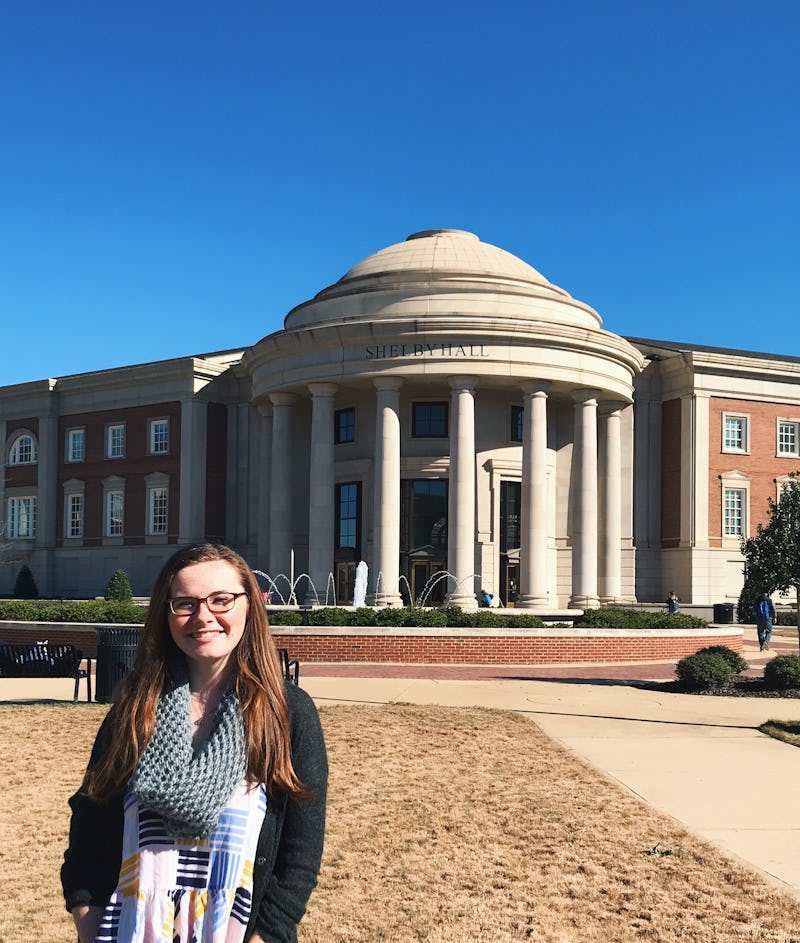 Sara Beth Bolin
If you've looked at any sort of screen over the past week, you've probably noticed that Alabama has been in the news more than normal. And when Alabama's government is in the news, it's typically not a good thing. In the race for a vacated Senate seat, Doug Jones, the prosecutor in the 16th Street Baptist Church Bombing and one of the most popular Democrats in Alabama, faces the literal armpit of Alabama, Roy Moore.
You might recognize Moore from the time he was removed from the Alabama Supreme Court for hanging the Ten Commandments in the courtroom. Or maybe you remember him for the time he was removed from the state Supreme Court for telling the state to keep enforcing the ban on same-sex marriage after a federal law was passed making it legal. Either way, he sucks.
Additionally, as of this writing, Roy Moore has been accused of the sexual assault and/or harassment of more than seven girls who were teenagers at the time, and was even reportedly banned from a local mall for his predatory behavior. (Moore has adamantly denied all of the allegations.)
Yet, even with these allegations, there are still a large number of people who support him. The scariest part? Some of these people are my friends.
I moved to Tuscaloosa, Alabama from Nashville, Tennessee a little over two years ago. I came to the state to study at the University of Alabama, mostly because they offered me a scholarship with more money than any other school combined (thank you, football). I learned the ropes quickly: Make friends with people in your classes. Try not to spend all your money on food. Adopt the campus-wide uniform of large t-shirts and Nike shorts. I joined some clubs, including the Baptist Campus Ministry, the school magazine, Alice, and the honors college. I found a church and a group of friends that I began to spend all my time with.
Don't get me wrong, this is a great place. I've loved my past two years at the university and wouldn't trade them for anything. People are (typically) open to new ideas, and I often hear students talking about issues around race relations, health care, and gun control. The one thing nobody will talk about is sexual assault.
There is one exception. Once a semester or so, the entire campus takes part in former Vice President Joe Biden's "It's on Us" campaign against sexual assault. Students sign a sheet of paper that says they will never commit sexual assault and that, if they see someone vulnerable to being attacked, they will stand up for them. My Instagram feed is dotted with pictures of Greek students "taking the pledge" for Greek points (which I still don't really understand). On the campus quad, a big sign reads, "It's On Us."
After that week is over, the sign comes down, a silence falls over the campus, and and the discussion is done.
According to RAINN, almost one-quarter of all undergraduate females are sexually assaulted at some point during their time in college. If we apply this statistic to the undergraduate population of the University of Alabama, then you could estimate that around 4,200 women currently on campus will suffer a sexual assault during their four-year stint at the school.
Unfortunately, there's a large gap between the number of sexual assaults committed and the number reported. According to the official university police report, only 51 sex crimes occurred in 2016. The report also does not include the number of sexual harassment cases reported, or the number of "sexual contact" cases brought before them.
I think every person on our campus knows that more sexual assaults occur here than are reported. But why would a woman who has suffered a trauma turn to an uninterested justice system?
That question took center stage this past June, when BuzzFeed uncovered the story of former University of Alabama student Megan Rondini. In 2015, the UA honors student accused one of the most powerful men in Tuscaloosa of raping her. When Rondini tried to prosecute, an investigation led to the conclusion that no rape had actually occurred. In fact, using her statement, police actually considered charging her for crimes, including the "theft" of $3 Rondini had used to pay for a cab home. Rondini dropped out of school with post-traumatic stress disorder. A few months later, she committed suicide.
After the BuzzFeed story was published, I noticed other female students taking to Facebook to claim that this was not the only case of sexual assault on campus that was mishandled. After the outrage over Rondini's death died down, however, the posts stopped.
Cut to November. The Senate election is heating up, and TV screens all over campus are covered with the face of an alleged child molester and sexual predator. Trust me, the people on the University of Alabama campus know what's happening. But no one is talking about it — just like no one talked about Megan Rondini after the initial shock of her death.
Roy Moore's presence in our state's politics is a lasting reminder, at least to me, that sexual assault and harassment are believed to be just "part of life" in this state, and on this campus. But it doesn't have to be.
It affects me. It affects every woman. I don't walk through the quad on my own at night, especially after one of my friends was stopped by a man with a knife while she was on a run. If I'm the only woman in a room with a group of men I don't know, my instinct is to leave or to find someone I feel comfortable with. I usually leave. And I will never be by myself at a football game again; I've heard too many horror stories about girls going to get water and being followed by a drunk frat guy.
Every woman on my campus knows another woman who has been sexually assaulted. Every. Single. One. Women should not feel uncomfortable walking by themselves, or even just talking to a man alone, due to the fear of sexual assault. The easiest way to do your part? Don't vote for a man who is known in his hometown for preying on teenage girls.
By changing the way we treat our women, we're going to pave the way for change in everything other aspect this state have failed in. So, fellow students of Alabama: Vote for a man who wasn't banned from a mall for allegedly being a predator. Vote for a person who actually wants to bring about change.