It's Been Five Years Since Sandy Hook & Sheryl Crow Has Had Enough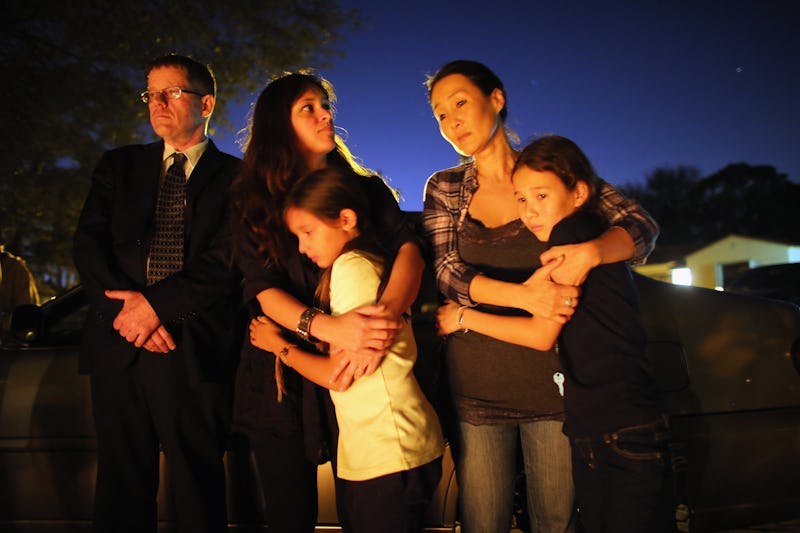 Joe Raedle/Getty Images News/Getty Images
I turned on the news again tonight.
It's getting hard to watch everyone fight…
After the tragedy at Sandy Hook Elementary five years ago today, the one thing I thought nobody would be fighting about was a common-sense solution to gun violence. I wondered then if my own sons would be safe in their schools as they grew up in a country in love with guns. Surely, I thought, this tragedy has to result in some reasonable new laws to prevent further senseless mass shootings.
How wrong I was. In April 2013, four months after the Newtown shooting that claimed the lives of 20 children and 6 adults, the U.S. Senate rejected a bill to expand background checks on firearms sales. Most Americans supported this bill. It didn't matter.
Could you imagine it, if love was blind
If on this earth everybody was kind
Oh, what a different world it'd be…
In the years since Sandy Hook, I've had many conversations with my boys about guns and violence. They are frightened by what they see and hear, week after week, year after year. Earlier this year, Wyatt, my 10-year-old, asked me why unstable and violent people are allowed to have guns. I didn't have an answer, and, I thought, our country didn't have one, either.
While searching online for ways to reassure my son, I discovered that some states' legislatures have passed laws letting courts issue ERPOs: Extreme Risk Protection Orders. These court orders allow law enforcement and families to temporarily separate guns from people who present imminent risk to themselves or others. Mental health crises and guns are a lethal mix.
Violence prevention and safety are at the core of this legislation.
ERPOs have also been linked to a decrease in suicides, and could even have prevented some of the mass shootings we have seen this year. We know now, for example, that the November shooter in Northern California as well as the January shooter in Fort Lauderdale were known to struggle with mental illness. ERPOs also uphold the Second Amendment, and do not look to strip away rights from responsible gun owners.
ERPO Laws are currently in place in California, Oregon, Washington, and Connecticut. In Connecticut, research has indicated that ERPO laws have prevented more than 70 suicides. A handful of other states are considering enacting their own ERPO law: Alaska, Alabama, Arizona, Hawaii, Iowa, Illinois, Massachusetts, Maine, Michigan, Minnesota, Missouri, New Jersey, Nevada, New York, Pennsylvania, Texas, Virginia, Wyoming, and my own home state of Tennessee.
I dream of the day I can tell my boys that something is being done — that we have ERPO laws in all 50 states of this beautiful country.
Giving it all I got
Even if I can't change a thing
Giving it all I got
Gonna fight to keep remembering
We are beautiful inside
You could say I'm the dreaming kind
Sandy Hook Promise reached out to me after learning that we both share the same hope and dream for the safety of our nation's children. I felt compelled to write "The Dreaming Kind," for the wonderful people who work there, which you can listen to here.
SHP works so hard every day to combat gun violence, primarily by teaching kids to know the signs of someone who is at risk of hurting themselves or others. To date, they have educated over 2,500,000 students in the last three years, in all 50 states.
Today, we mark five years since the shooting at Sandy Hook Elementary. Since that day of reckoning, no more people should have died in mass shootings — but nearly 1,800 have. Please join me in supporting Sandy Hook Promise by downloading my song "The Dreaming Kind" here.
All proceeds go to Sandy Hook Promise, so that they can teach more student to know the signs. By doing this, you can be part of the solution to preventing gun violence before it starts.
Editor's Note: This op-ed does not reflect the views of BDG Media and is part of a larger, feminist discourse on today's political climate.