How Ivanka Trump's Brand Is Trying To Get People To Buy Its Handbags Again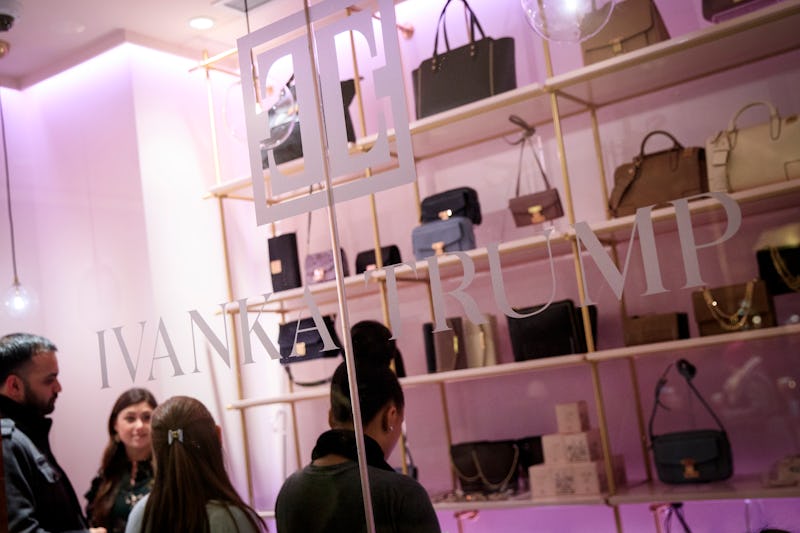 Drew Angerer/Getty Images News/Getty Images
On Tuesday, Ivanka Trump's website underwent some serious alterations. Previously, it was mostly a lifestyle blog that dabbled in selling handbags and jewelry — but this week, that changed. Ivanka Trump's brand sales are down, and its strategy is revamping to help reverse that downward trend. In this latest development, the company's website now sells her clothing brand, currently with a 15 percent discount.
"We're making it easier than ever for you to shop with us," the website reads. "Starting today, you can browse our latest ready-to-wear pieces directly on out site." According to Bloomberg, the brand's leadership also announced the change in an email sent out to its customers.
While public announcements related to the decision make no reference to brick-and-mortar sales, the Ivanka Trump brand has faced intense scrutiny since Ivanka's father won the 2016 presidential election. Almost immediately after the inauguration, Trump opponents organized boycotts at stores where Ivanka's clothing line were sold.
Early last year, the #GrabYourWallet campaign sought to boycott Trump family brands to protest the family's ascension to power. If opponents couldn't change what Trump and his family believed or the policies they proposed, consumers reasoned that they could hit the Trumps where it hurts: their economic success. As the movement gained speed and momentum, some retailers appeared to responsive to their shoppers' demands.
A handful of retailers quickly ceased carrying Ivanka's brand, or at least stopped advertising that they were. Generally speaking, no company directly linked their decision with the ongoing boycotts, but protestors were pleased either way.
One of the first stores to drop Ivanka's brand was Nordstrom. Like other retailers that followed suit, company spokespeople linked the decision to poor sales. On the same day that the drop was announced, on Feb. 2, 2017, a spokesperson for Nordstrom told Fortune that they "make buying decisions based on performance." She said that "based on the brand's performance, we've decided not to buy it for this season."
Still, the decision heartened protestors while simultaneously enraging Trump supporters, including Trump, himself. "My daughter Ivanka has been treated so unfairly by @Nordstrom," he tweeted on Feb. 8, just days after the company dropped Ivanka's line. "She is a great person — always pushing me to do the right thing! Terrible!"
While Ivanka's brand stays firmly in the spotlight, it's important to note that the first daughter stepped down from company leadership after her father became president. This was because she decided to join her father in the White House, becoming a special presidential advisor, as did her husband, Jared Kushner.
Back in December, Ivanka's fashion company started selling the brand in a store in the Trump Tower lobby. It was largely characterized by both critics and brand leadership as a way to directly sell to consumers, in lieu of going through outside distributors and retailers. Ivanka critics understood it to mean that their boycotts had been so successful that the company needed to rethink parts of its business model.
"In the ever changing retail landscape, the Ivanka Trump brand is committed to engaging with the customers directly," a spokesperson said in an email at the time, according to The Chicago Tribune. Ivanka reportedly still owns the brand, even though she is not currently leading it.
The distinction between the Trumps as politicians and the Trumps as businesspeople has been a constant source of tension since the real estate mogul first threw his hat in the ring for the presidency. While Donald Trump is not the first person to be a businessman before becoming president, almost every member of his immediate family either has a stake in his business, or else also runs their own. Because of this, questions about whether or not the Trump brands are benefiting from the family's political prominence continue to arise. Ivanka is no exception.