Ivanka Trump Shared A Sweet Throwback Photo For Her Mom's 70th Birthday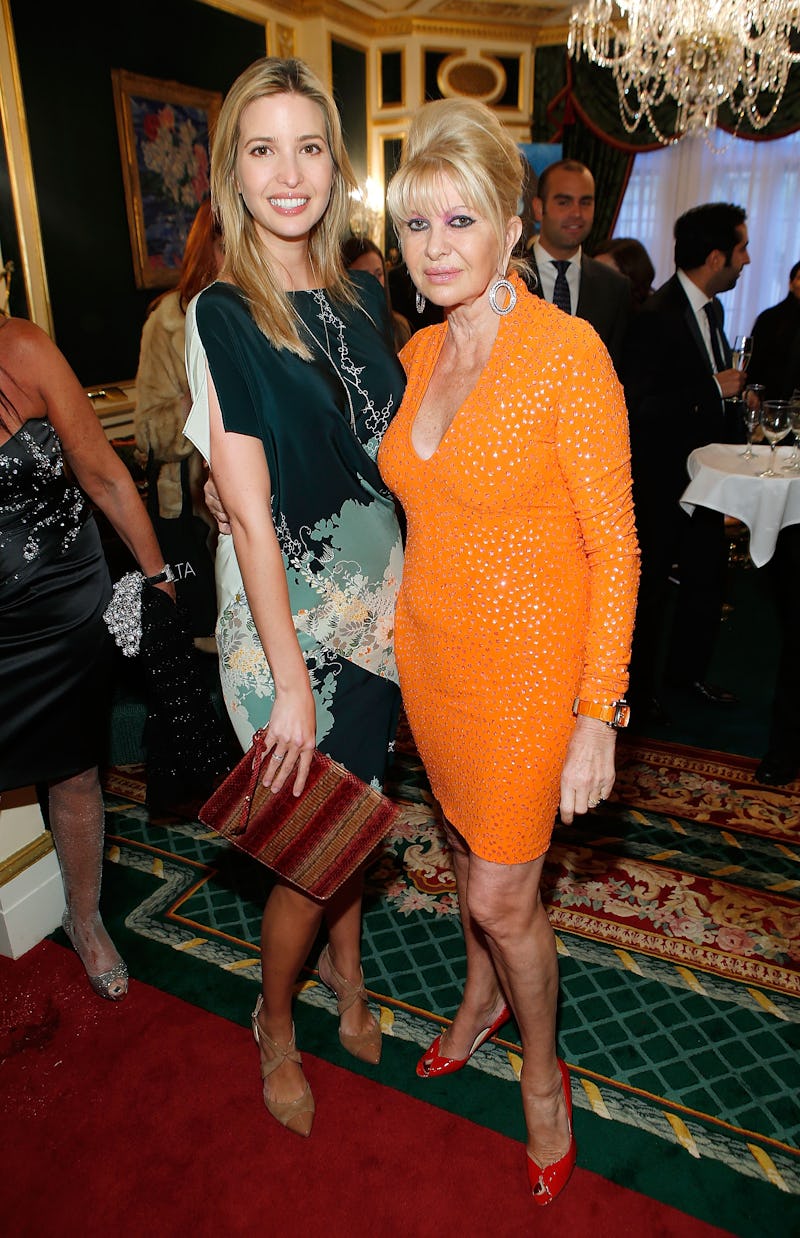 Jemal Countess/Getty Images Entertainment/Getty Images
It's a photo straight from nostalgia lane. On Wednesday, Ivanka Trump wished Ivana Trump a happy birthday on Instagram with a photo from her childhood. "Mom, you are a source of joy and wonder to all who know you," the first daughter said in her caption. "I love you very much! Happy birthday! (Or in your own words: 'Never older, it just takes longer getting ready every morning!')." The former Czech model and businesswoman is now 70 years old.
Ivanka is known to share throwback photos on social media for special occasions like the birthdays of her family members. In 2018, the first daughter posted a photo of her younger self in a white frock, bowing to her mother, with the caption: "Happy birthday Mom! Today, I bow to you even deeper, as I better understand just how hard a job it is to be a great mom! You inspire now, as you did then. I love you."
Ivana, who is also the mother of Donald Trump Jr. and Eric Trump, married Donald J. Trump in 1977. The couple divorced in 1992. She grew up in what was formerly Czechoslovakia (currently the Czech Republic), and then migrated to Canada in 1973. Upon moving to New York City in the mid-1970s, Ivana started modeling. It was around the same time that she began dating Donald.
Ivana, who is the first of Donald's three wives, may not be making airwaves in the news as often as other members of the family but she can be credited for inadvertently giving the now-president one of his famous nicknames: The Donald.
Although it became a famous alternative title for him and appeared in places like The Newsweek, The New York Times, The New York Post, and more, it happened as a mistake, according to Ivana. "As most people know, English isn't my first language, in fact it's my fourth," Ivana told The Washington Post in 2015.
"When I came to live in New York," she went on to tell The Post, "I really had to learn the language from the beginning almost. Some things come easily, some things don't. And for whatever reason, probably because I was going at my usual turbo speed, I started putting 'The' in front of most people's names."
Ivana told The Post, "You know the outcome, 'The Donald', just slipped off the tongue, and now it seems to be making its way to the political history books." And it looks like her then-husband dug the nickname, too. He told the publication the same year that he took "The Donald" as an "endearment."
While Ivanka's birthday wish for her mother this year seemed to have gone smoothly, she came under criticism in 2018 for her Mother's Day post on Instagram. The first daughter shared a photo of a much younger Ivana skiing and captioned it with: "Happy Mother's Day to my amazing mother and the best skier I know!"
Some Instagram users criticized Ivanka for what they called an inadequate Mother's Day greeting. But regardless of what people think, be it Mother's Day or Ivana's birthday, it looks like Ivanka's throwback photos with her mother will keep comin'.