Ivanka Trump's Silence On Equal Pay Day Speaks Volumes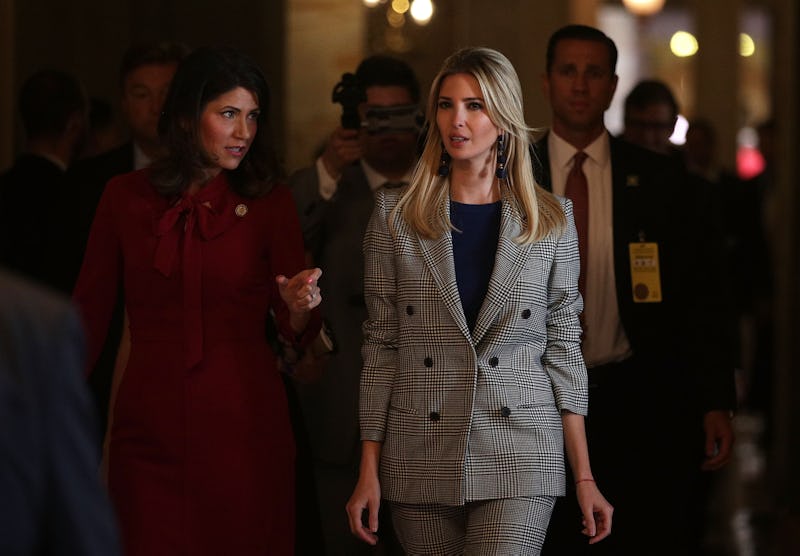 Alex Wong/Getty Images News/Getty Images
Ivanka Trump was in no hurry to acknowledge Equal Pay Day on Tuesday. Despite her previous promises to fight for women's right to fair pay, the senior adviser to the president's social media accounts were fairly quiet on April 10, as people across the country recognized how far into 2018 the average American woman had to work to earn the same salary a man had earned the previous year. By ignoring the issue, Ivanka Trump's silence on Equal Pay Day falls in line with how much progress she's made on the gender wage gap since entering the White House.
The president's oldest daughter didn't just pledge to advocate for women during the 2016 election; she explicitly said at the Republican National Convention that her father would "fight for equal pay for equal work," adding that she "will fight for this too, right along side of him." She further boasted about her commitment to achieving pay equity on Equal Pay Day last year.
"Closing the gender pay gap is critical to the economic empowerment of American women, and it is the responsibility of all Americans to come together in pursuit of equal pay," she wrote in an Instagram caption accompanying a graph showing pay disparities as of 2017.
Fast forward to Equal Pay Day 2018, and there was virtual radio silence from the first daughter. She retweeted posts on Tax Day and combatting sex trafficking, while she didn't post on Instagram at all.
Trump's choice to not recognize Equal Pay Day this year could stem from the fact that a watchdog group, Democracy Forward, filed a lawsuit Tuesday that insinuates she played a role in her father's 2017 decision to roll back an Obama-era measure forcing companies to report how much they pay employees by gender. Democracy Forward sued her father's administration for failing to respond to a public records request for "documents that would shed light on the role Ivanka Trump had in the decision."
"Ivanka promised to be a voice for working women, but instead she is complicit in the Trump Administration's rollback of a requirement that would have helped women secure equal pay," Anne Harkavy, Democracy Forward's executive director, said in a Tuesday statement. "Actions speak louder than words."
When the White House nixed the requirement last year, Trump defended the decision. "Ultimately, while I believe the intention was good and agree that pay transparency is important, the proposed policy would not yield the intended results," she said in a statement to CNN. "We look forward to continuing to work with EEOC, OMB, Congress and all relevant stakeholders on robust policies aimed at eliminating the gender wage gap." No policy plans surrounding equal pay have come out of the White House since then.
Amid criticisms that she's changed many of her views to match her father's since he entered the White House, Trump claimed last year that she doesn't hold as much power to enact change as her critics believe. "Some people have created unrealistic expectations of what they expect from me," she told The Financial Times. "To voice dissent publicly would mean I'm not part of the team. When you're part of a team, you're part of a team."
While it's no surprise that the first daughter doesn't publicly rebuke the president, posting on social media in recognition of Equal Pay Day would simply show that she's acknowledging a problem, not backing any particular solution over another. But her father hasn't posted anything about Equal Pay Day, either; he instead posted a picture with military leaders that includes just one woman.
It's also possible the first daughter wants to lie low on Tuesday to avoid further criticism amid the news that Democracy Forward is looking into her involvement in rolling back the Obama-era equal pay measure.
At the same time, it appears Trump hasn't followed through on a promise to meet with Lilly Ledbetter, the woman whose Supreme Court case inspired a law that extended the statue of limitations for wage discrimination lawsuits. Ledbetter told CNN that she emailed Trump last year asking to talk about equal pay. Trump reportedly responded that said she would gladly meet Ledbetter for coffee in Washington, D.C., but Ledbetter says the meeting never happened. "I can't afford to fly up there just for a cup of coffee," she told CNN.
Trump's inaction on closing the gender wage gap was only amplified by her choice not to recognize Equal Pay Day this year. Women making less than their male coworkers look forward to the day no one has to post about pay inequalities, but that's unfortunately not the reality in 2018.