Ivanka Endorsed A Governor Who Signed One Of The Nation's Strictest Abortion Bans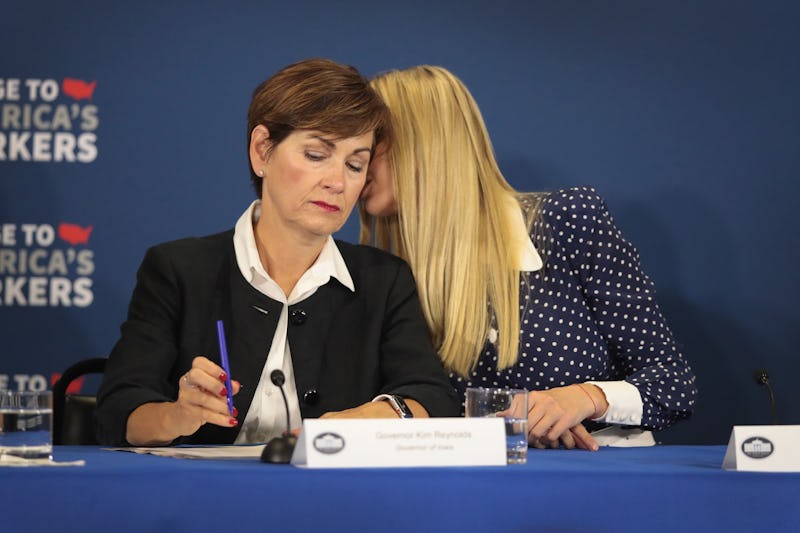 Scott Olson/Getty Images News/Getty Images
In the final days before the midterm elections on Tuesday, Ivanka Trump endorsed anti-choice Governor Kim Reynolds. Then, on Thursday and Friday, the first daughter visited Iowa in-person to support the Republican who has appeared at rallies alongside President Donald Trump. Because Ivanka once promised she'd be an advocate for women's rights, people were not pleased with her latest endorsement.
Ivanka tweeted about the visit — and that's when the criticism started. On Friday, she wrote:
As the FIRST female Governor of Iowa, @IAGovernor cut taxes, balanced the budget (with a 127 m surplus!) & fostered a pro-growth environment where incomes are rising & unemployment is 2nd lowest in the Country! Proud to be in Des Moines to support my friend. Vote for Reynolds!
Her trip to support Reynolds was noteworthy because the Iowa governor's race is incredibly close. The Des Moines Register/Mediacom Iowa Poll found that 43 percent of likely voters support Democratic candidate Fred Hubbell while Reynolds support is only at 41 percent.
But it was not Ivanka's support of Reynolds as a female candidate that irked people on social media. It was because Reynolds signed one of the most restrictive abortion bans in the country in June. The bill banned abortions after a fetal heartbeat can be detected, which is usually around six weeks. The law was soon challenged in court, and a judge put a temporary injunction on it. In October, a poll by the Des Moines Register found that a majority of Iowans thought the anti-choice bill was too harsh.
Andrea González-Ramírez of Refinery29, among others, suggested Ivanka's endorsement of an anti-choice candidate was hypocritical. "Self-proclaimed women's rights champion Ivanka Trump has endorsed Iowa Gov. Kim Reynolds, who earlier this year signed into law a bill banning abortion at six weeks. At that point, most women don't even know they're pregnant," González-Ramírez wrote.
She went on to argue that Ivanka's White House priorities to empower women are in direct conflict with anti-choice laws. "Ivanka's WH agenda includes women's economic empowerment. Research shows this can't be achieved without allowing women control over their reproductive healthcare, including access to abortion. But here she is, endorsing a hardcore anti-choice candidate," she wrote.
Guardian columnist Arwa Mahdawi similarly said Ivanka's trip proved "yet again she is no friend to women" by supporting Reynolds. Mahdawi cited the six-week abortion ban as a reason to question why Ivanka was supporting the Republican candidate. "[Reynolds] has already been applauded by conservatives for signing the strictest abortion ban in America, which bars doctors from performing most abortions after a fetal heartbeat is detected. That's normally a mere six weeks into a pregnancy," Mahdawi wrote.
Reynolds' support of anti-choice policies is in line with the Republican Party's desire to roll back reproductive rights. She is one of 33 Republican governors across the country. As Elle's Madison Feller pointed out, governorships are incredibly important to those who want to see access to abortion increased.
Even after Tuesday's elections are over, it'll be hard to gauge how big of an impact Ivanka's endorsement had on the race. More importantly, however, the elections will determine if Reynolds will continue to make decisions on abortion rights in the Hawkeye State.