Ivanka Trump Is Apparently Still Making Bank Off The Family Business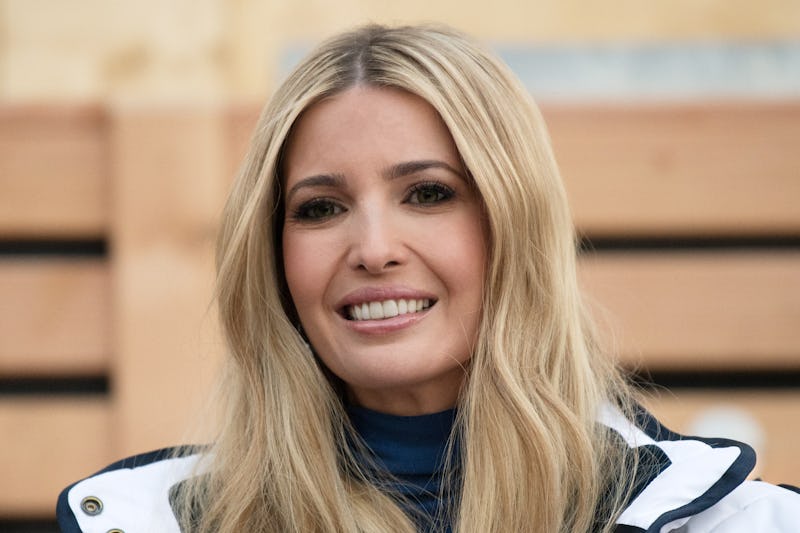 Carl Court/Getty Images News/Getty Images
First Daughter Ivanka Trump's dual role as businesswoman and White House advisor is once again raising ethics questions. According to a new report by McClatchy DC, Ivanka will earn $1.5 million from the Trump Organization this year, despite working in her father's administration. Ethics experts are saying this could potentially lead to some major conflicts of interest.
In January last year, shortly after her father was elected president, Ivanka said she would resign from the family company, including her own fashion label. Two months later, the White House announced Ivanka's new, unpaid role in the administration.
But Ivanka has still been receiving funds — apparently upwards of $1.5 million — from the Trump Organization since 2017, according to her financial disclosure form. This total comes from various companies under the Trump Organization umbrella, including consulting firms, real estate management, and licensing services, many of which hire state-owned companies to do construction and receive payments from foreign officials.
Because of this, ethics experts are accusing Ivanka of potentially breaking federal law and ethics mandates, including the emoluments clause of the U.S. Constitution, which bars any government official from accepting gifts from foreign governments without Congressional approval. "If you have a foreign government providing a benefit to the Trump company that is going to violate emoluments clause of the Constitution," Noah Bookbinder, executive director of Citizens for Responsibility and Ethics in Washington (CREW), told McClatchy.
The report cites specific instances in which Trump brands could directly benefit from the special treatment of foreign government officials. For instance, a local government in Indonesia plans to build a road to shorten the drive between the main airport in Bali and the Trump International Hotel and Tower Lido. The company involved in the project is one that Ivanka is receiving income from.
Ivanka, the White House, and the Trump Organization did not immediately respond to Bustle's request for comment concerning the potential conflicts of interest. However, Peter Mirijanian, a spokesperson for Ivanka and Jared Kushner's attorney, told McClatchy that the First Daughter was "merely a passive investor" in these businesses and receives a "fixed income" based on her investments.
While Mirijanian claims this is "something not uncommon for federal employees with outside investments," a lot of ethics experts disagree, and claim Ivanka is taking advantage of loopholes because she is "self-policing" her involvement in the Trump Organization, according to CNN.
Since Ivanka entered the White House, it's been questioned whether or not she's fully complying with ethics restrictions. "They keep pushing to these gray areas," Larry Noble, general counsel of government watchdog group Campaign Legal Center, told CNN after Ivanka's senior adviser role was announced.
He added that just because Ivanka has an unpaid role in the White House, doesn't mean she's not required to follow the same rules as someone who is paid. "She looks like a government employee. She seems to be acting like a government employee," Noble said. "And the reason we have these ethics and transparency laws is not because of the label you put on somebody, but because of the function they serve."
There have been other instances in the past that have brought up questions of conflict of interest surrounding the First Daughter. Last April, Ivanka got several trademarks approved by the Chinese government the same day she had dinner with the nation's president, Xi Jinping, at Trump's Mar-a-Lago resort.
The FBI is also investigating financing and negotiations around the Trump International Hotel and Tower in Vancouver. Ivanka played a key role in developing the project, CNN reported, which opened shortly after Trump took office, in February 2017.
While Ivanka's husband's security clearance has been downgraded because of conflicts of interest, Ivanka's remains — for now.
Nonpartisan "watchdog" organization Common Cause has drafted a petition demanding Ivanka and Kushner end their work at the White House, divest their assets, or establish a blind trust, barring them from knowing how their companies' assets are managed. "We deserve public servants who serve only the public," the group said in a statement. "We can't trust government officials' decisions if their wealth is involved."