Ivanka & Jared May Have Just Helped LGBTQ Rights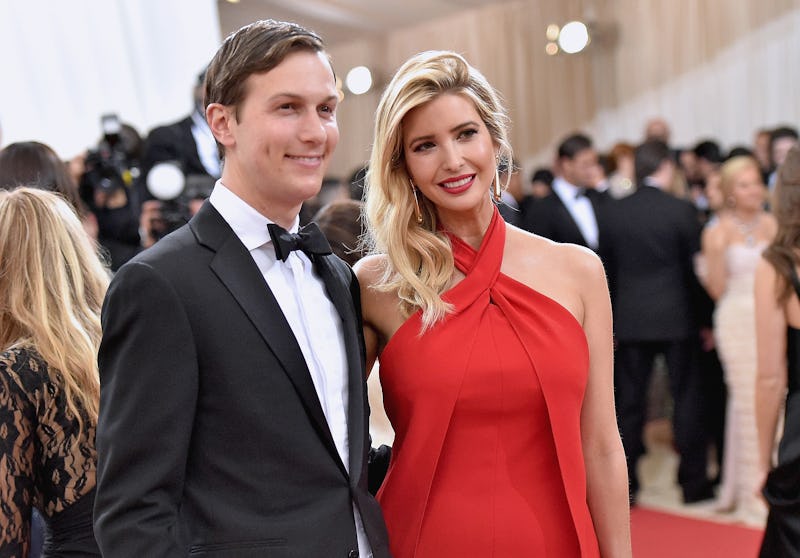 Mike Coppola/Getty Images Entertainment/Getty Images
A draft executive order reportedly set to scrap workplace LGBTQ protections was thwarted by Ivanka Trump and Jared Kushner, Politico reported on Friday. It was believed President Trump was preparing to sign an executive order that reportedly would have overturned a series of discrimination protections for federal LGBTQ employees and contractors instituted more than two years ago by President Obama in favor of expanding exemptions for religious beliefs.
Amid rumors the president was preparing to roll back LGBTQ rights with an executive order on "religious freedom," the White House released a statement Tuesday emphasizing Trump's commitment to protect LGBTQ employees employed with federal contractors. "The President is proud to have been the first ever GOP nominee to mention the LGBTQ community in his nomination acceptance speech, pledging then to protect the community from violence and oppression," the statement said. "The executive order signed in 2014, which protects employees from anti-LGBTQ workplace discrimination while working for federal contractors, will remain intact at the direction of President Donald J. Trump."
Trump is believed to be the first Republican presidential nominee to address the LGBTQ community at the party's nominating convention. In his speech at the Republican National Convention in July, Trump vowed to "do everything in my power to protect our LGBTQ citizens from the violence and oppression of a hateful foreign ideology," in a reference to the shooting at a popular gay nightclub in Orlando, Florida.
According to Politico, Ivanka Trump and Kushner, who is both the president's senior advisor and son-in-law, reportedly played prominent roles in the turnaround. However, an unnamed White House official also told the news outlet that President Trump never intended to sign the draft order killing Obama's LGBTQ protections, chalking it up to one of a few hundred draft executive orders floated by Trump prior to his taking office.
In 2014, Obama signed an executive order to expand discrimination protections to members of the LGBTQ community. The order prohibiting discrimination on the basis of gender identity within the civilian federal workforce and on both gender identity and sexual orientation in hiring by federal contractors.
Amid reports of their pushback, some high-profile figures in the LGBTQ community appeared appreciative of whatever role Kushner and Ivanka Trump may have played in the White House's decision to upholding LGBTQ workplace discrimination protections.
"I've long said/believed that @IvankaTrump has been carefully picking her battles," Clay Aiken wrote in a tweet posted Saturday. "I'm glad she picked this one."
"Jared and Ivanka, we hear you're pushing back on anti-LGBT bigots in the WH," actor George Takei tweeted Saturday. "Our nation must uphold equality, renounce discrimination."
However, without knowing the true (or full) extent of Kushner and Ivanka Trump's role in potentially redirecting the Trump administration's stance on LGBTQ discrimination protections it's impossible to declare the pair champions of the LGBTQ community.