Why Ivanka, Kellyanne Conway, & Sarah Sanders Are All Over The Campaign Trail RN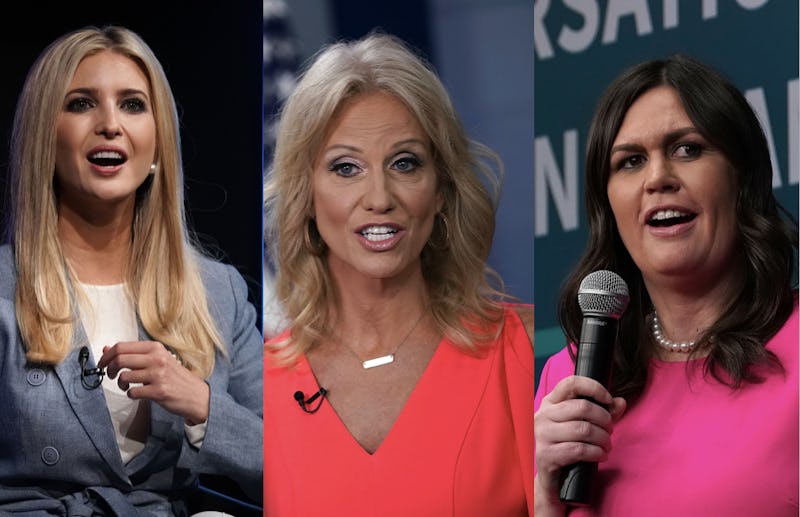 Alex Wong/Getty Images News/Getty Images
The November midterms are less than two weeks away, campaign season is in full swing, and one group of people hitting the trail with resounding success is the women who work closest with the president. Ivanka Trump, Kellyanne Conway, and Sarah Sanders are GOP favorites at campaign events, according to Politico, and their presence is in high demand.
"These women love our country and are great voices for the president," RNC spokeswoman Cassie Smedile told Politico. "We love having them out on the road, and the American people love hearing from them too, as evidenced by the volume of requests and the enthusiastic reception they receive everywhere they go."
While these three women have literally made promoting President Donald Trump's policies their full-time jobs, according to the Politico report, they're now selling out fundraising and campaign events, suggesting that they possess an innate popularity all on their own. This is significant, but especially so when placed in the context of the president's — and the Republican Party's — relationship to women.
Since he was a candidate, Trump has had a rocky relationship with women voters, and problems have continued to arise throughout his presidency. Just a few weeks ago, for example, he openly mocked Christine Blasey Ford, a woman who accused Supreme Court Justice Brett Kavanaugh of sexually assaulting her when they were teenagers. (Speaking before the Senate Judiciary Committee Kavanaugh denied this, saying, "I've never sexually assaulted anyone. Not in high school, not in college, not ever. Sexual assault is horrific.")
Trump's impression of Ford's testimony before the Senate Judiciary Committee sparked immediate backlash. To have people like Ivanka and Conway stumping for Republicans around the country before tensions around Kavanaugh's confirmation even cool sends the message that while some may be angry at him, Trump continues to enjoy the support of those women who work most closely with him.
But low Republican favorability ratings among women is more than anecdotal. Current polls suggest that women voters prefer Democratic candidates by a very significant margin. Two weeks out from Election Day, CNN reports, Democrats enjoy a 22-point lead among women voters. Inversely, men prefer Republicans by eight points, reportedly setting a historic gender gap.
The women stumping for Republicans are doing so enthusiastically, according to descriptions of their work provided by Politico. Best known for defending the president from behind a podium in the White House press briefing room, Politico reports that Press Secretary Sanders has crafted a stump speech that focuses on three main areas: her personal history, her relationship with the press, and promoting Trump's policies.
"Most of you probably know me from my day job," she told a crowd at Iowa Gov. Kim Reynolds' harvest festival on Oct. 13, Politico reports. "The most important job that I have, and certainly the most important title I have no matter what I do, is that of a mom."
As part of the speech, she also reportedly makes jokes about the crowd welcoming her, remarking that "it's pretty rare that I come into a room and people actually stand up and clap." The joke refers to her historically tense relationship with White House reporters.
Whether or not women headlining Republican campaign events will give the party what it needs to gain the confidence of women voters waits to be seen. But as Election Day draws closer all the time, and with such high stakes for both parties, campaigning has, all-around, turned into an all-hands-on-deck affair.