Ivanka Reminisced About Election Day 2016 On Instagram & People Can't Even Cope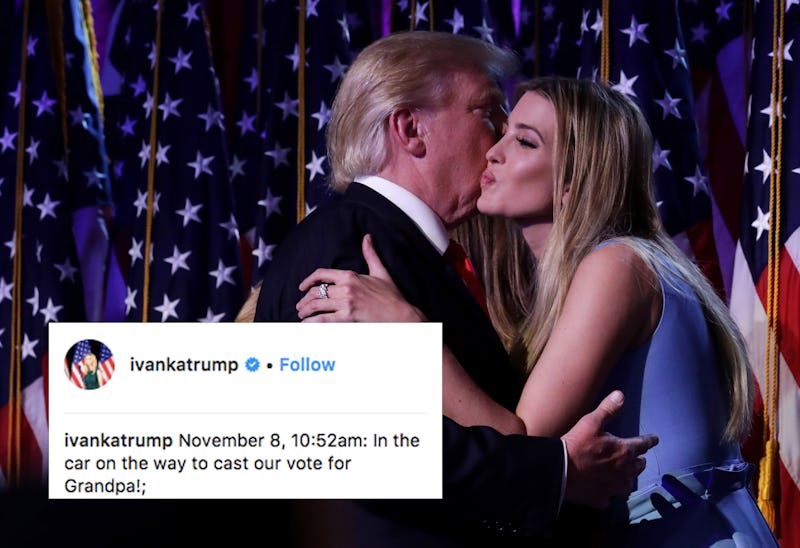 Chip Somodevilla/Getty Images News/Getty Images
Don't look now, but if you're a progressive or a Democrat, this probably isn't the happiest anniversary on your calendar. It's been precisely one year since the 2016 presidential election was won by Donald Trump, in one of the biggest upsets in America political history. And one of the president's children marked the occasion on Instagram, to decidedly mixed results ― plenty of people had intense reactions to Ivanka Trump's 2016 election Instagram photos, though among her own followers, the Trump administration is pretty popular.
While it's easy to forget now, a full year after the fact, on the morning of Nov. 8, 2016, the situation for the Trump campaign did not look particularly rosy. Trump trailed in the polls, albeit by relatively narrow margins, in a number of colossally important swing states ― Florida, North Carolina, Virginia, and the like.
But when the dust settled, things looked a lot different. While the national polls were basically on-point, with Clinton winning the popular vote by approximately 3 million, the state polls had been off, failing to predict Trump's upset swing state wins, especially in Michigan, Wisconsin, and Pennsylvania. In less than 24 hours, the Trumps went from a family that seemed destined for defeat to the First Family-in-waiting, and as such it's not surprising that Ivanka, at least, has some fond memories.
She posted a series of seven photos, which showed an outline of what she did on Nov. 8, 2016. Ivanka summarized the timeline of the historic day in the caption:
November 8, 10:52am: In the car on the way to cast our vote for Grandpa!; November 8, 8:44pm: Watching the election results roll in; November 9, 1:26am: @realdonaldtrump, Jared, Stephen Miller and I working on the victory speech; November 9, 2:52am: Victory!
That's a timeline that really takes you back, huh? A brief look through the comments on her photo ― and yes, obviously, you're never supposed to read the comments ― shows a pretty divided audience. For instance, one user who clearly doesn't approve of Trump and his presidency offered up a sharp-elbowed response.
You know the whole world is laughing at that fool in the White House, don't you? He's a laughing stock.
That led a number of Trump's ardent supporters to jump into the thread to defend him, with one pivoting the conversation (perhaps unsurprisingly) into an attack on former president Barack Obama.
quit talking about OBAMA like that we already knew he was a fool for eight long years
One anti-Trump comment, clearly from someone who's also a Chicago Cubs fan, lamented how the timing of Trump's electoral victory mucked up the team's historic 2016 World Series victory, and soured the atmosphere in her hometown pretty sharply.
Worse day ever!! Three days earlier my Cubs won the World Series. Chicago went from exiliration to total devastation!!
Many of Trump's supporters offered well-wishes and prayers to he and his family, and many referenced how tense yet ultimately gratifying last year's election night was.
Wow!!! Thank you for sharing these photos and allowing us to see some of what goes on in the background, who's there, etc... God bless....praying for God's wisdom to engulf you, your cabinet & family.
One comment referenced the notion of Trump's presidency embarrassing the U.S. around the world, claiming that thanks to him, the "whole world" is laughing at America.
Came your dad and ruined America! We have the whole world laughing at us... thanks to your dad! Go back to New York And stay out of the WH!
And, of course, no series of comments from Trump supporters and detractors is complete without the subject of 2020 coming up. If there's one thing the pro-Trump throngs were eager to let Ivanka know, it's that they still intend to cast their ballots for her father three years from now.
I will never forget this day as long as I live and I'm excited I'll be able to vote for him in 2020!!
Of course, there's no guarantee just yet what Trump's 2020 Election Day will look like, and whether Ivanka will look back on it quite as fondly as she did his 2016 Election Day.
Needless to say, Democrats and progressives would like it to turn out a lot differently than it did the first time around, and pair that popular vote victory with a winning electoral college map. And with the 2020 presidential election will be held on Tuesday, Nov. 3, they'll at least have a few more years to try to get everything lined up.