Ivanka Trump Reportedly Thinks She & Her Dad Have This In Common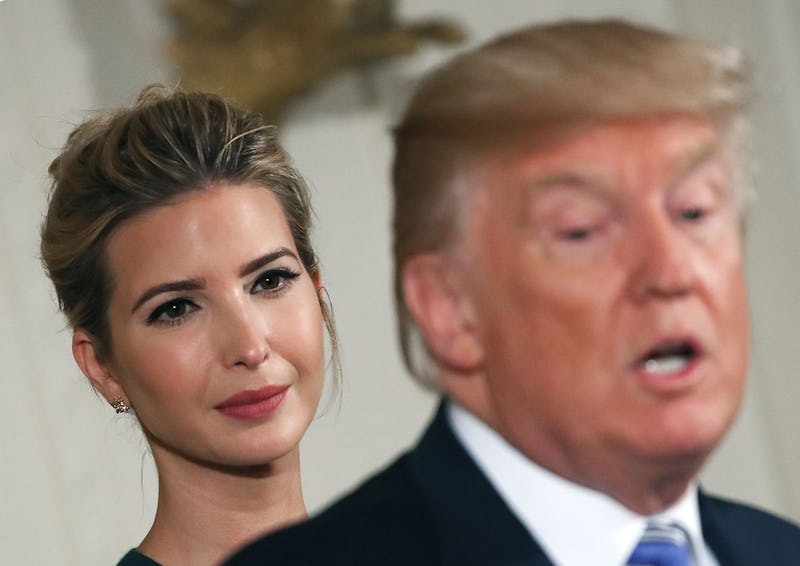 Mark Wilson/Getty Images News/Getty Images
In a new interview on Katie Couric's podcast, New York Times reporter Maggie Haberman said that Ivanka Trump thinks her dad is a "genius," and is "a lot like him." Haberman said that, although the first daughter disagrees with the president on some policy issues, she has gradually become more similar to him during her first year in the White House, and is "in many ways the spitting image" of her father.
"She does believe that he's got a genius," Haberman said of Trump's feelings about her dad. "She does believe that there are things he can intuit that other people can't, and she's very riveted by it."
This contradicts a common narrative that the first daughter, who's known to hold several liberal policy views, is only a reluctant supporter of her father's presidency. According to Haberman, Trump was once "a sort of resentful daughter," but has become more and more similar to her father over the course of his first year in office. Among the similarities they share, Haberman claims, is a sense of victimhood.
"She has a very similar set of grievances," Haberman told Couric and co-host Brian Goldsmith. "She has a similar sense that people are being unfair to her." Haberman added that Ivanka is "[her father] without a lot of the flash and style."
Trump and her dad are known to disagree on several high-profile policy issues, most notably gay rights and the environment. She and her husband, Jared Kushner, reportedly tried very hard to convince the president not to withdraw the United States from the Paris climate accord. That reported effort failed. On the same day that her father announced that he would indeed pull the country out of the agreement, Trump tweeted that she's "proud to support my LGBTQ friends and the LGBTQ Americans who have made immense contributions to our society and economy."
This, too, put her at odds with her father, who announced a month-and-a-half later that transgender people would no longer be allowed to enlist in the military. Ivanka was criticized for being silent about this and several other anti-gay policies that the Trump administration has enacted. She's also voiced support for affordable child care and paid maternity leave, but few of her policy prescriptions have become law.
"I don't think she's happy with how he's being perceived and I certainly know there are aspects of his governance that she's not happy with," Haberman said of Trump. "I mean, there are policy issues that they've disagreed on — many of them." But although Trump has "always tried to refine [Donald's] style," she's nonetheless "a lot like her father," Haberman said.
Haberman also told Couric and Goldsmith that Trump and Kushner are "both difficult to read," and were taken aback by their new lives in the White House once Donald Trump was elected. Kushner is currently one of his top advisers, and is ostensibly overseeing America's role in the Israeli-Palestinian peace negotiations. Ivanka Trump is also a presidential adviser; initially, she worked in the White House on a volunteer basis, but this raised ethics concerns, and so she became an official employee of the administration (albeit an unpaid one) in March.
"This is not the life that they wanted ... and none of this is what they thought was going to happen," Haberman said. "Like [Donald], she believed that they would walk in be treated sort of deferentially, and she's been a little surprised at how D.C. actually is." Haberman said that Trump and Kushner are "very different people," and that compared to his wife, Kushner "is very sort of chill, and flat, and speaks as little as possible."
The elder Trump seems to think highly of his daughter as well. He has praised her often, and sometimes his remarks about her have caused controversy — like in a 2006 interview when he said, "if Ivanka weren't my daughter, perhaps I'd be dating her."