Ivanka Trump Responds To The NYC Attack With Prayers For The Victims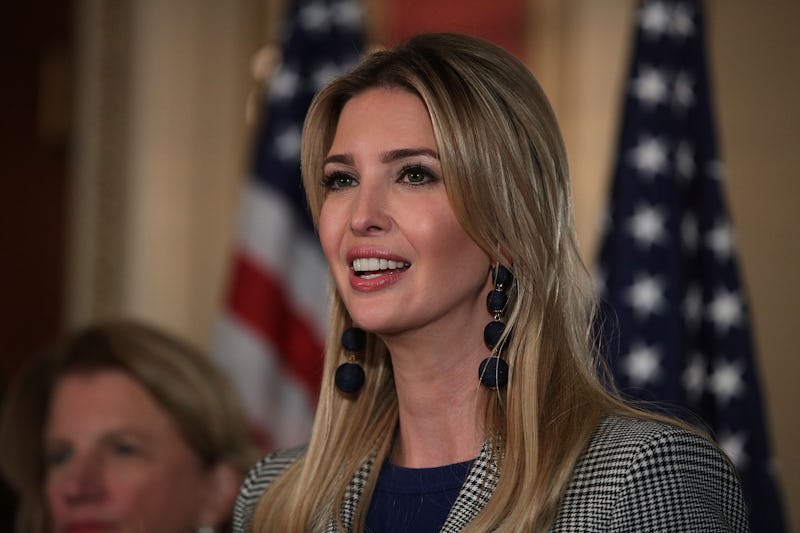 Alex Wong/Getty Images News/Getty Images
Amid reports of a deadly vehicle attack and shooting that's reportedly left several people dead and more than a dozen injured, a member of the first family has spoken out — Ivanka Trump has responded to the New York City attack. She's the first member of the Trump family to publicly comment on the situation, which exploded into the news on Tuesday, a deeply sad and grim story on a Halloween afternoon.
The bloodshed reportedly began when someone driving a Home Depot-branded pickup truck started driving southbound down a bike path in Lower Manhattan, close to the Hudson River, hitting several people in the process. According to the New York Daily News, at least 11 injuries were reported as a result of the truck tearing down the bike path, and there have been subsequent reports that the man spotted driving was also shooting some sort of firearm.
It's important to remember that deadly, violent incidents like these can often result in chaos, panic, and subsequently incorrect or inaccurate early reports. That said, this much has been confirmed by major media outlets: six people dead, and multiple witnesses claim that a gun was involved. Ivanka, a native of Manhattan, described the reports as "heartbreaking news."
Ivanka's father, President Donald Trump, weighed in on the attack just a half-hour later in a series of tweets.
In NYC, looks like another attack by a very sick and deranged person. Law enforcement is following this closely. NOT IN THE U.S.A.!
We must not allow ISIS to return, or enter, our country after defeating them in the Middle East and elsewhere. Enough!
My thoughts, condolences and prayers to the victims and families of the New York City terrorist attack. God and your country are with you!
Historically, his quickness and eagerness to respond to acts of high-profile violence has depended upon the political implications — he's been very quick to condemn, emphasize, and publicize acts of terroristic violence by Islamic militants, for example, while far slower and more reluctant to respond to some others.
For that reason, some Twitter users found his fiery "NOT IN THE U.S.A!" comment to be hypocritical. When the Las Vegas shooter (who was a white American man) killed 58 people, Trump didn't display the same type of fury. And when a Nazi-sympathizer ran over and killed a counter-protester at a white supremacist rally in Charlottesville, the president blamed both sides for the violence. Unlike Trump's tendency to politicize acts of terror committed by Muslim men and use them as an opportunity to promote the travel ban (think about the latest terrorist attack in London), Ivanka's responses have remained relatively consistent.
As for the motivations behind Tuesday's violence, the suspect reportedly left notes in the truck that suggest he was a part of ISIS. The New York Police Department has since announced on Twitter that the suspect in the case, who is reportedly in custody, was also carrying "imitation firearms" when he was shot by police officers.
In a statement about the attack, New York Mayor Bill DeBlasio described the incident as an act of terrorism. Around the same time the president tweeted about the attack, the city's mayor posted a message reassuring New Yorkers that the city will not be changed by a terrorist attack.
This was a cowardly act of terror. It was intended to break our spirit. But New Yorkers are resilient. We will be undeterred.
In the aftermath, Americans are coming together not to politicize the horrific attack, but to encourage New York City to stay strong like it always has. And Ivanka's prompt message respected that effort.