What Ivanka Trump Said About Arming Teachers Is NOT In Line With Her Dad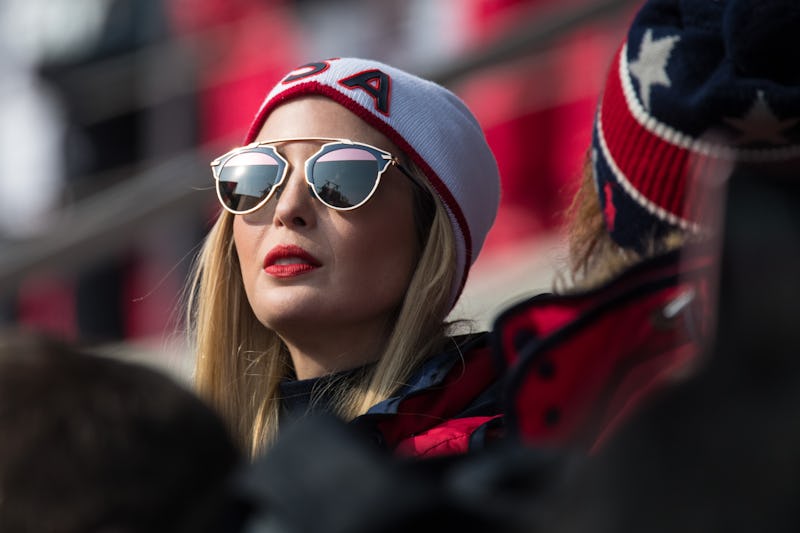 Carl Court/Getty Images News/Getty Images
On Sunday, the president's daughter and senior adviser, Ivanka Trump, said she didn't know whether arming teachers would make schools safer, perhaps appearing to diverge somewhat from her father's adamant stance that arming some educators would help stop mass shootings. President Trump has repeatedly advocated for the idea of placing "weapons talented teachers" in schools following the shooting at Marjory Stoneman Douglas High School in Parkland, Florida, last week, which killed 17.
While attending the closing ceremony of the Winter Olympics in PyeongChang, South Korea, Ivanka was asked by NBC News if she believed that arming teachers would make students safer. In response, the president's daughter said:
To be honest, I don't know. ... Obviously there would have to be an incredibly high standard for who would be able to bear arms in our schools. But I think there is no one solution for creating safety.
Ivanka also further expounded on the issue, adding:
I think that having a teacher who is armed, who cares deeply about her students or his students, and who is capable and qualified to bear arms is not a bad idea, but it's an idea that needs to be discussed.
While the first daughter seemed reluctant to say that arming teachers would improve safety in schools, her father appears to adamantly believe that doing so is a viable solution to preventing future school shootings. According to Mother Jones, the president has repeatedly tweeted about the idea of arming around 20 percent of educators. For example, on Feb. 22, the president wrote:
If a potential "sicko shooter" knows that a school has a large number of very weapons talented teachers (and others) who will be instantly shooting, the sicko will NEVER attack that school. Cowards won't go there...problem solved. Must be offensive, defense alone won't work!
And, on Feb. 24, the president expanded on the notion:
Armed Educators (and trusted people who work within a school) love our students and will protect them. Very smart people. Must be firearms adept & have annual training. Should get yearly bonus. Shootings will not happen again - a big & very inexpensive deterrent. Up to States.
In addition to the first daughter expressing uncertainty as to whether or not her father's proposition of arming some teachers would actually stop gun violence in schools, Vox also reported that many teachers do not want to see this implemented as a policy. Indeed, Diane Ravitch, a New York University educational policy analyst and former U.S. Assistant Secretary of Education, told the outlet:
Every teacher I have any contact [with] says that they don't want to be armed, that kids would be killed by errant bullets, that the halls would be pandemonium and many lives would be lost in crossfire.
A survivor of the Parkland shooting, Alfonso Calderon, echoed similar sentiments to CNN last Wednesday, saying:
I don't know if Donald Trump has ever been to a public high school, but as far as I'm aware, teachers are meant to be educators. ... They're meant to teach young minds how to work in the real world. They are not meant to know how to carry AR-15s. They are not meant to know how to put on Kevlar vests for the other students or themselves. This is not what we stand for. We stand for small policy changes and maybe possibly big ones in the future. ... I would never want to see my teachers [carrying arms] and neither do they want to do that.
Ivanka's comments in South Korea perhaps now further call into question whether the president will actually follow through and seek to advance policies that seek to arm some educators. The first daughter, like many others, seems to believe that a more robust conversation about school safety needs to occur before such an initiative should ever move forward.