Your Favorite Shoe Store May Have Just Dropped Ivanka's Line Entirely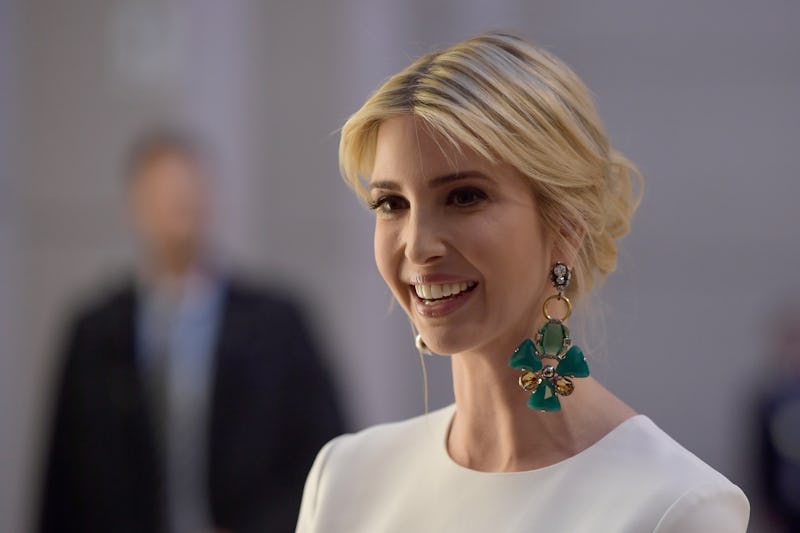 Pool/Getty Images News/Getty Images
Will they, or won't they cut ties with the first daughter's footwear? According to a report from Racked, a vendor within the shoe retailer DSW claims the company is dropping Ivanka Trump's shoe line, but from the sounds of things, her brand is disputing the claim.
The DSW employee in question reportedly sent an email to a California customer, stating that the store will no longer be carrying or selling the shoes. According to Racked, the company denied that DSW will no longer carry its shoes. Bustle has reached out to Ivanka Trump's business for comment.
While she's the eldest daughter of President Donald Trump, Ivanka Trump is also a White House official, and it's highly unusual for someone in her position in the government to also be the owner of a fashion and shoe brand. She is reportedly no longer in charge of day-to-day operations, having turned them over to one of her top executives in 2017. Nevertheless, it's an arrangement that has drawn scrutiny and criticism throughout her time in government, due to potential conflicts of interest.
This is far from the first time her product line has been in the news ― back in February 2017, the president personally took to Twitter to attack the department store Nordstrom after it pulled Ivanka Trump products from its shelves. Her brand has also been the focus of a boycott effort by Grab Your Wallet, which seeks (among other causes) to punish companies for doing business with the Trumps.
The intermingling of government business and private enterprise has been a particularly hot topic since the current president took office, owing to his own massive business empire. Donald Trump refused to put his assets into a blind trust, instead reportedly handing off management responsibilities for the Trump Organization to Allen H. Weisselberg, the company's chief financial officer, and his eldest son, Donald Trump Jr.
The arrangement has been criticized due to the ease with which the elder Donald Trump can still draw money out of his business empire ― according to CNN, a clause stipulates that the president can take out money at any time. Similarly, despite Ivanka Trump no longer actively managing her business while in the White House, she's reportedly raked in millions from her fashion line.
As Racked notes in its coverage, the shoe aspect of her business is something she's touted in the past, telling Footwear News in 2016 that it was extremely important to her.
"The brand started with shoes, and that's a category that's incredibly important to me," Trump reportedly said. "It's an area where we continue to grow."
Now, however, a full two years later, it's unclear just how much growth her shoe business is seeing. Trump's role in a highly controversial and polarizing White House has made both her, her brands, and business ventures subjects of scrutiny and targets of boycotts.
In fact, given just how prominently she's been in the spotlight, it's not even clear that the controversy would lessen that much if she departed from public life and moved back to New York. When it comes to the highest levels of politics, and figures as controversial as the Trumps, people can often have long memories, and a penchant for longstanding grudges.
Of course, Ivanka Trump is far from the only member of her family involved in business, nor the only one to draw negative attention for it. In addition to her father and brothers, her husband, Jared Kushner, is also a player on the real estate scene, although perhaps his most well-known investment, 666 Fifth Ave. in Manhattan, has by all accounts caused him nothing but trouble.