Ivanka Trump's Shoe & Clothing Line Was Spared In Her Dad's Latest Crackdown Overseas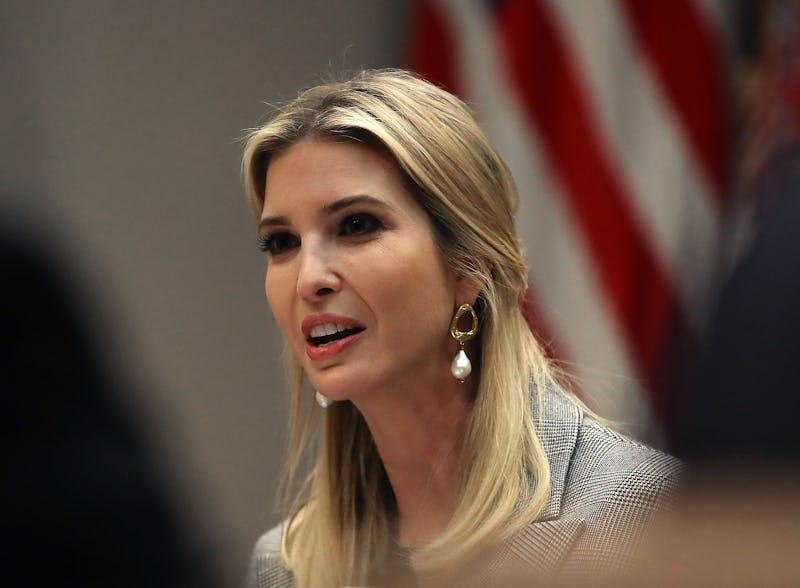 Mark Wilson/Getty Images News/Getty Images
Two notable items won't be impacted by the Trump administration's new taxes on Chinese-made products: clothing and shoes. Although the White House escalated its trade war on Friday by adding a 25 percent tax to roughly $34 billion worth of goods, Ivanka Trump's clothing line escaped the Chinese tariffs. The brand's use of Chinese labor has come under scrutiny before, but the recent tariffs have renewed criticisms that the first daughter and presidential adviser has financially benefitted from her father's presidency.
Despite President Trump's push for more products to be made in America, none of the presidential adviser's clothes and accessories are made in the United States. Ivanka's company outsources the manufacturing of its clothes to factories in Bangladesh, Indonesia, and China, The Washington Post reported last year.
Because the president's new Chinese tariffs don't name clothing or shoes, the price of Ivanka's Chinese-made goods won't increase due to the steep taxes placed on hundreds of other products. Items such as nuclear reactors, aircraft parts, and agricultural tools will be much more expensive to import from China, however. China's ministry of commerce said in a statement that the tariffs constitute "trade bullying" that "seriously jeopardizes the global industrial chain."
Regardless, Ivanka's supply chain will remain untouched.
A factory in China's Sichuan province that has previously manufactured shoes for Ivanka's brand is currently bidding for a contract to produce 140,000 more pairs, a spokesperson for the factory told The South China Morning Post. A second factory in the Zhejiang province also said it's taking orders for Ivanka's brand.
But aside from these two companies, tracking exactly where in China most of Ivanka's products come from has become increasingly difficult. The identities of the companies involved in 90 percent of the brand's shipments remain unclear, and information about Ivanka's manufacturers is even more scarce, the Associated Press reported last year. As the AP explained, the lack of transparency makes it tricky to determine how Ivanka's business ties could affect White House conversations with China:
"The deepening secrecy means it's unclear who Ivanka Trump's company is doing business with in China, even as she and her husband, Jared Kushner, have emerged as important conduits for top Chinese officials in Washington."
At the same time, Ivanka and her husband raked in at least $82 million in outside income last year while working in the White House, according to their financial disclosures. That money came, in part, from Ivanka's company.
The president's new Chinese tariffs stem from his belief that China is using "unfair trade practices" that "make it impossible for many United States firms to compete on a level playing field," according to a White House statement released in May. "From now on, we expect trading relationships to be fair and to be reciprocal," President Trump said in the release.
China quickly retaliated by imposing its own tariffs on U.S. foods — ranging from potatoes to lobster — and vehicles.
But which products each nation left off its list are almost as important as which ones made it on. When the White House imposed new tariffs on China back in April, Robert E. Lighthizer, the U.S. trade representative, told The Washington Post that the list of items impacted by the taxes was drafted to achieve "the lowest consumer impact," which is why clothing wasn't included.
It's possible that escalating tension between China and the U.S. could eventually impact Ivanka's business abroad, but her Chinese-made goods won't be touched by tariffs for the time being. And until her brand discloses which Chinese companies its working with, Americans will remain largely in the dark about just how much the White House's decisions have impacted her clothing company.