China Granted Ivanka A Trademark On Voting Machines — Here's What That Actually Means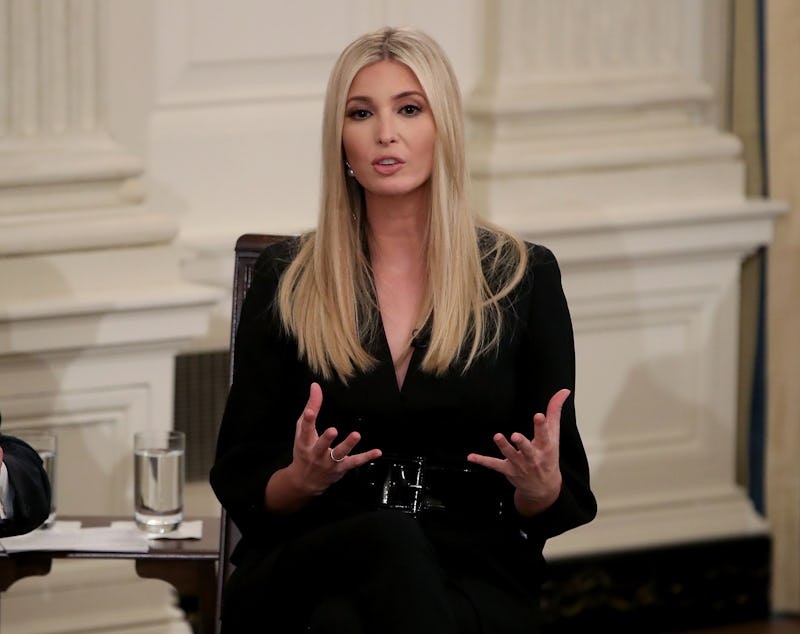 Mark Wilson/Getty Images News/Getty Images
When the president's daughter announced that her eponymous brand was closing earlier this summer, she cited her government duties and responsibilities as the reasons. But, according to CREW, a Washington watchdog nonprofit organization, an Ivanka Trump trademark for voting machines in China was approved recently, despite the shutdown of her brand in July.
Her trademarks could mark a possible conflict of interest in her role as a presidential advisor in which she has direct influence on White House policy and diplomatic relations. CREW, which stands for Citizens for Responsibility and Ethics in Washington, reported that Ivanka's fashion brand received first trial approval for 16 new trademarks from the Chinese government in late October. The latest round of approvals are the largest number of new Chinese trademarks she has received in a single month, CREW reported, since her father came into the presidency.
The October-approved trademarks encompass clothing and accessories, like handbags, shoes, wedding dresses, and jewelry. But, perhaps more interestingly, the preliminary trademarks also include unusual items like nursing homes, sausage casing, and voting machines that would be used in China. According to the documents linked in CREW's piece, Ivanka applied for these trademarks in March of 2016, when her father was already campaigning.
Ivanka's brand, according to CREW, is continuing to apply for and acquire new trademarks, meaning the first daughter could be keeping her options open if she ever decides to step down from her high-profile role in the White House.
It's unclear why Ivanka wanted to trademark voting machines and sausage casings, items that are obviously very much outside the fashion world. And it's not the first time her business has applied for trademarks on fashion-parallel items. According to the Chicago Tribune, Ivanka Trump Marks LLC also applied for at least 14 new trademarks in China in March of 2017, right before she publicly announced her White House advisor role. The 2017 applications ask for trademark rights on more non-fashion things like real estate and financial services, construction, and furniture. In any case, if Ivanka has the trademarks, it allows her business the freedom down the line to expand beyond fashion in China.
Trademarks in China can offer crucial protection to businesses that may otherwise be vulnerable to infringement or theft. China, the world's second-largest economy after the United States, has said its trademark approvals are fair, the Chicago Tribune reported, while Ivanka's brand has said the 2017 Chinese trademarks were filed preventatively to deflect squatters from using her name.
"The brand has filed, updated, and rigorously protected its international trademarks over the past several years in the normal course of business, especially in regions where trademark infringement is rampant," Abigail Klem, the former president of Ivanka's brand, said in a 2017 statement.
Ivanka retains ownership and could transfer the trademarks or re-establish her fashion brand should she want to leave politics behind. During the summer, The Washington Post reported that she would continue to get trademarks so the door is open later on for future business.
"She's dissolving the company now but is continuing to get trademarks so she can sell her stuff all over the world later," Richard Painter, chief White House ethics lawyer for former president George W. Bush, told the Post in the summer. "What better time to get those trademarks than now, when every government around the world wants to play nice" with her father?